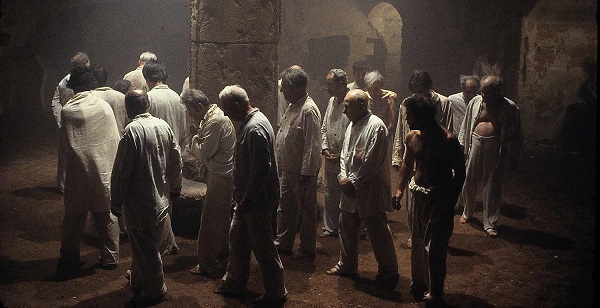 This just struck me as the ultimate in ridiculous, enforced "success stories."
It is a perfect example of the "technology" proclaiming something and then the person who pays for it comes out the other side certain they have achieved what they were told they were going to achieve beforehand. Though there is no way this is real, it is shrouded in "subjective reality." This is confirmation bias exemplified.
Confirmation bias occurs from the direct influence of desire on beliefs. When people would like a certain idea or concept to be true, they end up believing it to be true. They are motivated by wishful thinking. This error leads the individual to stop gathering information when the evidence gathered so far confirms the views or prejudices one would like to be true.
This is helped along by the fact the person WANTS it to be true because they have paid huge sums of money to achieve it. Nobody wants to believe they have devoted money and time to something that was a rip-off.
And the final piece of the puzzle that locks it into place is the fact that in scientology it is considered to be a terrible thing to "invalidate someone's gains."  This results in everyone nodding their head and being fully supportive of the delusional…
Remember, "Cause Resurgence" is the simplest of all of Hubbard's "breakthrough" technology. It consists of running around a pole. That is the ENTIRETY of the "process." There is someone present to tell you "Keep Running" and you go until you realize what a powerful being you are and that you have "aligned your energy flows."
This seems pretty absurd, but Hubbard dressed it up by telling a tale that he had "recalled" this process from the "Whole Track" when thetans would run this process on themselves by circling an object in space for a long time, until they had "aligned their energy flows". Thus this is an "OT process" in scientology, because it was a process that had been done by thetans separate from their bodies.
I am not making any of this up.
She also talks about L11 — another "secret" process Hubbard developed based on his "research" — it too can be sold to anyone in scientology and thus is a big moneymaker. (You don't have to have attained lower levels in order to be able to participate in L11).  What is so amazing about this section of her "success" is that it dismisses so much of the other scientology she has done. Like all that other stuff did absolutely nothing, and now this one did absolutely everything. This too is very common in these "success stories" because they know what they are expected to write.
Here is the "success story" that prompted this post:
This is a success story about how i got my core aberrations handled in $13k.
First I did my cause Resurgence. It handles ridges that facsimiles and engrams are attached to.
If you do the OT process Cause Resurgence first, it brings you so uptone, right into tone 22.0 action, the chances of needing any other prep program for Ls setup become very slim, likely you will go straight onto L11, and the setup very short (such was mine).
Then I did the L 11 New Life RD, Which again handles ridges "that's been built up over trillions of years around a being"(from the flyer). L11 handles the most major aberration on a person's case, and the tech estimate is only one intensive, which was pretty much what it took for me.
A little background info: I had done super power, i am a Power plus completion, finished my OT prep, and I was a GAT1 trained auditor. L11 handled the major aberration and the ruin of my life. it felt like 100 of previous intensives on the bridge where I tackled my aberrations and they are still there. But one intensive of L11 took it all away. I'll give you a couple examples of my L11 wins: one of my goals on my bridge was to get rid of my deep rooted and most dreaded self-inval. L11 brought me to a level where I can have tons of self-invals without being the effect of it. Self-inval has no effect on me anymore, I can have it or not have it, have loads of it or none at all, it wouldn't matter now.
Another win: in the past, when my 2D terminals in my life experienced up-and-downs or got upset at me, I'd react to it (pretty hard too,LOL). In another word, regardless how contributive and theta I was on the 2nd dynamic, I wasn't a stable terminal, and my stableness depended on the other person's stability. L11 got me out of the effect band, instead, now I myself am such a big being and a stable terminal for them in their life.
One intensive of this OT process gave me a New Life, L11 is truly worthy of its name. (I haven't done L10 &12 yet, will likely do them after OT4).
I had been a trained auditor, viewing myself as a methodical and meticulous tracker on the bridge. How much CRRD and L11 achieved for me was shocking. I believe it had to do with where on the training/grade chart and how I did them– I did them together in the right sequence (CRRD followed by L11) which both handled ridges, that gave the biggest wins, most A to B and resulted in the most efficient bridge hours. The most well spent $13k, with core aberrations gone.
Sharing this with you, May you achieve your Bridge goals in the swiftest manner!