Remember, this rundown consists of running around a pole.
Nothing more.
I wonder what miraculous results would come if D/Source For Lost Tech "discovered" a new rundown that "came from the whole track" — and it consists of sitting quietly on the floor until you have a realization (sort of like meditation). I can hear the clubbed seals babbling on about the genius of COB and how this was better than any OT level and their entire universe has suddenly aligned and they now have limitless power and theta.
Here is a recent over-the-top testimonial from a KoolAid drinker par excellence. I like people to have wins and generally don't comment on them here. But when they go so far into the stratosphere that they become parody, and then the people put them on Facebook ("Look at me, look at me") then they become fodder for commentary.

Earth to Angela…. Earth to Angela.
Apart from the out of this world hype, I must point out to you that the COB's tenacious application of KSW is why this rundown has not been available for the last 20 years. He was so tenacious, he just knew it required a whole new building (even if this were true, why didnt he use his circus tent and get going with this back in the 80's when it was first used on David Mayo and others?). What eternal gratitude everyone must show to Dear Leader.
I am looking forward to reading Angela's next success story when she redoes ARC SW and realizes this is the OT Level she has always been looking for and it blows her right off the earth again.
Really Angela, putting this on Facebook and announcing that you are "realizing your greatness" isn't in the best taste.
Willow Is Wallowing In Plastic
More from the theater of the absurd that is the 6th floor of the SP Building.

Not a bad analogy…  Entering the SP Building is a bit like boarding a spaceship.
Can you believe they have "uniforms" for running in? They have to have SOME gimmick and charging people to run around in circles by themselves is a bit tough to swallow.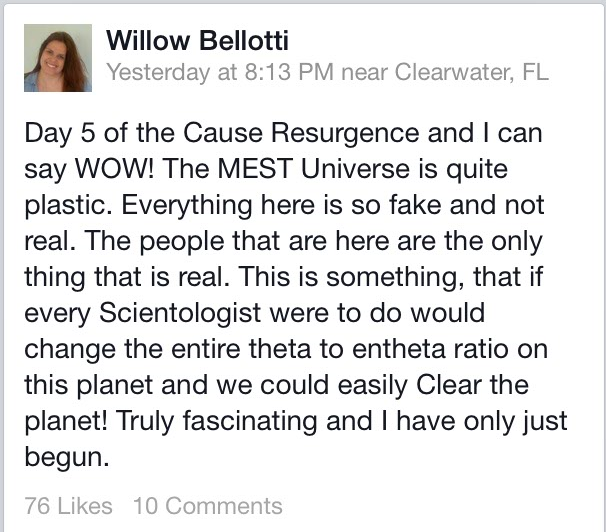 But happily after 5 days of running she had a big realization that the MEST universe is plastic.
Dave, you should listen to Willow — this rundown alone will easily clear the planet. So, why not put a track back at the Int base to start the planetary clearing right there?
And even better idea, why not start fundraising to buy cones and poles and you can have every org set up running tracks in their local parks. NY Org could put one in central park and there are probably a bunch of joggers who would join in and as soon as they experienced the miracles, they would automatically want to pay for it. The PAC Running Program used to be in Griffith Park for the RPF. So this has been piloted. You wanted it to be indoors in the dark so it looks kinda cool… But couldnt you get on with some real planetary clearing if you just set up poles and got going?