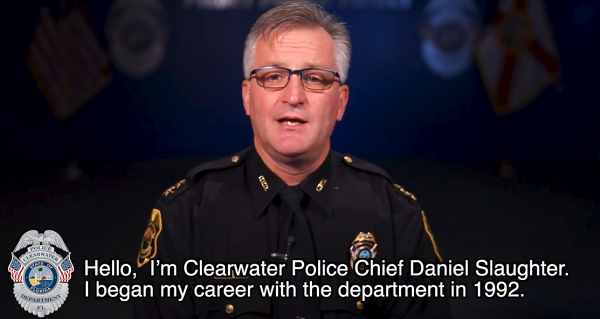 Clearwater Police Chief Slaughter took the unusual step of making a YouTube video in response to The Aftermath episode which recounted the "Park Incident" with Mark Bunker.
This was then published on the OpEd page of the Tampa Bay Times.
Below is the full message from Chief Slaughter so everyone has complete context.
Then some of my thoughts following this:
For years the Clearwater Police Department has been thrust into the middle of a debate between a controversial religion and its critics, without a voice in the matter. We feel it important to publish some facts of our own to provide the city we serve and anyone else who may be interested with some perspective.
The Clearwater Police Department was established in 1915 and currently serves a 31-square-mile community of 115,000 people. This base population increases regularly due to a tremendous influx of visitors and tourists. We serve our community and visitors with a dedicated staff of 245 sworn officers and 128 civilian employees.
Scientology's hub of activity is in a portion of the downtown corridor occupying approximately half a square mile. None of our on-duty officers are assigned to or stationed at Scientology property.
The Clearwater Police Department received over 78,319 calls for service in 2018 with approximately 109 or 0.1 percent of those calls originating from Scientology staff or security.
The Police Department's funding is derived from the ad valorem (property) taxes. Any ad valorem taxes collected from any taxable properties owned by Scientology are co-mingled with all collected ad valorem taxes and disseminated to multiple government entities and multiple city departments.
Consistent with other law enforcement organizations, the Clearwater Police Department has an extra-duty program to provide off-duty officers to a wide variety of businesses and religious entities. These programs are not funded by taxpayers, and most important, do not draw from the on-duty resources paid for by the taxpayers. All officers serving in an extra-duty capacity are bound by oath to remain impartial and operate under the policies and procedures of the Clearwater Police Department. Regardless of who pays the bill, the extra-duty officers work for me.
The total billed to all organizations using off-duty officers through the extra-duty program including recognized religious entities was approximately $790,127.50 in fiscal 2018. Scientology extra-duty accounted for approximately $26,740 or 3.4 percent of the total.
Scientology being a recognized religious entity is entitled to contract for the same services as any other religious entity or business. The Police Department does not have the latitude to cease providing extra-duty services to one religious entity without denying the same services to all recognized religious entities. If you believe your law enforcement organizations should be bound by the Constitution, as we should be, then you must agree we do not get to pick and choose which religious entities get access to services.
The Clearwater Police Department has, and will continue, to investigate all crimes, without passion or prejudice, regardless of who the victim or suspect is. Many examples of this are evident in our history.
Law enforcement officers throughout the country swear an oath to uphold the Constitution, to include the First Amendment covering freedom of religion. Clearwater Police Officers swear to do the same. Our hope is that anyone reading this will recognize that we don't get to pick and choose who we protect and serve, nor should we. We are bound by the Constitution to answer all calls for service and deliver those services in a fair and impartial manner.
Our officers are human beings who work a hazardous job that exposes them to human tragedy on a regular basis. The mere suggestion that our officers exist to serve Scientology is patently false and an affront to them and the great community we serve. To see them criticized and vilified for trying their best to interpret complex legal orders, confusing complaints, and mediate disputes between the constitutionally protected activities of religion, speech, and assembly is not only unfair but done in the absence of perspective. Hopefully, we've provided some today.
Daniel Slaughter is the chief of the Clearwater Police Department.
First, let me say that I have never been treated with anything other than courtesy and professionalism by police officers from the CWPD (or the Pinellas County Sheriff's Office). The officers on the streets do a terrific job. They are NOT the problem here. Scientology is. And the willingness of some in the city to be bullied.
Chief Slaughter does his best to put scientology into the same box as other religions. This is the first and biggest fallacy.
While scientology may be recognized by the IRS like other churches in the community, there are some BIG, GLARING difference.
No other church has WRITTEN, UNALTERABLE policy to spend their tax exempt money trying to destroy their enemies. This is not a matter of conjecture, Chief Slaughter can read their "scripture" for himself with a fast Google search (or this article which I wrote to lay out this information for anyone interested). This is the POLICY of scientology. It was the policy when scientology moved in and will be the policy til the end of scientology's days.
Scientology has as proven, documented track record of seeking to destroy the Mayor of Clearwater with a fake hit and run accident, planted phony marriage records to accuse him of bigamy, fake "affairs" and even sending in a spy to act as his attorney. They did the same to others in the Tampa Bay area, including a Federal Judge, a reporter for the St Peter Times and a State Attorney. Scientology says this is ancient history. But it was all done pursuant to Hubbard policy and IT HAS NOT CHANGED.
Scientology has a stated intention to "take over Clearwater" and make it "the first Scientology city". The documents have been made public. They don't pretend otherwise internally, but will make statements to the contrary so the community doesnt get more alarmed than they already are.
Scientology has a complete disdain for law enforcement and government. See the Hubbard writing here How Scientology Views Law Enforcement. Look at the history of scientology ignoring local ordinances on tree removal and constructing tents and even back to the accumulated fines for the failure to construct the Super Power building. And when the city went through with the deal for the Aquarium lot scientology acted butthurt that they didnt get what they wanted and withdraw all their previously claimed offers of support for downtown redevelopment.
The FBI, who conducted an investigation into scientology, wrote a conclusory report that states in part: "All Sea Org members are instructed how to lie to outsiders and authorities…"
Scientology is NOT the same as "other religions." No other religion in Clearwater displays ANY of these characteristics. No other religion dominates the downtown. No other religion plays the system like scientology does.
Chief Slaughter, in his effort to defend his police force, exposed his unwillingness to address the scientology presence looming over his headquarters like a black cloud. He tried to brush it off as "hey, they're like everyone else and we treat them the same way."  Well, they're NOT like everyone else. This defense is little better than a Police Chief of a city in New Jersey dominated by the mafia saying "Hey, we have to treat everyone equally. These citizens have the same rights as everyone else. We answer the call for them just like we do the Rotary Club." Yeah, that is a true statement, but taken in context (something the Chief says he really cares about) one might conclude either the Chief is scared of reprisals from the Mafia or is on the take or both.
The Chief repeats himself a number of times  "… we do not get to pick and choose which religious entities get access to services" we "investigate all crimes, without passion or prejudice, regardless of who the victim or suspect is" and  "…we don't get to pick and choose who we protect and serve, nor should we. We are bound by the Constitution to answer all calls for service and deliver those services in a fair and impartial manner."
Well, this is not entirely true. Let's take a look at the "Bunker in the Park" incident.
This is ostensibly a public park, provided as a "service to the community" by scientology, where everyone is welcome unless they are doing something offensive or causing a public disturbance.
Mark Bunker sat alone in the park. Not another soul around. He was not violating any of the publicly posted rules.
Nobody from scientology approached him and asked him to leave. Had they done so he, would have acceded to their request. Mark Bunker is an exceedingly polite and genteel man.
Instead, the police were called. It is their obligation to show up, just as Chief Slaughter says. It is what happened next that is the problem and why he has come under such criticism.
When the first patrol car arrived, they walked over to scientology security guards who were standing across the street looking at Bunker in the park. Whatever conversation they had with them, they were handed copies of the 20 year old injunction by scientology.
Scientology KNOWS this injunction does NOT apply to this property. The lot was a Checkers restaurant when the injunction was issued. The injunction includes SPECIFIC locations it applies to.  Scientology knows this but they still gave it to the police to go across the street to try to use it to get rid of Mark Bunker (and now Leah and me, though we are definitely not named in the injunction). Scientology Security Guards knew the injunction was a ruse. They also KNOW THE LAW about evicting someone from private property (even though in this case the private property is represented as a public park open to anyone as long as they follow the rules). The Security Guards did not walk across the street to issue a trespass warning, which is what a property owner must do. The police then inform the person they have been warned and that a further breach could result in arrest.
Instead, because this was now a "scientology complaint" the officers had to wait for their boss to show up to make any decisions about what to do. It's the protocol the police have put in place when something has to do with scientology (they're just like anyone else…) A second patrol car arrived. Now 4 police officers were present. They discussed what to do. Still nobody from scientology appeared to issue a trespass warning, but they were watching from across the street. The third patrol car showed up with a Corporal who had been summonsed to decide how to proceed. He came to speak to Bunker and us and there was discussion about the injunction. Surely, after 20 years, the CWPD knows the parameters of this injunction? Scientology tries to use it ALL THE TIME. (Perhaps this is what the Chief means when he talks about "complex legal orders" — it's really NOT complex).
He asked US to wait while he called Sarah Heller, the scientology Legal Officer. He then asked us to wait a little longer while he dutifully walked across the street and into a scientology building to speak with Sarah. We could see her watch all this happen through the window. Sarah did NOT come out and talk to the officers SHE CALLED to get rid of Bunker. She insisted they come to see her while we were kept standing on the street. The Corporal came back and said she will be "coming over to issue the trespass warning". We said we were ready to leave. He asked us AGAIN to "wait". I told him we were walking across the street and would be outside the building where Sarah was sitting to make it easier for her. She STILL DID NOT COME OUT.  4 security guards watched on and 2 PI's in cars were filming us.
Almost an hour passed with 5 Clearwater Police Officers in front of the park waiting. Though scientology called them, they refused to come out and issue a trespass warning.
I can imagine what would happen if any other business owner or church in Clearwater called 911 about someone on their property.  A single police officer would show up, the owner would ask the person to leave their property in the presence of the police, the person would comply (or not and be arrested) and it would be over in 5 minutes. If the police showed up and the person that called them refused to issue the warning they would not call their supervisor to come down and sort out what to do. They probably wouldn't wait around for more than a minute.
But not if it involves scientology.
The police at some senior level are intimidated. They worry if they do anything wrong or out of the norm, innocent or not, they will be accused of being anti-religious bigots. Because this is what scientology does.
Scientology is NOT treated the same way as everyone else.
Chief Slaughter laments at the outset: For years the Clearwater Police Department has been thrust into the middle of a debate between a controversial religion and its critics, without a voice in the matter. This is another false premise. The "debate" is not between scientology and its critics, it is between scientology and the community. The City of Clearwater. The taxpayers who subsidize scientology owning empty buildings and lots they do not pay tax on. And the police certainly have a voice in the city.
Lt. Ray Emmons, who investigated scientology for the CWPD for 20 years concluded scientology is a "criminal enterprise."  He felt strongly that the CWPD after he left is failing to study, investigate and understand scientology. It was his view that this is the Department's biggest failing. They don't understand what they are dealing with. I agree with him. Chief Slaughter seems oblivious to the fact that scientology will lie, even to law enforcement, if they feel it serves their purpose. That they will destroy evidence (and has been testified to by Marty Rathbun who did so in the Lisa McPherson case). They will refuse to voluntarily provide witnesses and will send them out of the jurisdiction if needed. That they will bully and threaten.
Or perhaps he IS well aware of this and fears it.
Scientology has perfected the art of hiding behind the mantle of "religion" and has diligently and repeatedly accused anyone who crosses it of being an anti-religious bigot. Chief Slaughter seems to have bought the scientology party line. He does not need to bolster their arguments by giving them more credibility by stating they are just like every other religion.
I have pointed out a lot of things I think are wrong with what Chief Slaughter said. So, what in my view, should he have said in response to criticism?
"Everyone in this community understands we operate in an unusual climate in downtown Clearwater. I was embarrassed that our officers were given the run around by scientology, but they acted in a courteous and professional manner as they always do.  They respond to every call no matter who it is from. But this latest incident highlighted a problem and I am taking steps to remedy the matter. I have instructed our lawyers to seek to dissolve this injunction that scientology has been abusing for many years. The reason it was ordered is long gone. I have also informed scientology that they wasted our officer's time by calling them and then refusing to issue a trespass warning and have asked that they make restitution for the wasted officers' time as a gesture of goodwill to the community. I have sought their reassurance this will never happen again. The citizens of Clearwater should not be subsidizing this sort of waste of our valuable police force. Rest assured, we will continue to do our jobs to protect all citizens of Clearwater as our highest priority, but we won't tolerate anyone playing games."
That sort of statement would result in a lot of accolades and appreciation from the citizens of Clearwater. Sure, scientology would scream bigotry and religious discrimination, but they do that all the time anyway. Those words ring hollow today.
If there is any information I can help impart to anyone in the Police Department I am more than happy to do so.
PS: Chief, I think taking PR photos with scientology front groups is a bad idea. I would offer the same advice to the Police Chief of the that town in NJ.