They will never learn.
After enduring some of the worst PR in recent memory for declaring war on beloved Winter the Dolphin and Clearwater Marine Aquarium, turning their wrath on the Clearwater City Commission and then on Pinellas County — scientology pays for a press release to announce how they are bringing the Clearwater Community together. Oi vey.
Can they be serious?
This is their paid release:
Church of Scientology-Sponsored Block Party Brings Greater Clearwater Community together
Tuesday, May 9, 2017 3:28 AM UTC
CLEARWATER, Fla., May 08, 2017 — On Saturday, May 6th, 2017, over 3,000 residents flocked to downtown Clearwater to celebrate the Downtown Clearwater Spring Block Party sponsored by the Church of Scientology Flag Service Organization and six Humanitarian Centers on the block of Cleveland Street and Fort Harrison Avenue.
Church of Scientology-sponsored block party in downtown Clearwater
Children and adults enjoy the popular balloon art at Church of Scientology-sponsored block party
"I can't wait for your block party," said owner of Princess Nails, a local salon on the 400 block of Cleveland Street in downtown Clearwater when he was invited. "I've been looking forward to this for months and counting the days. They are so much fun!"
Designed for the entire family, the party included live music, a balloon artist, a bouncy house, train and face painting for children. The Church of Scientology sponsored some of the area's favorite food trucks and downtown restaurants at the party so that there was free food for everyone. Vendors and restaurants that participated were: Engine 53 (brick oven pizza), Better than Eve's BBQ, Crepelicious, La Fondita de Leo, Umai Café and Dunkin Donuts.  A raffle was also held that included items donated by downtown Clearwater stores and restaurants.
The Church-sponsored humanitarian programs saw hundreds through their doors during the event. Fourteen non-profit groups who partner with the humanitarian centers, were also showcased at the event with their individual booths.
"It is one of the tenets of the Church of Scientology to do all we can to assist other groups in the community that are helping people," said Church spokesperson, Pat Harney. "In that way we work together to bring even greater improvement to our city."  The non-profit partners included: the Children's Home Network, Second Chance Life Skills, Hard2Guard, Owl's Nest Sanctuary For Wildlife, Haitian Mission Par La Foi, Cole Link Foundation, Clearwater Audubon Society, Angels On Assignment Worldwide, Food Our Children Ministries, Big Brothers/Big Sisters, Children's Home Network, The Refuge, L. Ron Hubbard East Coast Theatre, the Community Learning Center and Narconon Suncoast.
"Volunteering to help my community is something I am very committed to," said Church volunteer, Kelly Yaegermann, "it is part of being a Scientologist." Local Scientologists donate an estimated 200,000 hours of their time each year.
Visitors learned the following from the humanitarian centers:
*United for Human Rights — implementing the Universal Declaration of Human Rights.
*The Way to Happiness Foundation — restoring trust and honesty the world over based on "The Way to Happiness" booklet written by L. Ron Hubbard.
*Foundation for a Drug Free World — empowering youth and adults with factual information about drugs so they can make informed decisions and live drug-free.
*Criminon — addressing the causes of criminality and restoring the criminal's self-respect.
*The Scientology Volunteer Ministers — a global force of volunteers, who live by the motto "Something can be done about it".
*Citizens Commission on Human Rights — helping to enact more than 150 laws protecting individuals from abusive or coercive psychiatric practices.
The Church of Scientology
The Scientology religion was founded by humanitarian and philosopher, L. Ron Hubbard. The first Church of Scientology was formed in the United States in 1954 and has expanded to more than 11,000 churches, missions and affiliated groups, with members in 167 nations. Based on L. Ron Hubbard's words, "A community that pulls together can make a better society for all," the Church of Scientology regularly engages in many humanitarian programs and community events.
Contact: Pat Harney (727) 467-6966  patharney@churchofscientology.net
What an amazing piece of self-stroking this is. And how incredibly unaware these people are… If they had just been busted for child abuse, they would put out some sort of release "scientology demonstrates care for children with free balloons" – once again highlighting their horrendous behavior. The one thing everyone in Clearwater now knows about Miscavige and his Minions is that they are ONLY interested in what they want and think is good for them, the rest of the community be damned. And not only that, they will go out of their way to try to try to destroy even the most beloved institutions in the community if they displease them by failing to salute and comply. Hardly the models of "bringing the community together" they proclaim.
Unfortunately, I was out of town so unable to attend their little event, but Aaron Smith-Levin stopped by for the festivities. He posted a short video on Facebook along with a comment and a response to a question about how many people were there: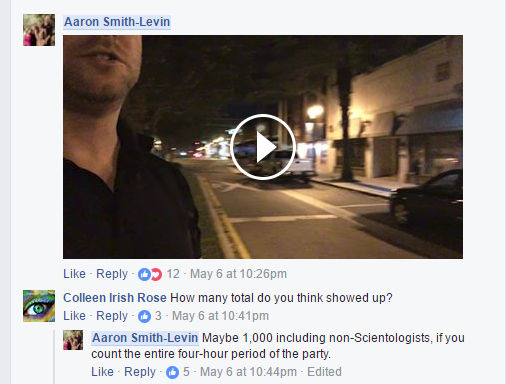 1,000 people?  Wow. Of course from much past experience we know that any figure the church gives is wildly over-inflated — they have claimed "thousands" even when their own photos show 276 people because there are so few they can be individually counted. So, 3,000 was wrong just because they said it.
1,000 is half the Sea Org population of Clearwater. They claim they have twice this number of outside visitors at the Flag Land Base at any given time. And 10,000 – 12,000 in the local community. How can they not JAM Cleveland St full of people? Scientologists are very obedient. Order them to show up and they do (it's much easier than being routed to ethics and having to pay to be interrogated). And it would have been the perfect opportunity for Miscavige to make a point to the City of Clearwater that scientology can get people to downtown. But this would require actual people, not just hype. When scientology has to put up or shut up to support their outlandish claims, they invariably fail on both counts. In fact, this whole debacle proved to Clearwater that scientology is NOT the big boogieman, but more like the Wizard of Oz. A little man sitting behind a green curtain pulling levers to make loud noises.
A few more notes on their "release."
They get the wife of David Pomeranz to give a canned quote. Wow. Not a single business owner from Cleveland St, but an unnamed man from a nail salon a few blocks down Ft. Harrison. This is the community they brought together?
And of course, they could not put out anything without mentioning the Potemkin Village of deserted storefronts that NOBODY ever goes to, with a bizarre introduction about what people "learned" (nothing, just their name?):
Visitors learned the following from the humanitarian centers:
*United for Human Rights — implementing the Universal Declaration of Human Rights.
*The Way to Happiness Foundation — restoring trust and honesty the world over based on "The Way to Happiness" booklet written by L. Ron Hubbard. etc etc
They included the names of "non-profit partners" (some of whom are scientologists). If any of them are NOT scientologists, they should take the time to learn what it is they are supporting. This is an ugly organization abusing people all over the world acting like the wolf in Little Red Riding Hood — these sort of events are like the granny hat and apron the wolf dons to trick the kid…