Thanks to "10000 OT VIII" we can bring you this.
So much to unpack.
Former scientologists have often discussed "child auditors" in scientology, and I think some believe it is an exaggeration.
This child has already been through the grueling TR's, including TR 0 bullbait — where you are goaded, teased or intimidated "bullbaited" to react in some fashion whether flinching, laughing, blushing or blinking and then made to do endure the abuse over and over until there is no reaction.
Now, this 9 year old child is counseling another child through their traumatic experiences, apprehensions and emotions. Based on the "technology" of L. Ron Hubbard, not based on any proven method of therapy.
Soon, she will be auditing him on Grade 2 — and that means the infamous Joburg Sec Check. Here are a few of the questions she will be required to ask him (or anyone else she audits).
HCOB 7 APR 1961 JOHANNESBURG CONFESSIONAL
Have you ever raped anyone?
Have you ever been involved in an abortion?
Have you assisted in any abortion?
Have you ever committed adultery?
Have you ever practiced homosexuality?
Have you ever had intercourse with a member of your family?
Have you ever been sexually unfaithful? Have you ever practiced sodomy?
Have you ever consistently made a practice of sexual perversion?
Have you ever slept with a member of a race of another color?
This is not only considered normal in scientology, it is clearly something for parents to brag about.
In fact, when the original "Golden Age of Tech" release video was made by David Miscavige, it featured the daughter of Karen Hollander, Lauren — a pretty blond child who was at the Int Ranch at the time. Lauren was the "auditor" in training to prove that "GAT" was so simple even a child could do it. That video has not been seen in decades. It was extremely disturbing to the normal world, though scientologists ate it up as further proof of the brilliance of Miscavige.
Think about it for a minute. A 9 year old girl could right now be sitting down with a 50 year old man asking him about sodomy or sexual perversions.
That is, in the normal world, child abuse.
In scientology, it is "normal."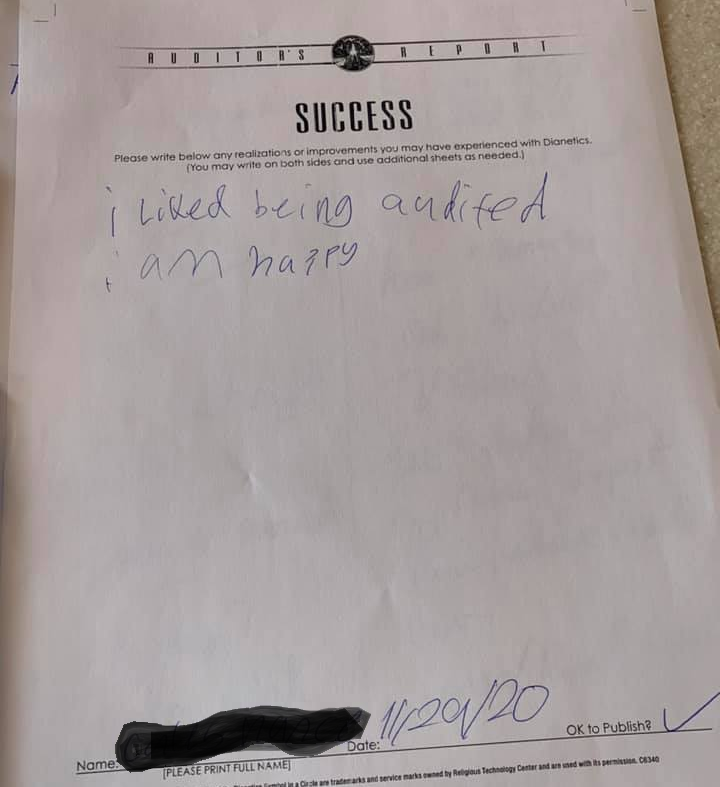 And they also put children through the Purification program, sitting in a sauna 5 hours a day and ingesting huge doses of vitamins and niacin. More abuse — this is not "flushing drugs from the fatty tissues" because these kids have never had any drugs. Not even aspirin in many cases….