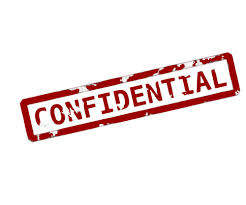 This is the third in a series of postings concerning Disconnection. See:  Disconnection — Scientology's Nasty Secret and  Who Qualifies To Be Declared?
There has been an evolution (devolution) of "Declares" in Corporate Scientology.
Some years ago, in order to be "declared" there would be a "Declare Orders."  A recounting of supposed facts and their alleged associated "crimes" would be printed on goldenrod paper (the "colorflash" of the Hubbard Communications Office – home to Ethics) and sent to those concerned and placed on the public notice board.
After all, the theory of this was that "labelling" suppressives served three purposes:
To alert other Scientologists that they should be cautious around such people (these are the Hitlers and Napoleons of the world….),
To bring the person to their senses by "labeling them" and hopefully thereby getting them to recant, mend their ways and become a contributing member of society once more (for some commentary on this point, see Claire Headley's discussion on Tony Ortega's blog today), and
By giving SPECIFICS with time, place, form and event, allow "as-isness" to take place where bad effects had been created on those in the environment of the SP.
The problem these days is that it is clear these purposes are no longer driving "declares" and thus they have taken on a stench of corruption and ulterior motives — that is, CONTROL.
Thus, we began to see Declares written but kept locked up by HCO or OSA, only to be "shown" to people when they needed to be "handled" concerning the SP. People quite naturally would ask to "see something in writing" when they were told they could no longer associate with their friends and family. "Wow, they seemed OK yesterday, and for 30 years before that, are they really now suddenly declared? I would like to see something written that details why this was done…" So, for those pesky types they would be ushered into an office, the door would be closed and they would be handed a goldenrod to read, but NOT KEEP. Someone told me they had seen one of these on me and that it was 16 pages long and included "addenda"…  It's funny, I have never seen it.
But after a while, stories of these sort of declares began creeping onto the internet. Many of the "issues" were the same. They used similar language "they joined a squirrel group" and "they were given the chance to resolve the situation" and other statements that were known to be untrue. Word spread that these were just "cookie-cutter" issues with a new name substituted for the previous one.  So, this didn't seem a workable solution, and coupled with the sheer number of people being "declared," it ushered in the era of "Grapevine Declare."
This was for some time the most common means of being informed that one had been declared a disaffected (used interchangeably these days with "Suppressive"). Someone would hear it from someone and pass the word on. Usually with the instruction to "check it with OSA" or "ask the MAA about it." Contact with the MAA or OSA would result in a verbal "confirmation" that yes, indeed that person "HAS been declared."
Verbal declares became the subject of much protest and derision among the "bitter defrocked apostate set" and as a result there is a new type of declare, the "Letter Declare."
This declare comes in the form of a letter usually on Senior HCO letterhead. In a brusque paragraph or two it informs the person "you are declared" and attaches a copy of the Suppressive Acts PL with certain "High Crimes" highlighted. These are supposed to be what the person is "guilty of" though there are NO specifics given. But it is "in writing" so therefore "it's true." It closes with "Your only terminal is the International Justice Chief."
Seems to me that for an organization that claims to have the sanest justice system ever devised, and that tout themselves as champions of human rights their ACTIONS don't quite live up to their PR.
And finally, to pre-empt the cries that this is just the ravings of a bitter, defrocked, apostate squirrel, I provide some quotes from HCO PL  2 JUNE 1965 WRITING OF AN ETHICS ORDER:
When writing an Ethics Order, don't ARC Break its readers by leaving out the data. Don't create a mystery. Example of Wrong phrasing: "Woody McPheeters is declared a Suppressive Person. He stopped a student from coming on course." That leaves out all the data. Leaves questions – Where did it happen? Is it in our area? What did he do? Who did he do it to? What's the evidence? Correct Example: "WOODY McPHEETERS in Baltimore, U.S.A. is declared a Suppressive Person. On (date) he discouraged Fred Fairchild from taking the Saint Hill Course by writing to him lies about the course, well known by said McPheeters to be false statements. Evidence: Letter from McPheeters dated – – to – – now available in Ethics Files….

Don't be unspecific or you leave people in a huge mystery. Ethics Orders are supposed to run group engrams out, not in!

Always put in what you know, nothing you don't know, and only what you have evidence or witnesses for. Ethics Orders are issued on real data, not opinion.
These days, Corporate Scientology apparently ignores anything — L. Ron Hubbard, good sense and even long term prosperity — if it does not suit their immediate ends.
UPDATE — A reader sent in a copy of the letter and attached highlighted PL received and suggested attaching it. Here it is in all its finery: