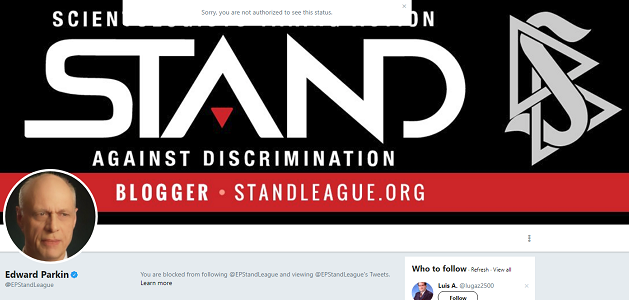 I happened upon the STAAD League "dead agent" propaganda about scientology Fair Game.
I thought it might be useful to address it with the real truth.
Let's start with what Hubbard ACTUALLY said about Fair Game.
Here is the oft quoted 1967 policy letter that lays out the "may be deprived of property or injured by any means… May be tricked, sued or lied to or destroyed."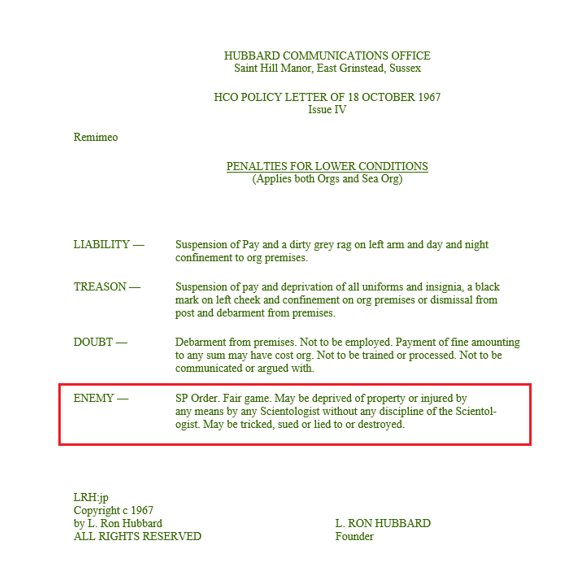 But there were earlier references to Fair Game in policies of 1965:

And this which declares the "homes, property, places and abodes" are "beyond the protection of Scientology Ethics."

And this issue gave specific orders to harass individuals declared Fair Game: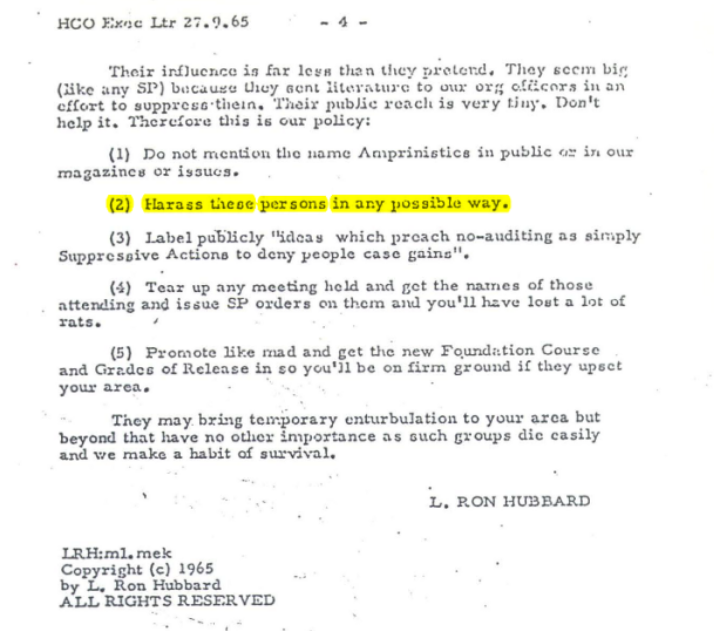 Hubbard's intent is unmistakable.  He wanted his followers to understand that those who had been denominated as "enemies" of scientology (Suppressive Persons) should be harassed or harmed by scientologists with the full blessing of the organization and Hubbard himself.
In 1968 he issued "Exec Letters" and notices in The Auditor magazine declaring certain individuals Fair Game. This took a step beyond previous admonitions to act and ordered Sea Org members to use "Process R2-45" on them: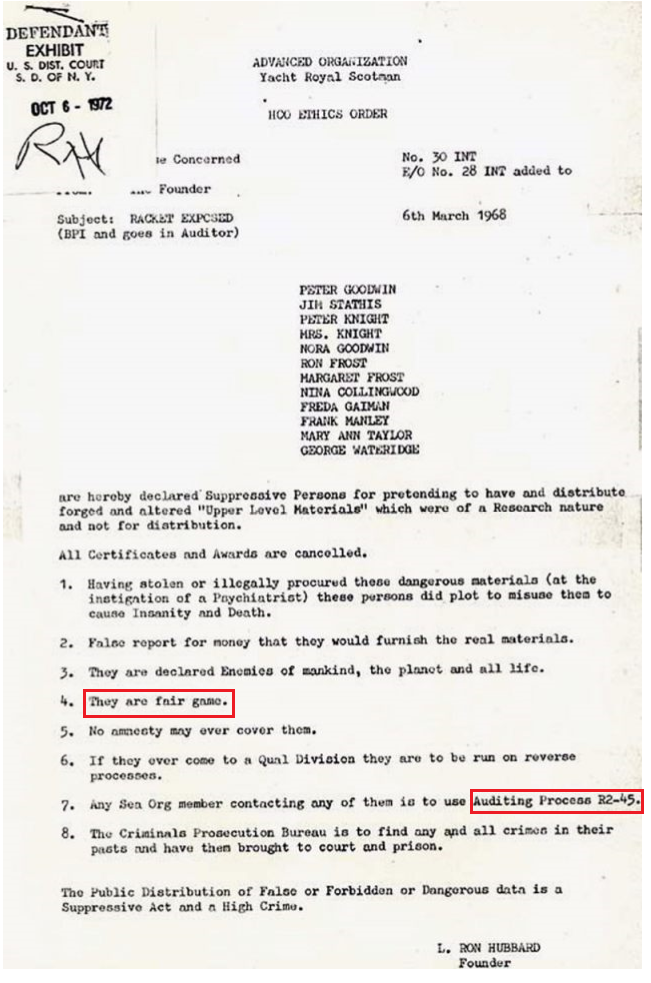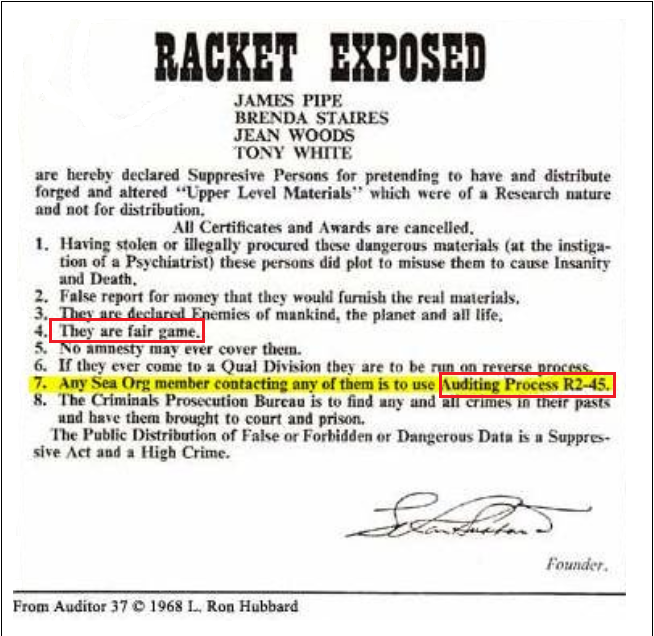 Process R2-45 is described in Hubbard's book Creation of Human Ability in this way:
R2-45: AN ENORMOUSLY EFFECTIVE PROCESS FOR EXTERIORIZATION BUT ITS USE IS FROWNED UPON BY THIS SOCIETY AT THIS TIME
Here is a short excerpt from one of Hubbard's lectures which makes clear that this refers to the use of a .45 pistol to "exteriorize" a thetan from a body:
And you will note the imperative "is to use". No "could", "might" or "may."
Following media coverage of this practice, Hubbard issued his "cancellation" of the "term."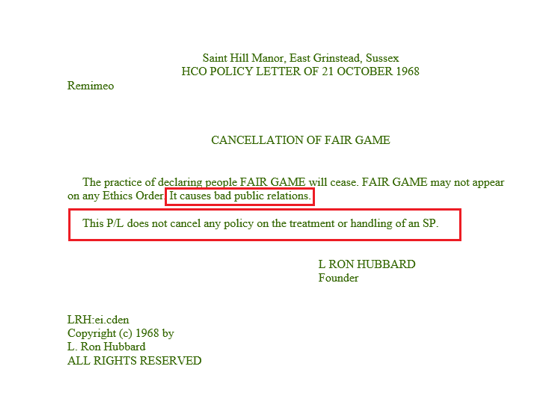 Note, it makes clear that the "treatment or handling of an SP" is NOT changed.
It is a typical Hubbard "PR ruse" that he thought would fool the "wogs" — we will continue to do the same thing, but we will no longer use those two words. Even though those two words describe the practice we will continue to use, we will not call it that. Hey presto, we are no longer guilty.
If Hubbard had written policies that told his followers to "Sucker Punch" enemies — sneak up and hit them in the face and they would not be punished for doing so and then "canceled" the use of the term sucker punch but "don't change how we treat our enemies" — would sneaking up and punching them in the face still be "sucker punching" them? Of course it would.
For further detail on the policies of Hubbard (which have NOT and never will be canceled or changed) about how to deal with "enemies" of scientology, see here Dealing with Critics of Scientology — the L. Ron Hubbard Playbook.
Now, let's take a look at how the STAAD League attempts to spin this on their FAQ page: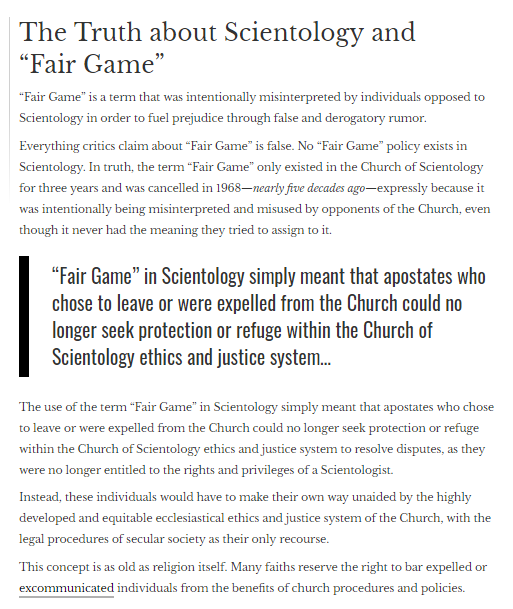 You can see how the bs is piled high here. It was "misinterpreted and misused by opponents" and "it never had the meaning they tried to assign to it". Hold on a second Eddie — it was L. Ron Hubbard who assigned it the PRECISE meaning he intended.  No interpretation required.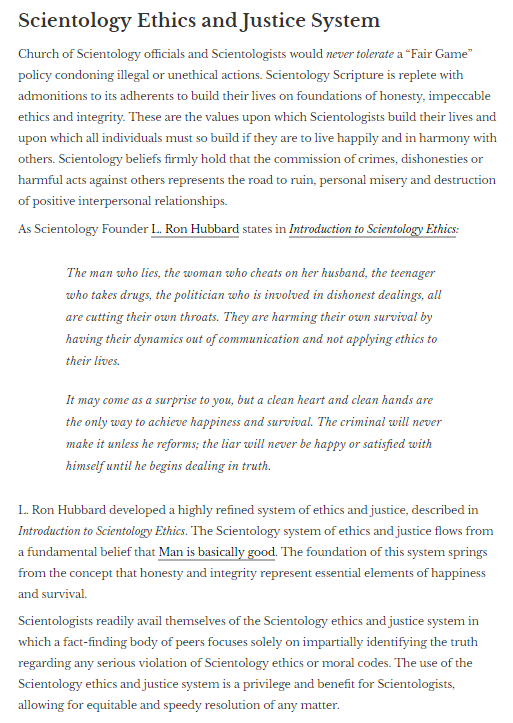 This is another of the scientology tricks — pull out a quote that "proves" they would never do anything illegal because "Hubbard says so." But Hubbard was the one that wrote all the policies about destroying enemies and getting even and investigating people. It was his wife and those other senior officials who went to prison for doing things that were illegal.
This would be like the Catholic Church saying "hey, we don't have pedophile priests because the bible says to be good and not be a pedophile."
Hubbard was a master of this. Writing something opposite as an escape hatch. The same guy who railed against governments repeatedly also said to support them in WTH. "The work was free, keep it so" and "Free service free fall". "What is greatness" is "loving your enemies" but "I always even the score" and "ruin them utterly if possible." This list is interminable. It is also convenient for apologists to use as an excuse when confronted with ugly truths.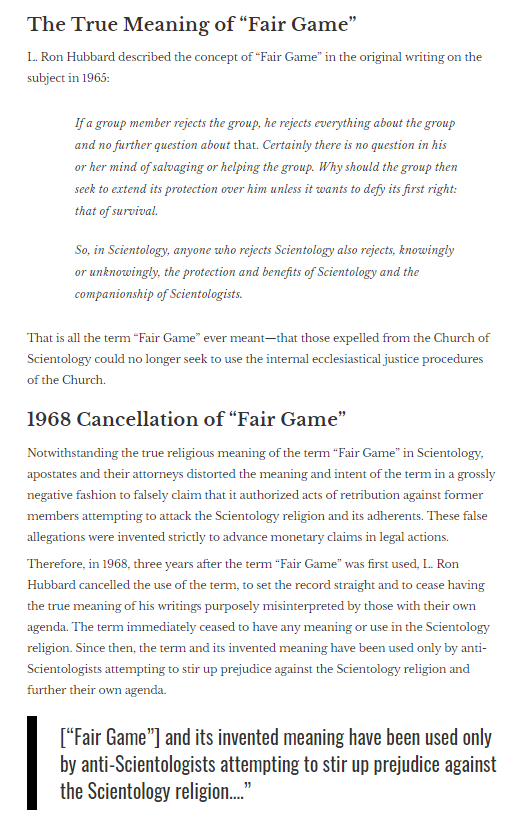 And here we go again — selectively quoting from the policy about the fact that these people were outside the "protection" of scientology ethics, while omitting that it said what scientologists COULD do to them and not be subjected to the penalties usually enforced. And in fact, what scientologists SHOULD do to them…
And then the hugest lie of all — Hubbard canceled the use of the term and thus "the term immediately ceased to have any meaning or use" — yeah, just like "sucker punching"…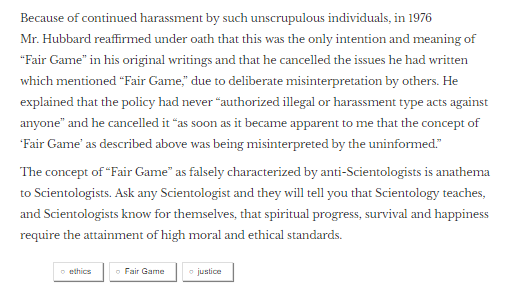 Oh wow, there it is — the ultimate proof: Hubbard had to sign a declaration in an effort to avoid prosecution of himself that everyone had "misinterpreted" what he said. You can make up your own mind as to what he said and how it may have been misinterpreted by reading his words above. Those ARE his words. And they certainly DID "authorize illegal or harassment type acts against anyone." This was just another "PR ruse" for the wogs because the 1968 "cancellation" had not fooled them.
The practice of Fair Game is alive and well in scientology. All one has to do is look at the website THIS document comes from! It is primarily devoted to vicious harassment of "enemies" of scientology.
The irony of that is lost on Fast Eddie and scientology.