This is the first in a series of investigations into the status of highly publicized churches and missions.
Thanks to Special Correspondent Ronn Stacy who took this shot of the Mountain View "Ideal Org" Test Center today.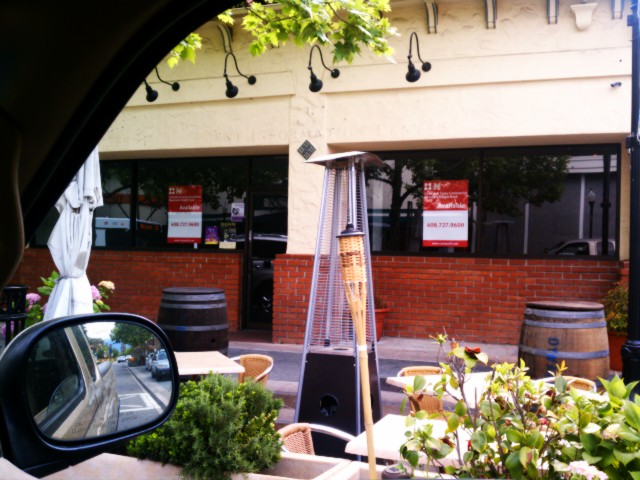 If you cannot see clearly — those are "For Lease" signs in the window.  Ronn tells us that he doesn't know if they relocated but that would seem odd since this was a prime downtown location they have had for a decade or more. At one time they ran most of Div6 here, OCA testing, basics bookstore, pinch tests, Div6 Crs Room, Book 1 auditing. 
Mountain View was one of the first orgs to renovate their own building and much was made of Jan Silber by Miscavige.  He held her out as a "model" ED at Maiden Voyage because she was OT VIII and had an upstat, renovated building.  Mountain View began promoting itself as an "Ideal Org" but of course their current premises were soon determined to be inadequate in the overall grandiose scheme of things. So in 2008, two adjacent buildings were purchased in a semi-industrial area.  Click the google street view to the left and the building alongside the glass front building is the second part of the "Ideal Org".  Keep rotating and you will see this is at the very end of a cul-de-sac with NO body traffic.  The assessed value of these two is $10.25 million, how much was actually paid I don't know. Interestingly, both these buildings were purchased by CSRT. Yes, that is the same CSRT that promotes itself as "The Super Power Project", so maybe this is where some of that Super Power money went!  
The property taxes on these buildings are reported to be $125,000 a year. So, Mountain View has shelled out $625,000 for empty buildings over 5 years. Or maybe CSRT is paying it and this is why they have to keep regging people for "Super Power."
Another angle of the insanity of the great "Ideal Orgs" boondoggle that is the ONLY thing happening in the Church of Scientology these days outside of IAS regging and status presentations.
Thanks to Ronn Stacy for sending in this info. We have a report on another nearby, very prominent Scientology Center also anointed by Miscavige coming very soon.