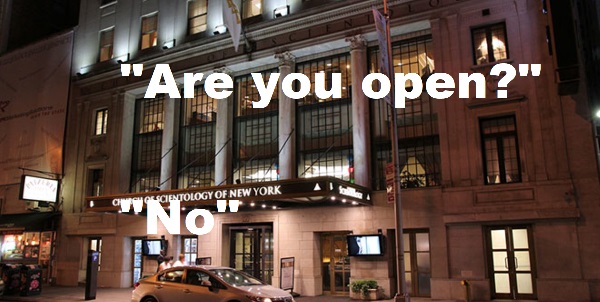 Here are the comments people sent in yesterday about the state of scientology orgs in their local area.
If you have a minute and can contact your local org, I will add it to the update.
So far, everywhere seems to be closed except Flag (not sure about the other Advanced Orgs).
This is catastrophic for the scientology empire — the longer staff and public are away from the control mechanisms exerted on them in the bubble, and the more bored they get, the more likely it is they are going to come across something on the internet or TV that is going to start them down the rabbit hole of finding out the truth about scientology. Or merely the relief of not having to live under the constant pressure to "get your stats up" will be enough for some of the staff to decide they are simply not going back.
Questions from family, friends, work associates to known scientologists can start them down the slippery slope. If you know anyone involved in scientology, this would be the perfect time to drop some questions on them. Don't be accusative, simply ask questions.  "Came across Going Clear on HBO while looking for something to watch, I am curious whether you think the information from Hubbard's wife is accurate?"  That sort of thing…
Here are the comments posted about the org openings:
London Org:
Hi!
We are going through some difficult and turbulent times and no doubt you all have your own stories at this time.
Throughout all this, no matter what you are running into, you need to know that the org and every staff member is fully available to you at this time.
We may not be physically in the building but we will be reaching out to you to make sure you are okay and to help you as much as we can.
You can also reach us either through the org reception which is being manned 24/7 for public enquiries or through any staff member that you know.
We will be sending out regular communications over the coming weeks to keep you inspired and to provide reassurance.
Much love,
The Team at London Org
Response from London org is that they are indeed closed. Asked for how long and was told they are following government directions and that they'd be open once they are permitted to be open per those guidelines.
I'm so glad I'm no longer there – I can only imagine the stress these people are under to handle their stats in this impossible situation.
Italy:
I have now tried to call some orgs here in Italy but they have not responded. Some close earlier than usual on Sunday. Or after what happened in Florence they are more careful. I try tomorrow morning.
I just called Milano org. Someone is there in reception but are officially not opened. Then they ask questions who you are etc. They are performing a huge drill. But they have what's app msg and other stuff organize the show and to see how to keep up stats. Like going to the auditor house or viceversa. A friend of mine got msgs till few days ago from somebody of the academy. They are on the "they are trying to stop US! " drill.
Buffalo:
I just placed a call at 11:41 am today,to the Church of Scientology in Buffalo. A woman answered and I just politely asked if they were open. She replied that they just had someone there to take in deliveries. She then said "I'm sorry, what is your name?" I just repeated again that I wanted to know if they were open. She said again that they just had a person there to take in deliveries. I thanked her and said goodbye. I know I caught her completely off guard, but I wanted to let you know what Buff Org had to say!
St. Louis:
I just took a spin by the St Louis mission. There were 2 cars in the parking lot along with an old beater jeep that is in questionable running condition. The curious and free personality test signs were not up and there was a note on the front door.
DC:
I called the DC org today, 3/29, and was told they were open for business but only online. A very cheerful registrar would have been happy to sign me up right then and there. When I didn't go for that she wanted to give my number to somebody else so they could call me back. she asked for my name a couple of times and I did not give it to her. I keep wondering if someone will call me back by using the Phone number they must have seen on their caller ID. We shall see.
Well, the DC org isn't "open", but they were very happy to ask some very personal questions and will call me in the next 5 minutes…
Sydney:
I'm unwilling to call the Sydney Class V org, because I don't want them to get my number. However, I walked past the org yesterday about midday, and the door was shut. There was a notice in the window saying that they are complying with government ordinances. The lights in the lobby were on, but nobody was at the reception desk. The way the ground floor is designed, you can't see more than about 2 metres into the interior, so I couldn't tell if anybody was in there or not.
Boston:
I just checked with a friend of mine who is on staff (ttc intern) Boston fdn. She says the building is closed & she has been home all weekend. She said people are doing ext courses on line.