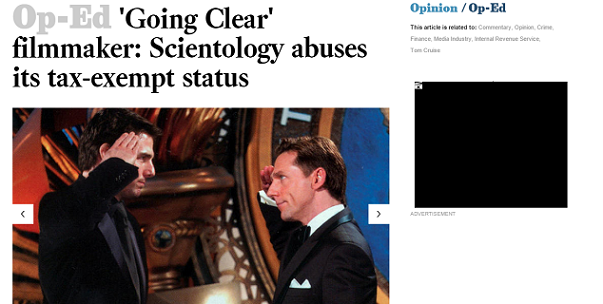 If you have not done so already, head over to Tony Ortega's site and read his posting about Scientology's Tax Exempt status.
Prompted by the OpEd piece Alex Gibney wrote in the LA Times, and with some excellent advice from Jeffrey Augustine, it lays out what you can do that is most likely to be EFFECTIVE in changing the way the US Government is allowing its citizens to subsidize Miscavige paying PI's $10,000 a WEEK to follow and spy on his father.
The direction about complaining directly to the IRS supplements my recommendation to contact your elected representatives.
If you want to DO something to change the situation, these are exact steps you can take that are FAR more likely to achieve something than signing a "petition."
People are quite rightly outraged that this "church" is abusing people with tax free money.
Many voices raised in protest can change that. So, if you have the opportunity, add your voice to the choir.
Following is a section of Alex's extremely well thought out Op Ed that captures the overall message:
In the past, critics of the church have called for its tax exemption to be revoked because it is not a "real religion." I agree that tax-exemption isn't merited, but not for that reason. The Church of Scientology has a distinct belief system which, despite its somewhat strange cosmology — mocked by the TV show "South Park" and many others — is not essentially more strange than, say, the idea of a virgin birth. Scientologists are entitled to believe what they want to believe. And the IRS website makes it clear that anyone is entitled to start a religion at any time without seeking IRS permission. To maintain the right to be tax-exempt, however, religions must fulfill certain requirements for charitable organizations. For example, they may not "serve the private interests of any individual" and/or "the organization's purposes and activities may not be illegal or violate fundamental public policy."
On these points alone, it is hard to see why Americans should subsidize Scientology through its tax-exemption.
Regarding "private interests," it seems clear that Scientology is ruled by only one man, David Miscavige. Further, powerful celebrities within the church, particularly Tom Cruise, receive private benefits through the exploitation of low-wage labor (clergy members belonging to the Sea Org make roughly 40 cents an hour) and other use of church assets for his personal gain.
It appears that many church activities may have been either illegal or in violation of public policy. Numerous lawsuits, my film, other media accounts and an abandoned FBI investigation have turned up allegations of false imprisonment, human trafficking, wiretaps, assault, harassment and invasion of privacy. And the church doctrine of "disconnection," in which members are forced to "disconnect" from anyone critical of the church, seems cruelly at odds with any reasonable definition of "life, liberty and the pursuit of happiness."
A proper criminal investigation that followed the money — a virtual river of cash from tax-exempt donations and fees — could sort out some of these issues. Or a congressional subcommittee investigation could force Miscavige — who was unwilling to answer questions for Wright's book or the film — to testify under oath about allegations of abuse.