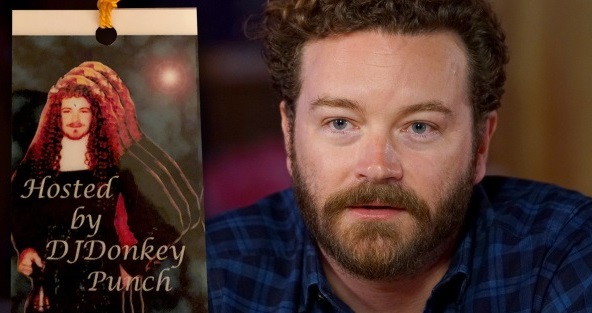 Of course, following the Masterson conviction, scientology put out a statement about how they have been subjected to "prejudice" and "bigotry." Here it is, in all it's holier-than-thou sliminess, and their usual outright lies.
The prosecution's introduction of religion into this trial was an unprecedented violation of the First Amendment and affects the due process rights of every American. The Church was not a party to this case and religion did  not belong in this proceeding as Supreme Court precedent has maintained for  centuries.
The District Attorney unconscionably centered his prosecution on the defendant's religion and fabrications about the Church to introduce prejudice and  inflame bigotry. The DA elicited testimony and descriptions of Scientology  beliefs and practices which were uniformly FALSE.
The Court's statement of Church doctrine was her own invention, DEAD WRONG, and blatantly unconstitutional.
The Church has no policy prohibiting or discouraging members from reporting criminal conduct of anyone—Scientologists or not—to law enforcement. Quite the opposite, Church policy explicitly demands Scientologists  abide by all laws of the land. All allegations to the contrary are totally FALSE.
There is not a scintilla of evidence supporting the scandalous allegations that the Church harassed the accusers. Every single instance of supposed
harassment by the Church is FALSE, and has been debunked.
Yes, scientology was not a party because it was not named a defendant in the prosecution. That of course is irrelevant — they probably should be prosecuted for obstruction of justice — they were very much a party to the events in question.
Their argument holds as much water as Fundamentalist Mormons claiming the introduction of the religious beliefs of Warren Jeffs and his dozens of "Child brides" somehow "prejudiced" his prosecution as a pedophile. It's plainly absurd. It was a central part of the case, explaining why the crimes had gone unreported for so long.
I did a post about this very thing some time ago that I am reposting below as it is as relevant today as it was then. But I want to add something that Leah pointed out to me. Perhaps the most famous scientology sec check (interrogation form) is "The Joburg." It is still VERY much in use today and anyone in scientology who progresses through Grade 2 has had one (and many people before they even get to Grade 2). Often specific questions from this form written by Hubbard are asked as part of a "tailor-made" sec check which is created for an individual by their Case Supervisor for a multitude of reasons.
You can find a copy of the Joburg Instructions and Joburg Questions here. But I have excerpted and highlighted the most relevant sections below. Note this IS CURRENT IRONBOUND POLICY of scientology.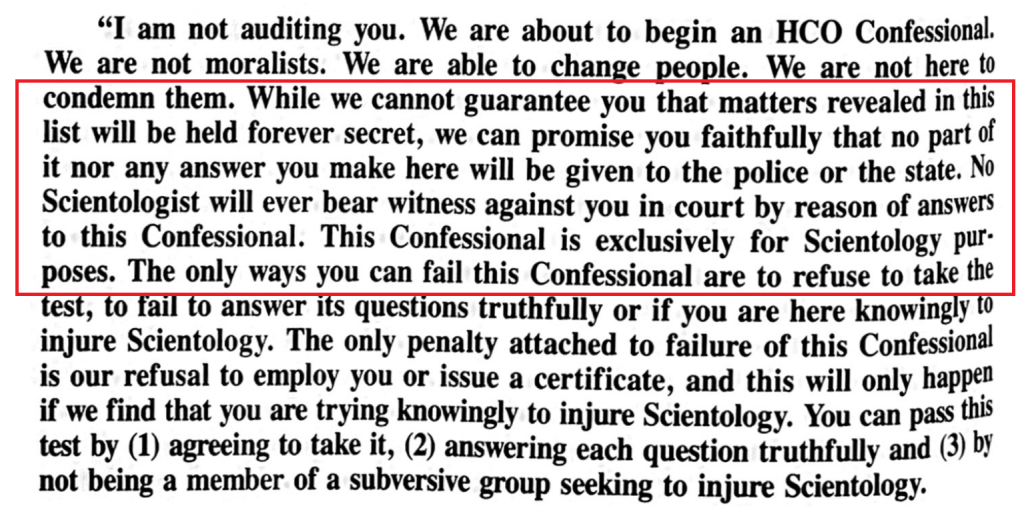 There could hardly be anything clearer.
And here are some of the questions contained on this list — confess to any of these things and scientology "faithfully" promises that this will never be turned over to the police and nobody will ever testify against you in court.
Game – set – match.
And here is the full earlier post on this subject with a lot of other references.
Reality Check: Scientologists and Law Enforcement
With the ongoing rape trial of Danny Masterson, a lot of people are curious about scientology's position with respect to reporting crimes to law enforcement.
Scientology responded to reports they forbid this in typical fashion — quoting the LA Times:
The Church of Scientology declined to comment on the pending criminal matter, but said the religion has no policy against reporting crimes committed by Scientologists to law enforcement.
"Church policy explicitly demands Scientologists abide by all laws of the land," spokeswoman Karin Pouw said.
Though most people reject scientology's denials about disconnection, breaking up families, abusing people etc etc and thus reject this lie, one has to have an understanding of scientology and the words of L. Ron Hubbard to understand what scientologists believe and how they act.
The first thing to know is that what L. Ron Hubbard says is to be taken literally and followed to the letter by all scientologists. His words are not parables and are not to be interpreted or used as mere guidelines. They are specific instructions on what to do. In scientology, one follows the words of Hubbard EXACTLY.  Scientologists believe that if they are not followed precisely they do not work. But they work "100% of the time" when implemented exactly. His words are denominated "the technology."
Let's begin with the first Hubbard quotes, taken from the list of Misdemeanors, Crimes and High Crimes that he lays out in his scientology "justice system." The "Justice System" is one the component "technologies" of scientology.
In the book Introduction to Scientology Ethics, the "bible" of scientology "ethics and justice technology," Hubbard lists the following as High Crimes (there are hundreds of transgressions listed in the book, High Crimes are the very worst category that can result in being excommunicated from scientology):
Delivering up the person of a Scientologist without defense or protest to the demands of civil or criminal law.
Reporting or threatening to report Scientology or Scientologists to civil authorities in an effort to suppress Scientology or Scientologists from practicing or receiving standard Scientology.
Public statements against Scientology or Scientologists but not to Committees of Evidence duly convened.
Bringing civil suit against any Scientology Organization or Scientologist including the non-payment of bills or failure to refund without first calling the matter to the attention
of the International Justice Chief and receiving a reply.
As I have said, these things are to be read and followed exactly. The plain language leaves no room for doubt. Though scientology claims it "has no policy against reporting crimes," these words from Hubbard make clear it is exactly what they demand from their members. Of course, if challenged they will claim "this is how we interpret the language" and know that no court can second guess their "interpretation."
There is a second element to what scientologists believe based on the words of Hubbard: indoctrination into the worldview of Hubbard.
He had a very low opinion of everything outside the scientology bubble. He coined a term for it; the "wog" world. Wogs are non-scientologists and it is a derogatory term widely used in scientology.
Hubbard claimed that ONLY scientology, only his "technology," could save mankind. He reserved some of his harshest criticism for "wog" law enforcement and courts. In fact, the last chapter of his ethics book is titled "A New Hope for Justice" and it expresses his utter contempt for all things outside the scientology "justice system."
Here are a few choice quotes:
As they themselves are contaminated by their criminal associates, the police and court systems are, in the main, composed of downstats who couldn't make it in life any other way.
Societies traditionally cave in through their police and justice systems, since these provide a channel of contamination between the vicious and lawless, and decent people.
There is little thought of administering justice so that individuals can improve. There is every thought to punish and create misery.
Justice systems thereby become a sort of cancer which erode every splendid ambition and achievement of the decent citizen. 
"Justice" apparently cannot be trusted in the hands of Man.
You can see the full document here: NEW HOPE FOR JUSTICE 
To a scientologist, turning someone over to "wog" justice is a cruelty.
Scientologists believe that someone who commits a crime can only be cured by scientology auditing. Hubbard admonishes scientologists:
All evil stems from aberration. And it can be pretty evil. And awfully aberrated. The only road out from evil is processing. 
Aberration here refers to non-optimum conditions or conduct. Processing is scientology auditing. Turning someone over to law enforcement prevents them from "receiving standard scientology."
Finally, the overriding concern of every good scientologist is the well-being of scientology. Anything that detracts from the image or "good work" of scientology is bad, and anything that assists scientology to raise its profile and reach in the world is good. Negative media stories about scientologists committing crimes are very bad for the organization. And thus bad for all of mankind, because if scientology is unable to get "the tech" applied broadly, every man, woman and child on earth is doomed to a dark, painful future. This factor guides all scientologists' decisions about what is right or wrong, even if there were no specific rules covering a circumstance.
Scientologists who do not report crimes to law enforcement are not merely "following the rules," they are doing what they have been taught is the "right" thing to do.
This is the crazy level of brainwashing that exists inside the scientology bubble. It is hard to fathom unless you have been a part of it.