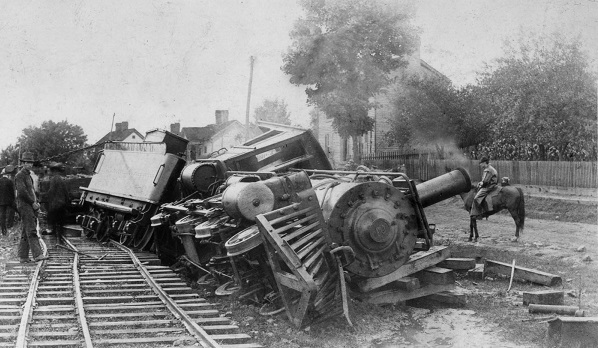 The Scientology PR machine is rolling… Like a runaway train on a toboggan ride down the Matterhorn (to steal some shermanspeak).
They not only have the international news of the announcement of Alex Gibney's scientology film premiering at Sundance next month, (and a tongue in cheek statement from HBO about having 160 lawyers being picked up internationally to set the mood and get a LOT of people wanting to watch it to see what the noise is all about), now they have a new video of bizarre bubble behavior leaking out into the real world with Cathy Fraser and Co "confronting and shattering" Marc Headley as he accompanied a Danish film crew to the Int Base — see Tony Ortega's article from yesterday. The main person they put out front was one of the Stepford Wives who became so infamous on AC 360 for their drone-like recounting of rehearsed "lines" completely inappropriate to the circumstances.
And this follows on the heels of the now infamous viral video of Jenny Linson and Mutt and Jeff "confronting and shattering" Marty Rathbun at LAX.
It's a Grand Slam Breakfast of Fail.
But then one of our vigilant Special Correspondents sent us this — right from the home of the largest scientology third dynamic on earth ™. It is the cherry on scientology's PR pancake.
A list published by Time Out LA, a popular site for Angelenos and visitors alike to find restaurants, entertainment and events in LA.
In a feature entitled "25 weird and fun ways to explore Los Angeles" one of the entries concerns the L. Ron Hubbard Life Exhibition.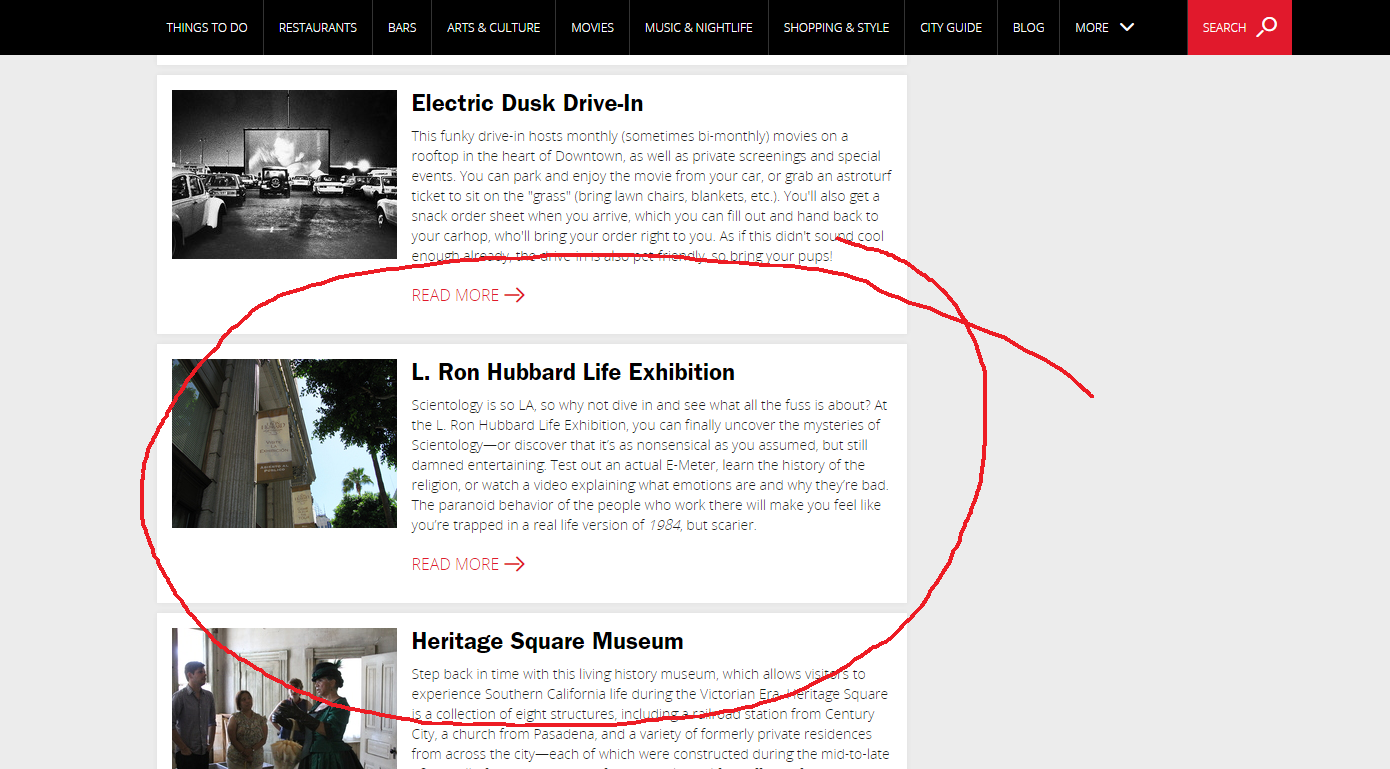 This is what the text says:
Scientology is so LA, so why not dive in and see what all the fuss is about? At the L. Ron Hubbard Life Exhibition, you can finally uncover the mysteries of Scientology—or discover that it's as nonsensical as you assumed, but still damned entertaining. Test out an actual E-Meter, learn the history of the religion, or watch a video explaining what emotions are and why they're bad. The paranoid behavior of the people who work there will make you feel like you're trapped in a real life version of 1984, but scarier.
That is some impressive PR area control right there in the very epicenter of scientology's massive international humanitarian and world clearing efforts.
PS: It is amusing to read the church responding claiming they "expelled" Marc Headley (see Ortega this morning). This is such a tired old lie they have trotted out about everyone. It's one of a few in their PR "arsenal" they have said about virtually EVERY person who has escaped from the Int Base (including me, Marty Rathbun, Tom DeVocht, JB) "we threw them out after we discovered they were stealing/violent/wife abusers/animal torturers/devil worshippers/alcoholics/child abusers/bed wetters/meanies…"
There are a few other old standards they roll out too:
"You cannot trust a bitter apostate, because a scholar said so."
"They never held any position of authority, they were a low level worker ant."
"They have no idea of the CURRENT state of scientology, they have been gone for 3 weeks and could not possibly know anything relevant."
"We have signed confessions statements from 47 people that make clear this person was the source of all evil in the church and caused everything bad that ever happened when they were in the positions of not being in authority."
"Their ex-wives/husbands/children/parents/siblings will tell you what scum they are, you don't need to believe us, you can believe them (because they are members of the most ethical group on earth).
Readers can probably extend this list.
They are preparing all these and more, with binders about each of the subjects of the Alex Gibney program, binders for everyone Louis Theroux has talked to and the same with the Danish TV. And all of them are going to fall on deaf ears as they systematically destroy ANY possible credibility they ever had with their crazy antics and constant stream of lies that everyone in the world KNOWS are lies.