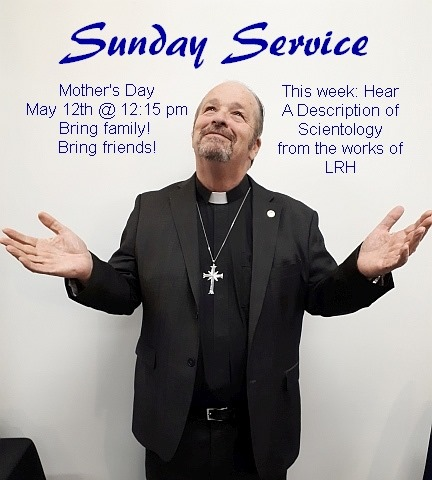 Here we have a couple of recent promotional pieces pushing the "religious angle" of scientology.
Though I must say, this one above looks more like a screen shot from a Ricky Gervais mockumentary.
But even at Celebrity Centre, they are promoting "Reverend" Nancy Delaney. Cross in the background, but thankfully no phony dog-collar.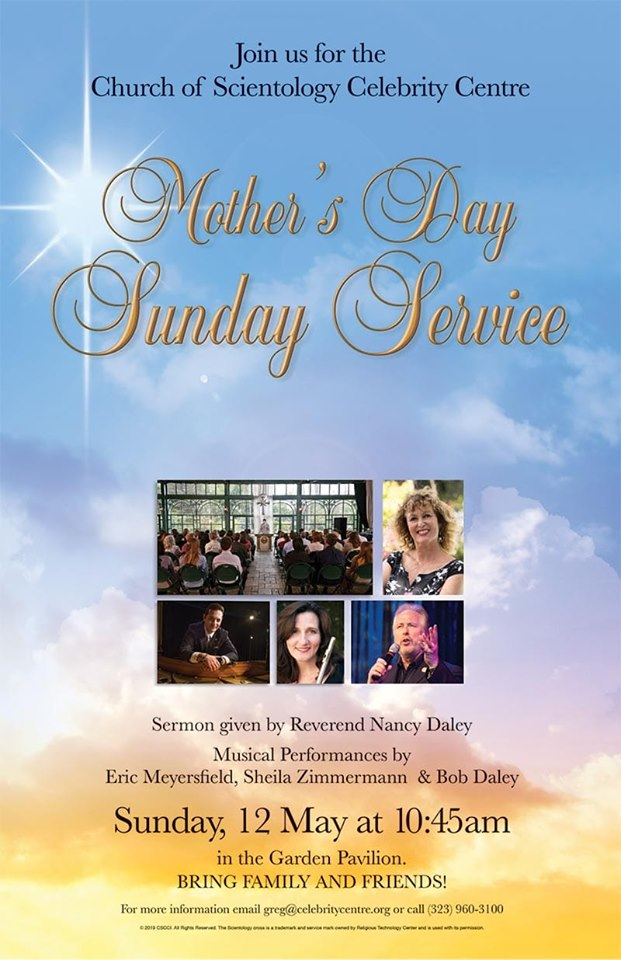 But let's take a brief look at the history of "religion" vis a vis Dianetics and Scientology. This is by no means a full recounting of the story, merely a glimpse that provides an idea of the tortured path it has followed.
In 1950, Hubbard was initially very clear about the status of Dianetics. It was a "science" and not a religion. There is considerable discussion about the "aberrative value" of religion in Dianetics.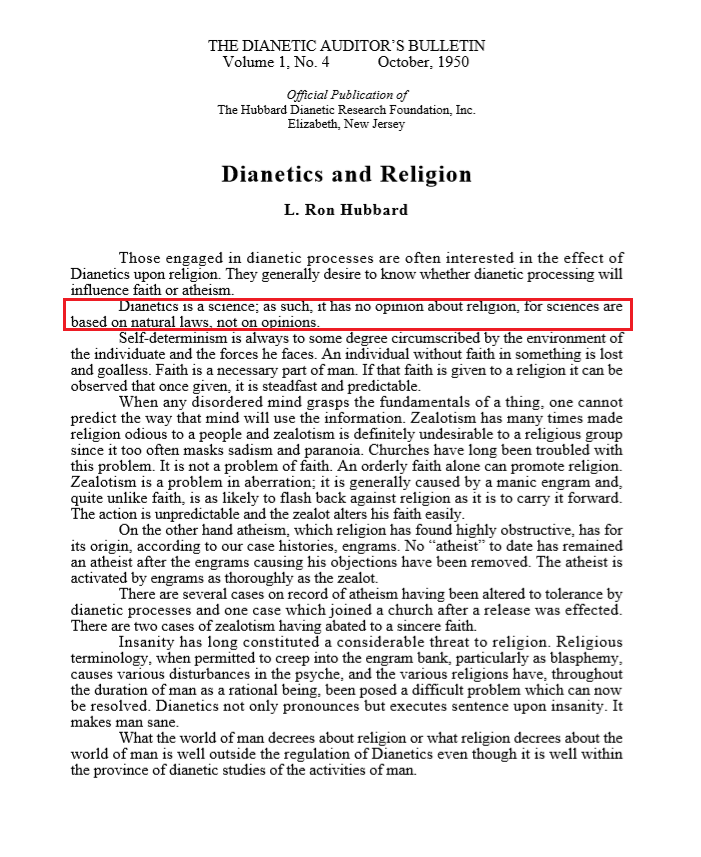 When Hubbard lost control of the Dianetics Foundation and the copyrights to his book, he developed a new "science of certainty" he called scientology. His view of religion remained dim.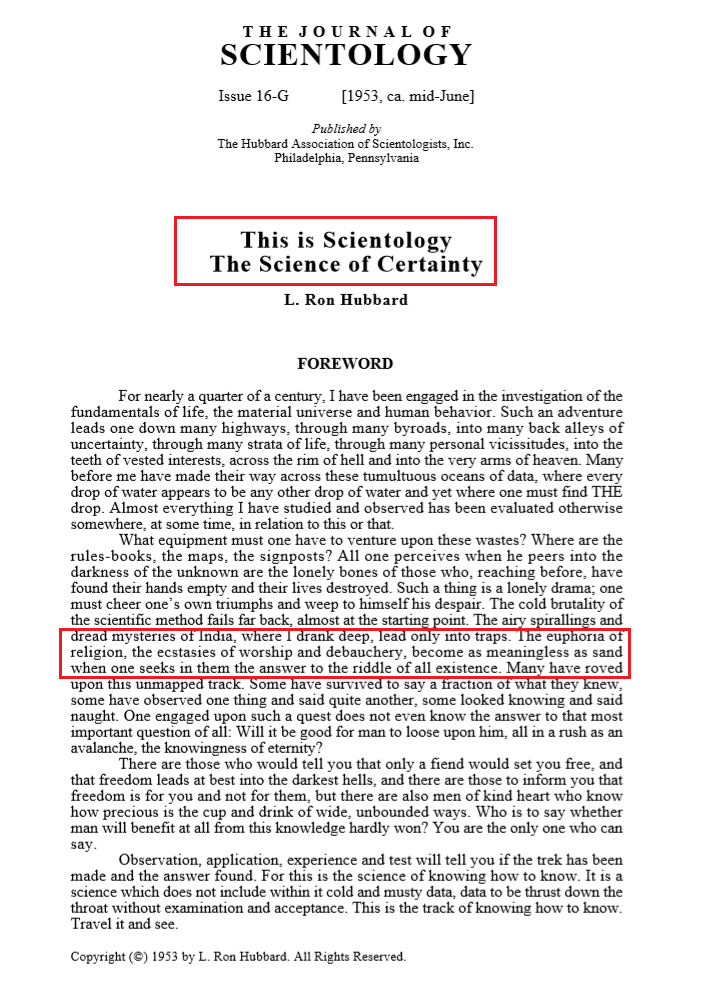 But by August, just a few months after the publication of the above, Hubbard wrote to Helen O'Brien, an early scientologist:
"We don't want a clinic. We want one in operation but not in name. Perhaps we could call it a Spiritual Guidance Center. Think up its name, will you. And we could put in nice desks and our boys in neat blue with diplomas on the walls and 1. knock psychotherapy into history and 2. make enough money to shine up my operating scope and 3. keep the HAS solvent. It is a problem of practical business.
"I await your reaction on the religion angle. In my opinion, we couldn't get worse public opinion than we have had or have less customers with what we've got to sell."
Clearly, things were not going well.  Public opinion "couldn't get worse" so he figured they might as well try the "religion angle."
On December 18, 1953, Hubbard incorporated the Church of Scientology, Church of American Science and Church of Spiritual Engineering.  Hubbard, his wife Mary Sue and his secretary John Galusha became the trustees of all three corporations
In 1954 Hubbard then wrote a PAB entitled "WHY DOCTOR OF DIVINITY?" that contains the following:
…"a Scientologist has a better right to call himself a priest, a minister, a missionary, a doctor of divinity, a faith healer or a preacher than any other man who bears the insignia of religion of the Western world. And remember that it is precedent which masters the opinion of multitudes and nations.
"Why should Scientology ally itself with religion or use the word religion in connection with its philosophy?  There are many, many reasons. Amongst them is that a society accords to men of the church an access not given to others."
…
"In another time, in another place, those men (the Buddhas) responsible for what Western culture calls their religion, called themselves priests. I do not see, then, any inconsistency of any kind in the issuance to those well-schooled and well-skilled in Scientology the degree of Doctor of Divinity as a passport into those areas where they are needed. Only a barbaric minister is a "Man of God." In all enlightened religions such men are called "Men of Wisdom."
Clearly, he saw the advantage of adopting the religious mantle.
Skip forward to 1967 when Hubbard makes his "breakthrough" of OT III.  Though he had mentioned it previously, he newly states that the "R6" bank contains God, the Devil, Angels and the "man on the cross". Religion is once again brought to the forefront in the Hubbard bad books. And all advanced scientologists, who may not have been privy to some of his earlier commentary about religion, are now exposed to his new "breakthrough". (In those days there was no internet, there were not even tech or OEC vols — so earlier writings were very difficult to come by, which may be partly why he had no problem making completely contradictory statements over time).
I suppose this caused him (or more likely Mary Sue as the head of the Guardian's Office) concern that with the release of OT III, people would conclude that being religious was NOT a good thing. The "religion angle" never had anything to do with the actual beliefs of Scientology, its a cynical way to gain advantage.
To ensure that advantage was not lost following the broad release of OT III, in 1969 Hubbard clarified that "religious image" is "mandatory" because it is a "requisite defense."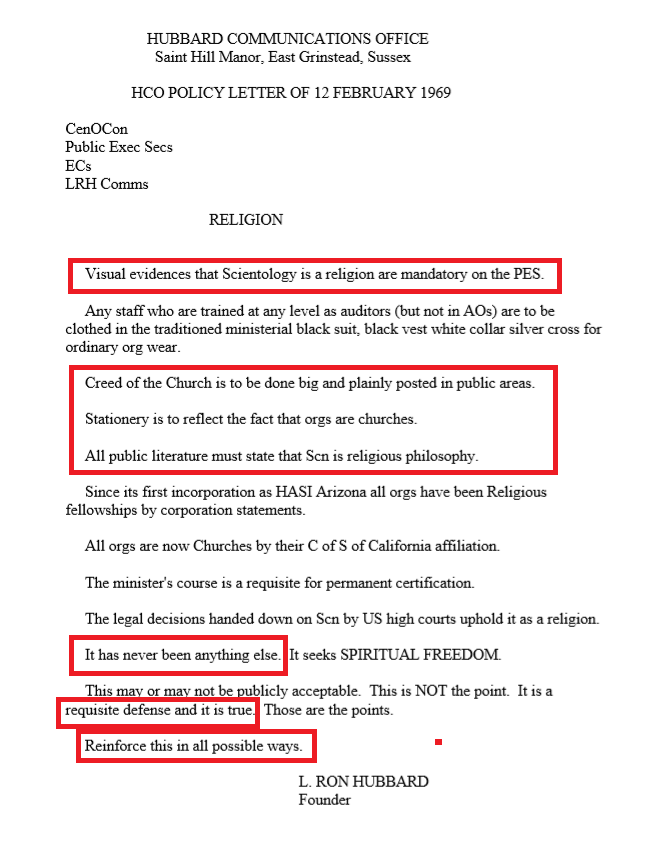 Despite the cynicism of believing religion is actually an implant, hiding behind the trappings of religion has been an extremely successful ploy. It has afforded protection in the courts. It has shielded scientology from outside agencies. And it has provided scientology in the US and some other countries tax exemption.
Scientology, the religion that doesn't believe in religion.  In fact, it prides itself in claiming there is no belief at all in scientology.
They have hoodwinked the IRS and courts and other religions into buying their bs.