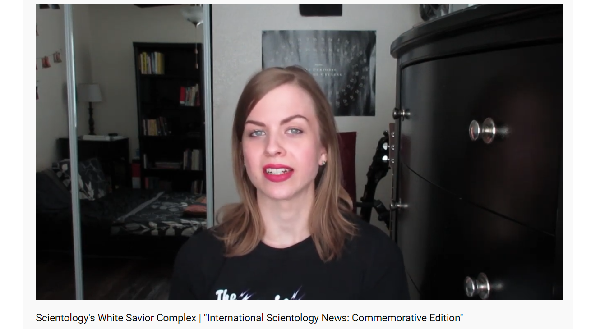 Karen De La Carriere alerted me to this video that was posted on YouTube on 18 May by SkepticShe.
I was not familiar with Lauren before seeing this. Obviously she has done previous videos of interest that I will catch up with.
Her irreverent honesty reminds me of one of my favorites — Carrie Poppy of Oh No! Ross and Carrie fame — though Lauren is much snarkier. Anyone who reads this blog knows I have a snarky streak and I enjoy her mastery of the snarky burn.
Lauren analyzes the "Decade in Review" International Scientology News that is a rehash of the "big" New Years event. Her take is pretty funny. And pretty typical of how non-scientologists ("wogs") view the utter waste of forest these glossy collections of self-congratulatory crap represent. Nobody but a bubble-dweller could believe anything contained in scientology propaganda, especially their "PR" pieces like this or Freedom magazine. They keep churning them out at enormous expense only to convince the sheeple they are saving mankind and everyone loves and admires them. Hah. It would be funny to watch, if it were not for the fact that everyone else's tax dollars are subsidizing this garbage. It's not free and harmless.
Take a look at her video. It's not long.
Subscribe to her YouTube channel SkepticShe. Someone with the courage to speak like this deserves support.