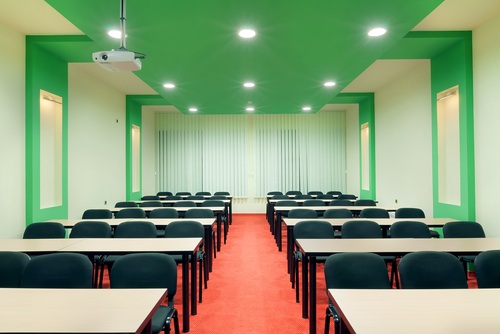 It seems Miscavige has turned his CGI into reality.
He is forever showing empty buildings in his "fly-throughs" of ideal orgs.
He is also continuously sending everyone BACK down the Bridge to "start over" or "redo" things.  And of course pay for the pleasure even though he announces at these events that "some SP's" had screwed it all up — but those "SP's" were the people entrusted with the JOB at the time.
And while there have been many reports of empty courserooms (see posts here about the tour of Portland and the earlier one on Pretoria) this one takes the cake.
According to a report I just received there is NO ONE on the Briefing Course at ASHO Day. And this is really the ONLY service they should be focused on delivering.
The BC students have all been taken off and put on the GAG II Student Hat etc.
There are NO INTERNS as they have all been put on the Student Hat, Pro TRs etc.
OT Preps have been moved to AOLA, though its unclear if this is because they don't have auditors or its a new pronouncement from Command Insanity based on another of his expert "Why's".
No one wants to pay for GAT 2. They charge $1000 more for SHat, Pro TRs etc. so the students that ARE forced onto it are for the most part using training awards.
THIS is the new "IDEAL PAC."
I bet their marble floors are nice (they never get dirty as nobody is there) and they probably still have all their clay wrapped in plastic from when it was bought as part of the "Ideal" requirements. And they have THE BEST demo kits — they ALL match perfectly with an exact number of pieces.
How can the sheeple not see through this?
Truly, "Ideal Org" has become synonymous with "Unused extravagant furnishings" and "nobody home."