Another "out of the mouths of babes" admission from the highest levels of the crumbling scientology empire.
They have been trying to get 10,000 "onto or through" Solo NOTs since it was released 35 years ago.
Realize, this is a CUMULATIVE number. Everyone who has ever finished is counted. Along with everyone who is now "on the level"…  And that certainly includes all those who have been declared or "blown off" the level without completing it. Really this is a measure of "all time number of people who STARTED OT VII regardless of what happened to them subsequently."
This year's target is not even to reach 10,000. It's just to add another 1,000 and move "closer".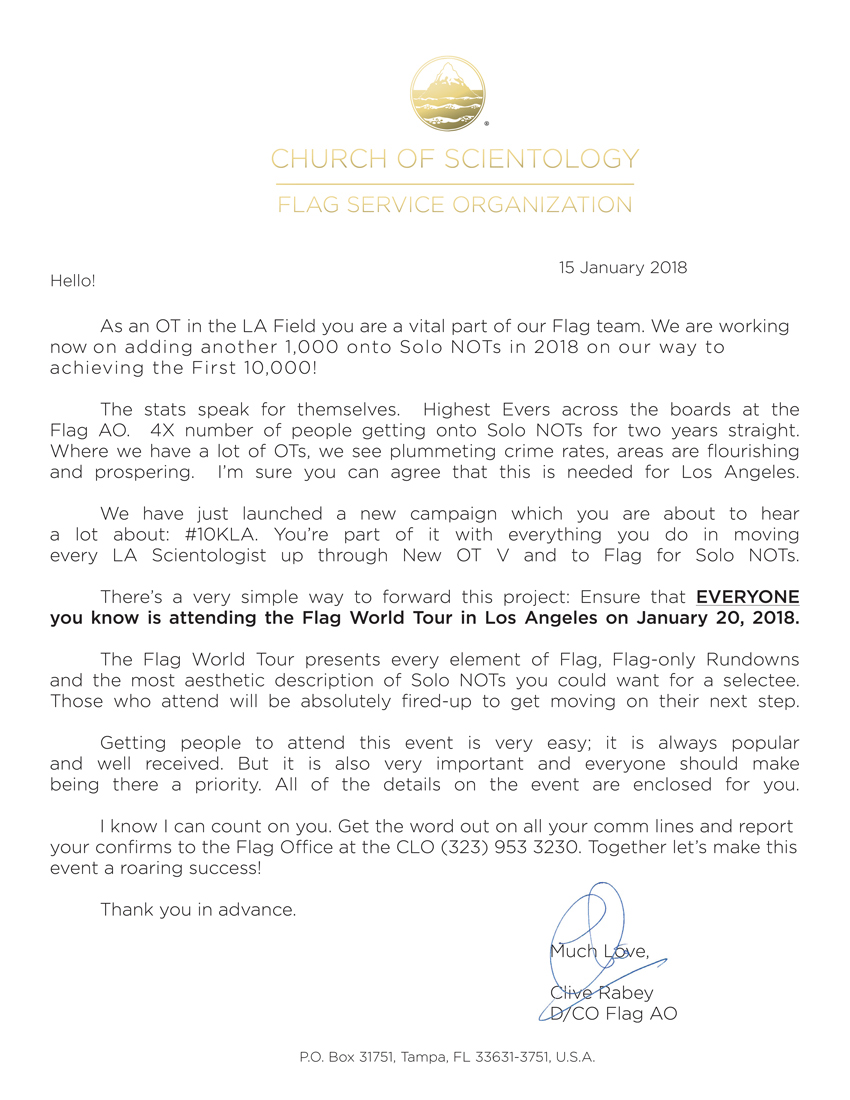 One thing Clive says IS true. "The stats speak for themselves."
They shout "Liar, liar, your pants are on fire."
We have been tracking the pronouncements from Clive for years. If I went back and extracted ALL the hype statements about "highest ever" and "fastest ever" and "monumentally epic bigliness" it would curdle the milk of even the most contented cow.
I just don't have the time and energy to do so, but I grabbed one earlier blog entry ("Straight Up and Vertical — Not"), from January 2014. Here is the first part of that blog post:
For about 30 years now the FSO has been pushing an arbitrary target of "10,000 onto or through OT VII" as the solution to "handling the planet." 
It comes from a twisted interpretation of this quote from a 1952 lecture: "…at any one time on earth there were not more than about 10,000 people of a caliber that was sufficient to do a little steering or leading…"
Clive Rabey, the point man for the FSO on this matter, explained it in Source Mag like this:
"It was a mathematical equation, all extrapolated out. From the real physical universe effects this would create in terms of case gain and resultant third dynamic activity, including mid-New OT VIIs and New OT VII's joining staff, it was estimated this absolutely would achieve the goal of bringing about the release of OT IX and X. But not only that, it was estimated that 10,000 on or through New OT VII would be able to do a lot of steering or leading on Planet Earth as LRH said."
In another Source Mag from 2005 they announce there are "over 3000" on or through Solo NOT's (incidentally, this mag prominently features Captain FSO Debbie Cook and a half page photo of Laura Ann Wilson).
Now Edy Lundeen has sent out a new email giving some cold, hard facts about life inside the bubble.
I am ignoring the fact that I can guarantee they are still counting people as "On or through" Solo NOTs who have long since abandoned auditing in the church. I will just take their figures as if they are true.
1. The grand total ON or THROUGH Solo NOTs right now is 6410. That is over a 30 year span. Less than 250 people per year. 
2. Since 2005 the number has increased from 3000+ to 6410 — 8 or 9 years which have been the biggest boom time in Scientology history according to the pronouncements of Dear Leader.  That is 3-400 per year.  At this rate the next 3500 will take until 2022. By 2022 the population of earth will have increased by more than a billion people. It has increased by 2 billion in the last 30 years.  If they were even to keep the ratio correct — 10,000 out of a world population of 2.5 billion in 1952, it would require 28,000 for a world population of 7 billion today. It was 4.5 billion in 1980 which would have required 18,000 to keep the ratio correct. So, in fact, over the 30 years the number required has INCREASED by 10,000 while they have made 6400 so they are going backwards….
3. There were 400 OT VII completions in 2013 – a "screaming" highest ever. This is one in every 17,500,000 people on earth. This is having absolutely NO impact on anything.
4. If there truly are 11 million Scientologists in the world, then it means that ONE in TWENTY TWO THOUSAND FIVE HUNDRED make it to OT VII and that is "screaming affluence."
5. I am quite sure there were more people DECLARED in 2013 than completed OT VII.
You will no doubt notice they no longer give the actual NUMBER — I think they get tired of me announcing how many they now had and comparing it to the earlier number they announced. 6410 ever for the entire world is not impressive for the fastest growing religion on earth with 47x expansion and 10x more since GOAT II blah blah blah…
So, now they're more opaque.
It made me wonder what Clive and company think is going to happen if they ever reach this magical number?
I have a feeling they might never announce it — imagine all the people who have been hearing this hype about "steering the planet" for decades if they suddenly they HAD now supposedly accomplished this feat — "how come nothing is different"? But then again, these are the same people who have bought the idea that permanent peace and prosperity has been bestowed upon the nation of Venezuela through the distribution of the WTH — by three separate IAS Freedom Medal Winners. Just proves you can sell literally anything to scientologists if it's announced at an event.
One thing is for sure. The fact that they cannot even  one close to reaching 10,000 cumulative starts on  the only level that really matters in scientology is the best evidence that this no force to be reckoned with. There have been 60,000 psychiatric certifications just in the US since they started certification — this requires 8+ years beyond a Bachelor's degree. There are 100,000+ psychologists just in the US which is 5+ years.  Best guess this is 5% of the world total. So, no scientology is NOT winning the war of ideas and taking over the planet.  Not even against the psychs….