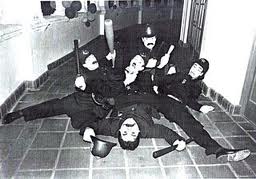 In typical Keystone Kops fashion, the world is informed of the planned dates for the "Grand Opening" of "The Mecca Building" and release of Super Power and GAG II and the Mark VIII meter and, and, and… in early October.
BUT, the Chief Super Power Reg sent an email 3 days ago TO GET PEOPLE TO COME TO THE EVENT and she is STILL NOT GIVING A DATE!
In fact, she is telling people to come in September and that the Grand Opening and IAS event will be in September and October. And this is an email telling people to get visas and make their travel and accommodations reservations.
Are things really THIS disorganized and uncoordinated? 
Reminds me of the emails for Graduation "You know Who will be there…." 
"Come for these events, we don't know when they will be, but make your reservations now…."
And her final note is just weird:  "After 30 years, the auditors are looking like they are nearly ready to be able to deliver to you. Isn't that amazing!!!"
From:    Lauri Webster <[email protected]>
Date:    Sun, 18 Aug 2013
Dear Cornerstone Member,
 
As you have been receiving my emails, I have been trying to give you some heads up about everything coming up at Flag. I want to make sure that you arrive to Flag no later than September to get your set-ups and pre-requisites for Super Power complete so you can start as soon as it is released.
 
So, that means, if you need to go to your embassy to get your Visa, you need to do that now so you can get here right away.
 
September and October will be quite exciting at Flag as you will experience the opening of the new Flag Building followed by the IAS event.
 
I want to reiterate that you should bring the following with you as part of your wardrobe:
 
-Event Clothing (including business suits for the ribbon cutting ceremony and any other events held at that time)
-Banquet attire 
-Party wear for a celebration
 
Basically, you should be prepared for a series of magnificent events!
 
Stay tuned and ready for your next update!
 
ML,
 
Lauri
 
PS – Great news, all the auditors are through their first rundowns of Super Power so they can be ready for you!