Some news about the latest "Ideal Org" to blow smoke up the remaining butts that will occupy a seat at an event.
I didnt post this email from a few weeks ago — sort of got lost in other activities. And it was just a single email. 
Following is what I wrote about it on 15 January….
Just 6 weeks away from the Grand Opening!
And THEN we can START rocketing people up the Bridge.
Because everyone knows, you can't get anyone up the Bridge unless you are "ideal."
Mark your calendars everyone — 1 March is the big day (I am taking bets now on when this will in fact occur — anyone in Sydney got an eyeball on the place?) 1 March is probably too late for them to get the video done for the March 13 event (depending on what date that is) so if it is indeed close it will probably not actually open until some months later…. 
Date: Tue, 14 Jan 2014
From: Sydney Ideal Org! <[email protected]>
Subject: Important Invite for You

14 January 2014

Dear Xxxxx,

Hello!

I am writing to you about this coming weekend of events for Sydney Ideal Org. We are in the most exciting time ever with about six weeks until the Ideal Org doors open and we start rocketing people up the Bridge in your new Ideal Org!

This weekend, we have an exciting series of Ideal Org briefings and events! On Saturday night we have THE BIGGEST EVENT EVER on Saturday 18 January at the Canterbury RSL. This starts at 5:30pm at the Canterbury RSL in Hurlstone Park. There is a complimentary dinner, an International guest speaker and surprise guest performance, and a briefing from OSA on the Grand Opening Preparations.

Following that, on Sunday afternoon at 1pm in the current Sydney Org (841 George St), I will be doing a Technical Seminar concerning Golden Age of Tech Phase II, Sydney Ideal Org and how the two combine to create Clears like we have never seen before.

If you want to know how we are going to train enough Auditors to actually, truly and factually Clear Australia – and the rest of the ANZO – then come to my briefing on Sunday.

If you want to know how YOU can make it up the Bridge to Clear and OT – then come to my briefing on Sunday.

If you have any questions at all about Golden Age of Tech Phase II training or processing and what this means for you – then come to my briefing on Sunday.

I will see you there!

Much love,
Stephanie MacClement
Continental Senior C/S Chief
By the way, you note this is from the "Continental C/S Chief" — not the "Call In IC" or "Events IC" or even "Landlord." Shows you what sort of "hey-you" is routine within the RCS these days.
But now we have another message: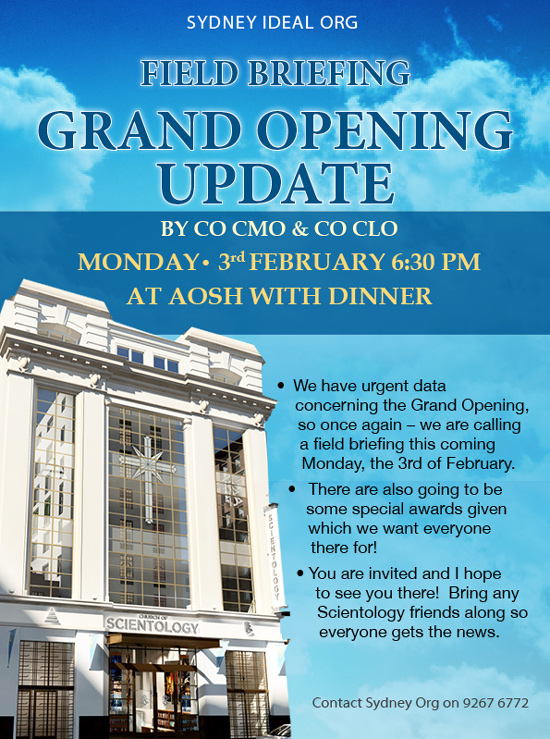 Hmmm, no mention of date. And its not sounding too imminent. According to the earlier message it's less than 4 weeks away and they are no longer giving ANY time frame. What a surprise…
But there is more. 
They have a "uniform" and they are for some reason promoting it as a big deal? Looks like all the other uniforms for all the other "Ideal Orgs" — you know the ones that have to be dry cleaned and each staff member has two shirts and they are yellow and messed up in a matter of weeks and then there is no money for new ones (and no staff can afford dry cleaning). See the reports from the Joburg Ideal SH Size Org….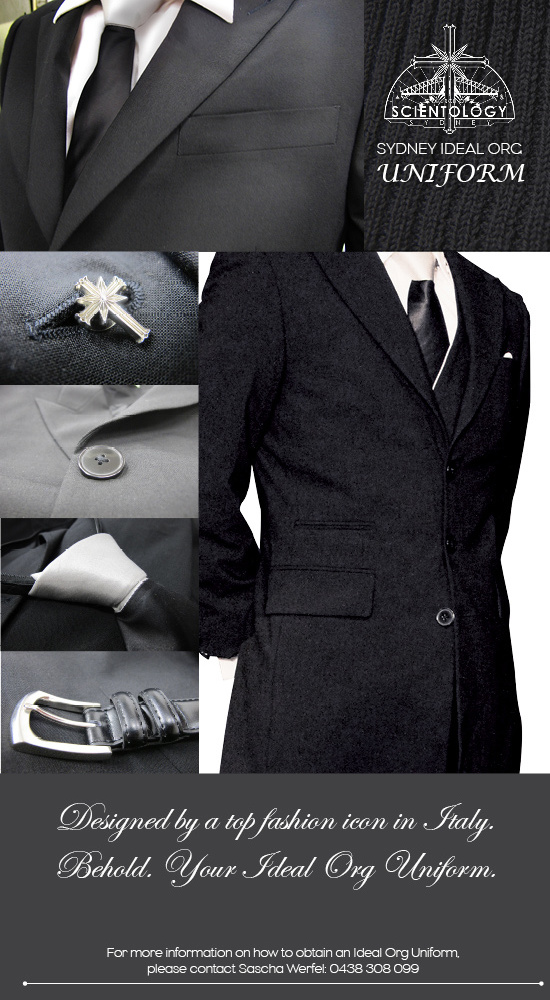 I wonder if these are the same designs done by Claudio Lugli way back when? And they are still promoting him (without a name) even though he has long since departed the church and been declared? I would bet money on it….
But there is more from Sydney.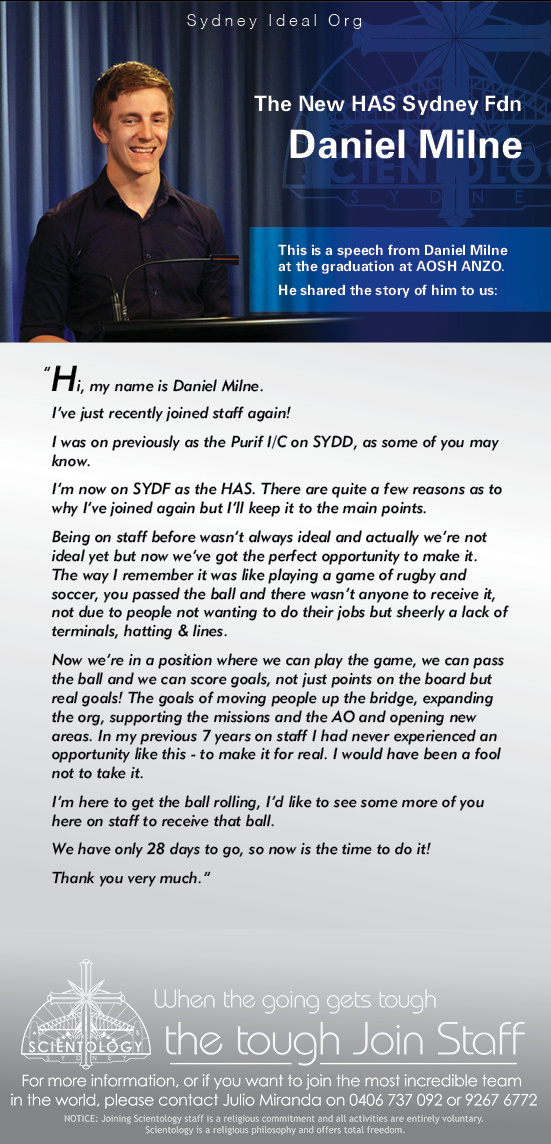 Interesting pitch. I was on staff and left because it sucked. But now we have a chance to make it not suck any more. I think its going to work out this time. Though I give no reason other than "this is the time." And with a tag line "the tough join staff" it really doesn't sound too inviting. Wonder how much Daniel has been paid since he re-joined staff? 
And finally, there is this: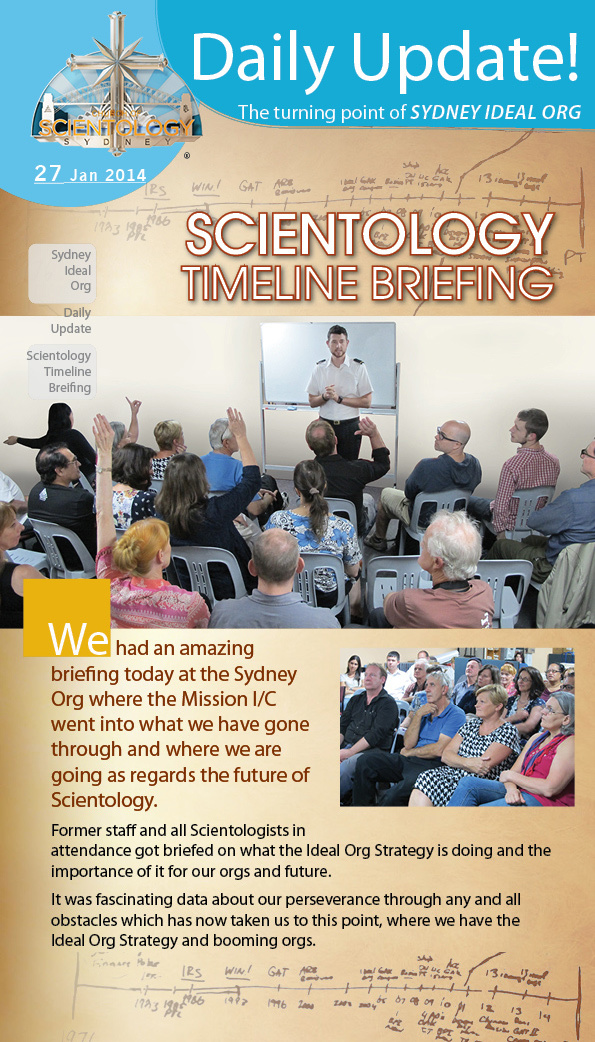 Oh dear. The really important briefings from International Guest Speakers ™ only attract upwards of 17 people (you know they got EVERYONE in the shot they possibly could). Poor show for an org that is just a few weeks away from being "Ideal."
But the briefing looks to be a doozy. The History of Scientology According To David Miscavige (r).
All begins in 1971 for no real reason…  then nothing important happens (new Grade Chart, NOTs, establishing FSO are not worthy of mention) until Dear Leader personally overturns the Julie Christofferson case (never mind the Wollersheim case that immediately followed that was NOT overturned, in fact he was paid $9 million).
Dear Leader then pulls off the biggest win in the history of the universe with the IRS recognition (WIN!).
Soon thereafter, Dear Leader blessed the world with GAT.
And then the fun really begins as Dear Leader started the "Ideal Org Campaign" and it is one long happy party since with "new orgs" opening all over the world, all the way to "GAT II."
And this briefing is summed up with this:  It was fascinating data about our perseverance though any and all obstacles which has now taken us to this point, where we have the Ideal Org Strategy and booming orgs.
This Scientologyspeak (r) for "there are no results" and things are CLEARLY not going the way they have been promoted — but no matter what you just HAVE to keep going. You don't want to be "CI to Command Intention" do you. Dear Leader says this how we succeed, so we keep banging our heads against the wall pretending we are breaking down all the barriers to planetary clearing. Really we are concussing ourselves, but to question the massive pain that is coursing through our heads would be tantamount to giving up when we are on the verge of the most massive breakthrough in the history of history — and we know this because it is what Dear Leader keeps telling us. What's a bloody head and brain damage when your eternity is "at stake" (have yet to figure out how this is to be taken away from anyone…)