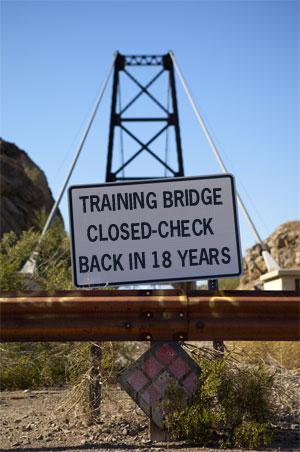 This came in from one of our Special Correspondents in response to the last post. She has a way of clearly expressing things, as she did in the earlier one I posted entitled "The Scientology Push".  I felt this too deserved more attention so am putting it up as its own post. Enjoy. Mike Rinder
In 1996 David Miscavige locked the doors to the training bridge so tight that it was almost impossible to squeeze through.
Since that time the Scientology religion has been stripped of auditors and supervisors. Attrition rate has been far, far higher than the rate of training new auditors.
Dan Koon pointed out that GAT allowed David Miscavige to introduce alterations on the Student Hat and arbitaries on Pro TRs as well as totally screwing up Pro Metering. But in the end, the main reason for massive auditor failure has been that Class V orgs are generally completely unable to get students through the Pro-Metering Course- in any amount of time.  The supervisors themselves did complete the course, but only because they did it at Flag under some of the most highly trained and veteran auditors and supervisors in the world. Having to the deliver it themselves in Ottowa or Perth was a hopeless task. Why? Because the David Miscavige Metering Course violated HCO PL "Instruction and Examination- Raising the Standard Of" almost line by line.
That HCOPL gives a specific example to NOT do in training auditors. So Miscagive DID EXACTLY that.
He made a course that required a student auditor to reach the highest level of metering possible BEFORE starting the academy level training.
Here is the reference by L Ron Hubbard. The entire reference covers it but there are a couple of quotes that make the point.
"What's it say at Level O? "It says 'Listen.' " Okay, then, damn it, when the student is able to sit and listen and not shut a pc down with yak, the student passes. "And the meter?" You better not let me catch you teaching meters at Level 0…"
"So the expert tries to make a student do Class VI auditing the first day and the student is never trained to do any auditing at Level 0.

This nonsense repeated at Level I (by adding a meter, by purist flunking "because the student couldn't handle an ARC break") and repeated again at Level II ("because the student couldn't assess") and at Level III . . . etc., etc.

Well, if you add things all the time out of sequence and demand things the student has not yet reached, the student winds up in a ball of confusion…"
"If you never let a student learn Level 0 because he's flunked unless he does Level VI first, people will stay on courses forever. And we'll have no auditors."
Quotes by L Ron Hubbard from HCOPL Instruction and Examination, Raising the Standard Of.
By setting up a Pro Metering Course that required PERFECTION on every metering skill up to Class V graduate, David Miscavige slammed the door on auditor training and bolted it shut.
What David Miscagive did to this course appears to have been monumentally stupid. It was announced with little fanfare- all the hype and hoopla was on the new Golden Age of Tech drills. But slipped in there quietly was a new metering course.
The thing that PROVES that this was deliberate and not an error is that very quickly after the release of Pro Metering huge problems were apparent in getting auditors through it. Within 6 months the word was out that that only place a person could get through Pro Metering was at Flag. And the RTC Reps got to hear about it from the public- loudly. So why nothing done for 17 years and counting?
Now we finally have an email admitting the exact problem and saying that after 17 years it is now supposed to get "handled".
"Pro Metering is 2-3 weeks!! Not months and months like now. And a lot of people blew from this. There are reasons for this as you will see. You had to do higher academy level actions in the pro metering to pass it. There are out sequence things of having higher level data and things needed to pass at lower training levels. This sets the student up for a loss. For example the passing standard for pro metering requires the students to use model session and lists and auditing comm cycle. But you are just learning the meter and haven't learnt these things yet, they are learnt LATER!"
It did not take 17 years for DM to figure out that he screwed up. It has taken 17 years for enough back pressure to mount up against DM for him to offer up a new twist. Right now solid and standard auditor training is available as an Independent Scientologist- checksheets very close to the ones that David Miscavige tore up are available for download, penned by one of the most experienced and trusted technical compilations staff in the world- Dan Koon.
Since 1996 the training bridge has been slammed and bolted shut. Now with the Indy movement and PR flaps rolling in every day, Miscagive needs bolster his reputation with the faithful. 
And this has not touched on the story of how DM ordered and approved the current bloated Grades Checklists that for the last 22 years have indeed made the Grades much longer than needed. Now after 22 years of over-long grade checklists for PCs comes the much awaited QUICKER Grades. Yet tech terminals who were on the scene say that revised Grades Checklists were compiled in 2006. And many people know that these new Grades Checklists have been in use at Flag and on VIP lines since then.
Could they not have been simply placed in an envelope and mailed to every org in the world?
Ah but then there would be no event, no thousands of screaming and clapping fans.
But  how is that the same person that ordered and approved the bloated Grades Checklists gets to be cheered and applauded when he strips them back 22 years later?
The Golden Age of Tech Part II is actually the Golden Age of No Tech.
If you are a Scientologist reading this you should up your confront and actually go visit the two Class V orgs closest to you and just walk around – look at the stats if you can – they should be posted on a wall somewhere. Then you need to make a hard decision about whether you are willing to stand silent while your religion gets pushed under for the third or fourth time.