The latest puffery selling the idea of constructing a completely superfluous "L. Ron Hubbard Hall" in Clearwater. I have written about this before a number of times, most recently here.
But this new magazine promoting their latest adventure, taking another "Journey with Ron," highlights a whole new level of deception.
The trip was to Ireland and Scotland: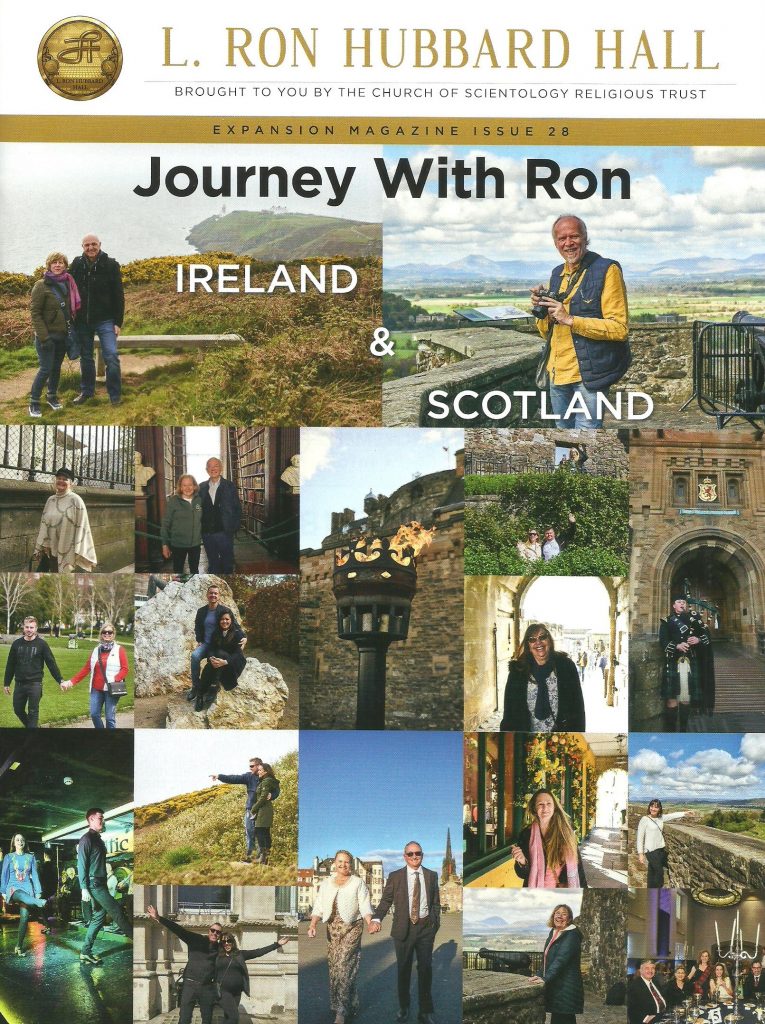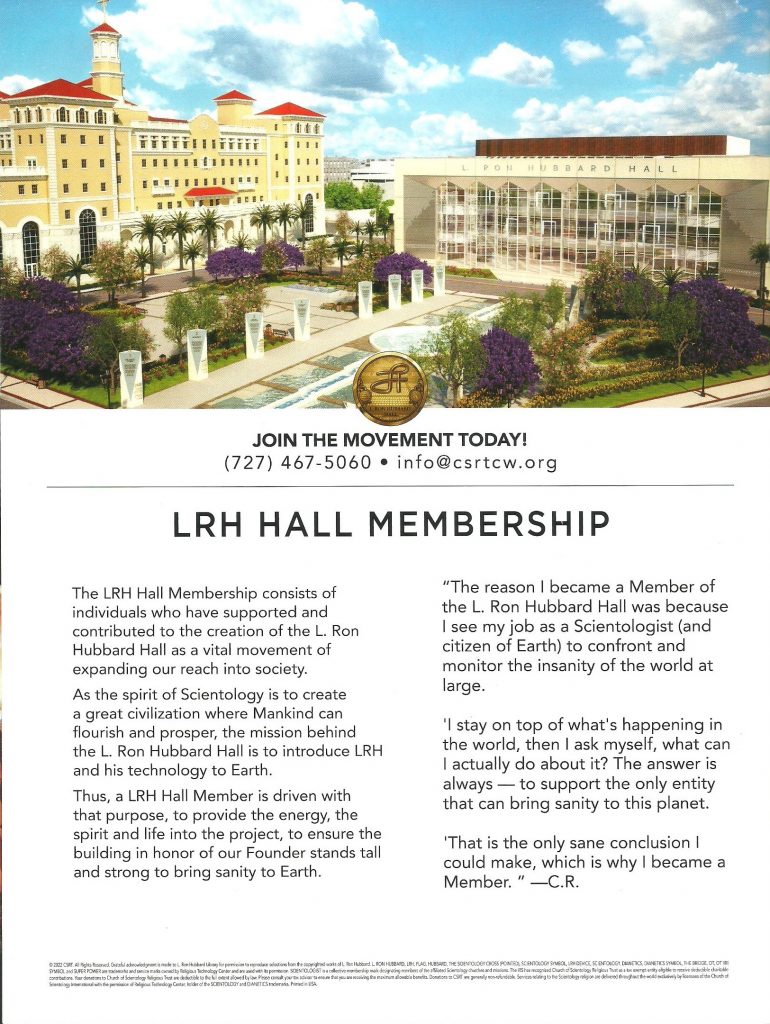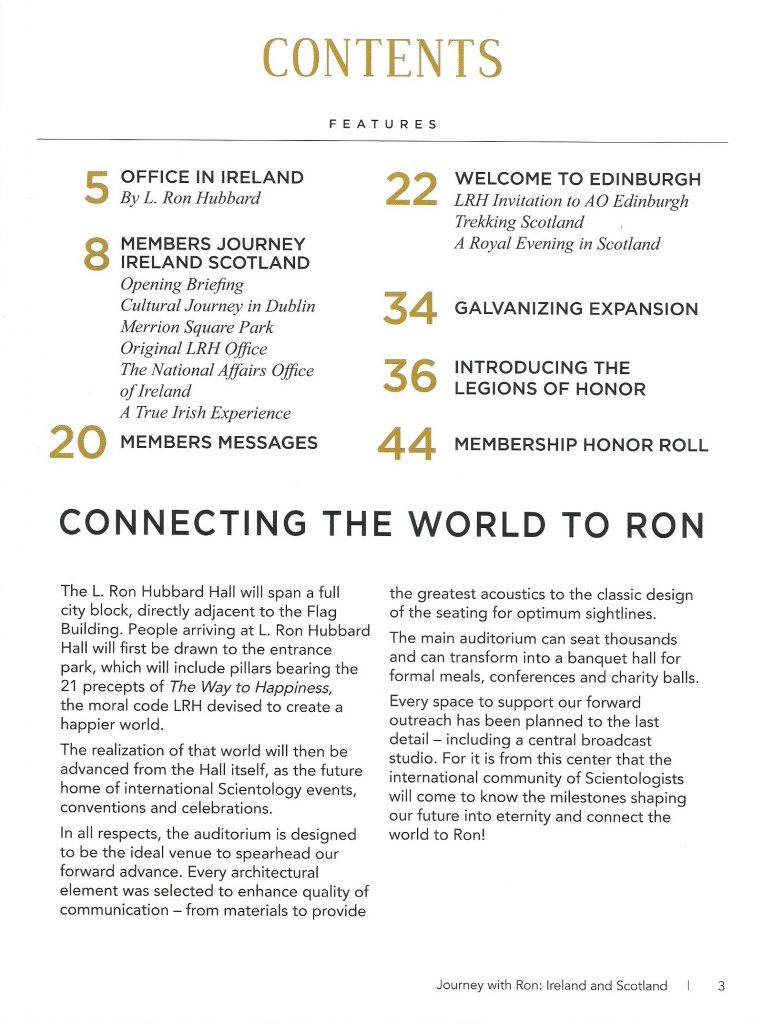 I won't go into a lot of detail about Ireland. Hubbard did visit there and had an office at one point and tried to establish a "Personal Efficiency Foundation." Nothing ever came of it, and it eventually closed down, but in the bubble of scientology, this is a part of the magnificent history of research and discovery forged by Ron.
It is Scotland that is the more interesting.
Hubbard never went to Scotland.
The entire reason for this being part of the "Journey with Ron" is this handwritten letter "personally inviting people to Edinburgh."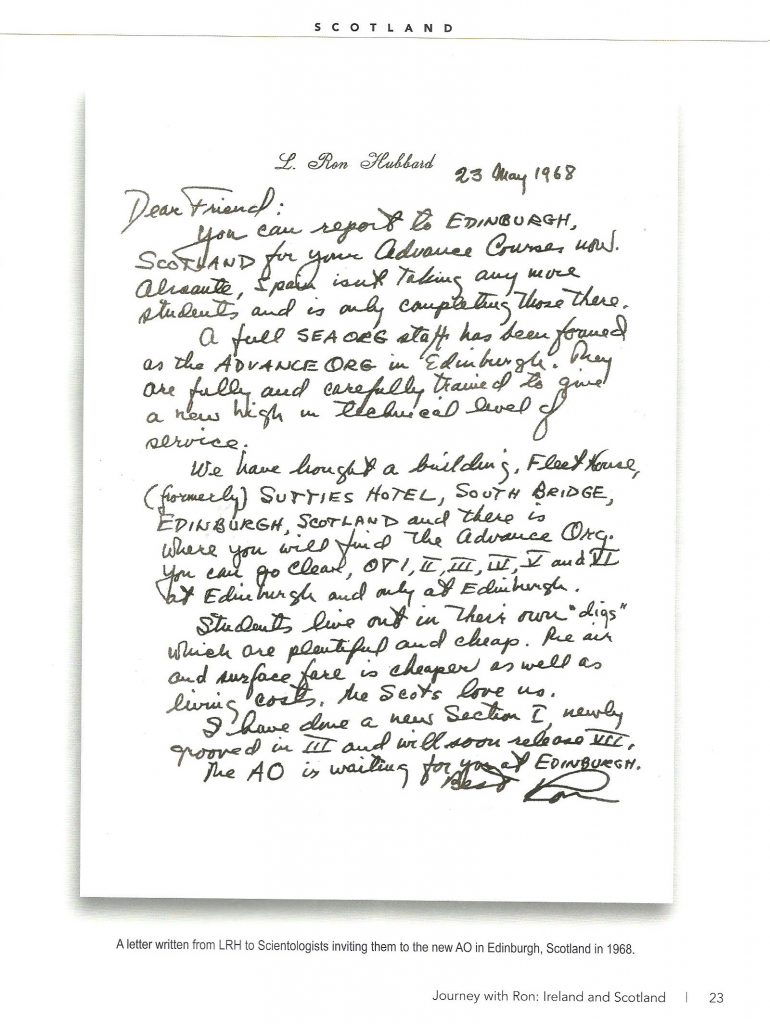 Of course, what is NOT revealed in the magazine, nor to the people who flew to Edinburgh to soak up "Ron's journey" is the fact that the "new AO" was a hasty solution to a problem that had been created in Alicante, Spain. Hubbard had rented a hotel there to serve as the "AO" to make money selling his new OT levels. The Sea Org "flotilla" was operating in the area at the time. They created terrible shore flaps in the ports, particularly Valencia. Spain became "unsafe," Hubbard fled to a rented villa in Marseille and the "AO" was quickly set up in Edinburgh. Why was Edinburgh chosen? No idea other than it was an english speaking country that had a general animosity towards the English who were very antagonistic to scientology at this point (which was why Hubbard was with the Sea Org and not at his home at St. Hill).
The AO in Edinburgh didn't last long either. You can bet nobody asked any of these questions.
It is enough for them that Hubbard wrote a letter soliciting people to come and buy services there. And for that, the suckers fly to Scotland in honor of Ron.
Then again, what can you expect from people who make statements that they stay on top of what's happening in the world and then ask themselves what they can do about it. And their answer is to give money to build the L. Ron Hubbard Hall.
Such delusional insanity.