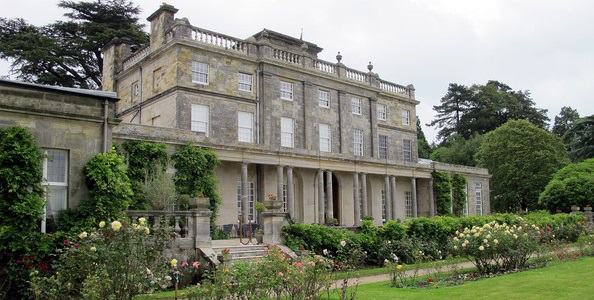 This concept of St Hill size is often talked about.
Here we have the CO of the Flag Ship Service Org, the most expensive failed org in the history of scientology, telling people that she is sending someone to explain to them how they are going to go Saint Hill size RIGHT NOW.
Hahaha.
In scientology, TALK substitutes for reality. They talk themselves into believing their own hype. That "planetary clearing is a reality" or "we are expanding like never before" or "the Golden Age of tech is flooding people up the Bridge" etc There are numerous variations of the self-affirmation technique that is prevalent throughout scientology.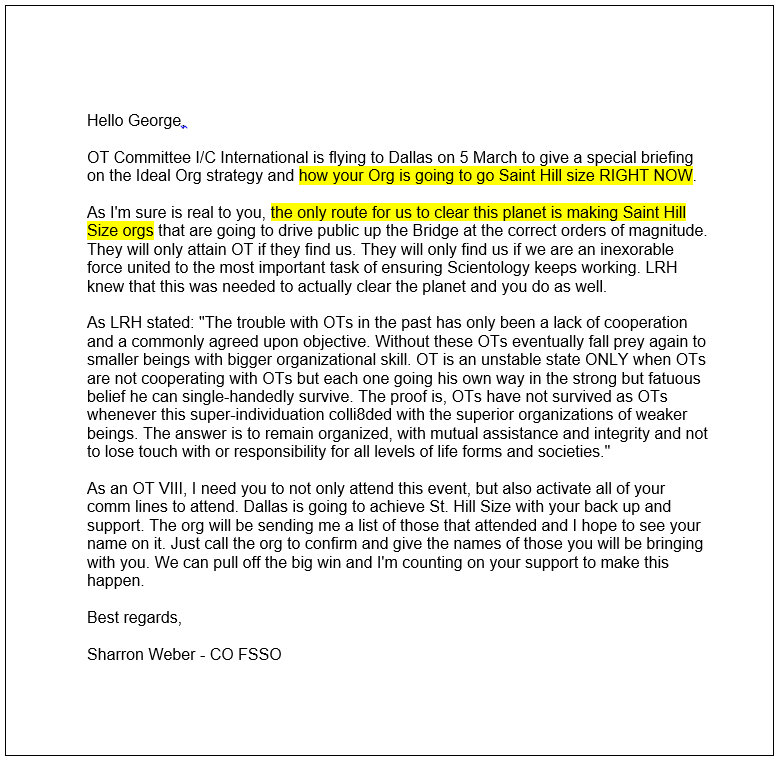 Where does this hype originate from?
Well, as with most things in scientology, it comes straight from L. Ron Hubbard himself.
Here are some excerpts from his original directive that announced the idea of orgs achieving the "size of old St Hill" — way back in March 1982!!!
There is a lot of blah-blah in between the first and last page that I have not bored everyone with.  It is Hubbard attempting to convince staff in scientology orgs that they COULD expand and announcing his great solution to make this possible: the Executive Director International (ED Int) and his International Executives (Exec Ints)– one for each "point of business" in a scientology organization.
This entire structure was dismantled by David Miscavige in the early 2000's when ED Int (Guillaume Lesevre) and any "Execs Ints" were put in the Hole. They have never been heard from again.
But back to 1982 — when instant international expansion did not result from this new issue by Hubbard offering the carrot of OT levels and decent pay to all staff, Hubbard took it upon himself to issue another LRH ED in October, explaining to everyone that expanding to "SH Size" ("above the make-break point") could be accomplished by anyone, citing Boston Org as the "proof" (Boston org DID expand when a team of stat pushing regges who had been brought to the Apollo to be comm-eved to determine whether they should be declared, had their declares mitigated by Hubbard if they went to Boston and sent enough money to support the Apollo). Boston collapsed again after they left. And remains collapsed to this day — an org that sold it's beautiful building and has been through a series of failed disasters to try and get an "ideal" org and now has "Int management" paying for a new building and renovations, all the while it has NEVER achieved "the size of old St Hill." This was just more Hubbard storytelling…
But, there are some interesting thoughts from Hubbard in this piece — writing which is believed to be absolute, unalterable truth by all scientologists — where he says the only thing preventing rapid expansion of orgs is lack of a desire to do it.
For 35 years since, not a single org other than the FSO has achieved this objective. And remember, when it was written, the span of time from the release of Dianetics to the date of writing (32 years) was LESS than the time SINCE it was written to the present.  In 1982 there was virtually the same number of orgs around the world as there are today, and there were MORE Missions than there are today. That was 32 years of expansion. Since then there has been 32 years of stagnation — except in the amount of money collected and square footage of empty space.
If Hubbard is coming back from Target 2 to check in on COB's progress, he is not going to be a happy camper. He lost his mind when nothing happened between March 1982 and October 1982. Imagine the shit-fit he would have 35 years later! Or perhaps not. Perhaps as Sarge Pfauth said, in the end Hubbard realized he had failed. And his comment today would simply be "I told you so."
PS: Signalling the level of desperation CO FSSO is sinking to — apparently her message for Dallas was simply a form letter. She is also writing on behalf of the "Seattle Org Programs Chief" in CLO WUS? Just outrageously weird if you understand anything about the scientology hierarchy…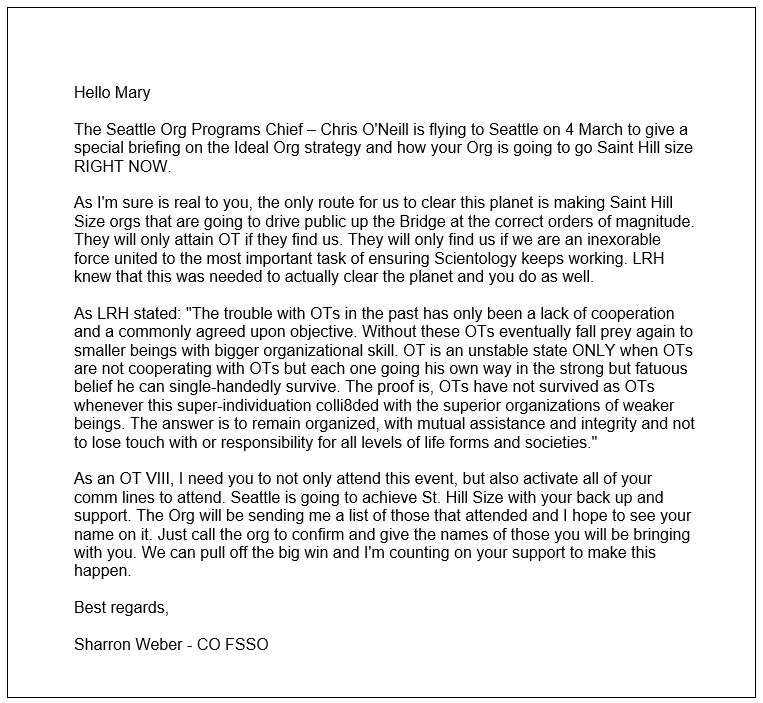 And here is the poster for this event. CLEARLY a "recruitment" event to try and get staff for Seattle Org – "expansion news", "strategy on planetary clearing" and "how you can help" are standard euphemisms for "you need to join staff, that is our plan on how you are going to clear the planet." They can no longer raise money for the Seattle "ideal" org — they have been "ideal" for years and are as empty and hopeless as ever.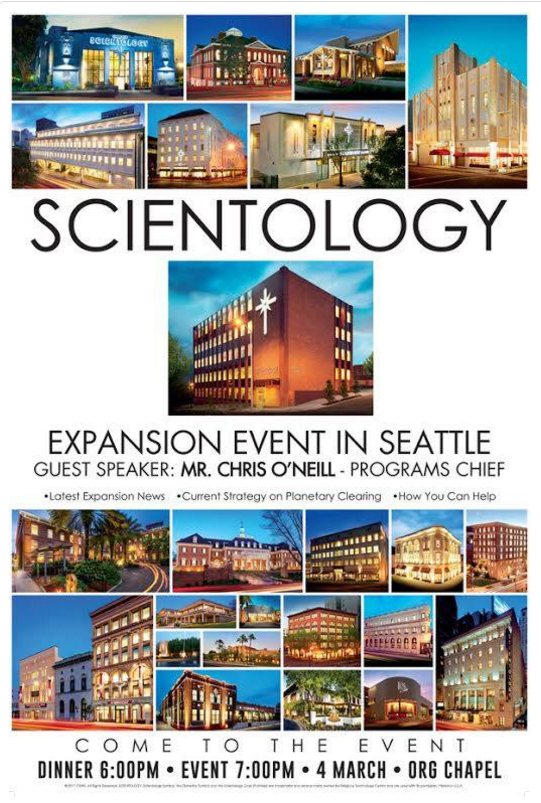 UPDATE ON AFTERMATH
Hollywood Reporter makes announcement this morning.  Looking forward to telling more stories and pulling back the curtain even further. It's going to be a wild ride.