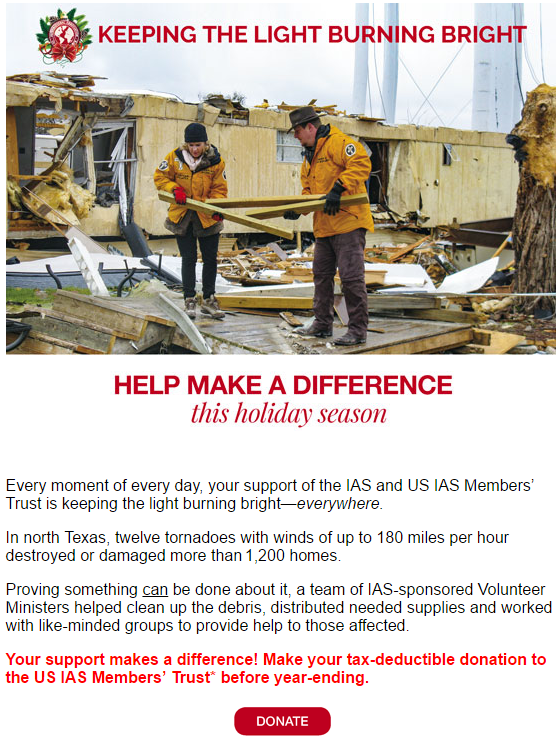 People inside the scientology bubble really believe this stuff.
How many absurdities do there have to be before they notice?
First, if the IAS is truly "every moment of every day" keeping the "light burning bright" — "everywhere" with their massive Volunteer Minister force — you would expect they might have something to brag about that happened this year…. The tornadoes in Texas were in 2015.
Second, as ALWAYS there are NO SPECIFICS on what was done, how much money was spent on the "relief efforts" or how many people were even involved.
From the picture it looks like they managed to pull together a mighty force of TWO from the nearby "ideal" org in Dallas.
In fact, we know from reports at the time, they were asking people from ANYWHERE in the US to show up and managed to max out at 6 or 7 Volunteer Ministers for this particular disaster. And the IAS was NOT offering to pay their expenses – they had to make their own way. Though to be fair, the  IAS probably did pay for a photographer or videographer to show up….
And this disaster was used repeatedly as a pitch to get MORE money (until the next disaster occurred somewhere in the world). And now, here it is, back again for more.
They act like this promotional piece is proof that the hundreds of millions or even billions they have had given to them over the past 30 years was well spent. And they are running short of cash to fund all their good works to be done in the future.
Of the billions collected by the IAS there has not been a single school built (even one to deliver LRH study tech). Not a single hospital. No vaccines or mosquito nets. No shelters for the homeless (unless you count the ideal orgs that have been built and the staff who are in them). The ONLY things that get funded (maybe) are: a) Yellow t-shirts and jackets, b) some airfares for VMs, though usually NOT, they are expected to make their own way to the scene of the disaster, c) Video teams to stage shots and d) real estate investments for scientology.
If the sheeple would simply ponder this: IF there was all this good work being done, there would be some EXTERNAL press coverage, and the IAS would be shilling that press like it was a Nobel prize. There is nothing. The only media coverage they can get is generated in their internal rags, Freedom, Impact (IAS) and International Scientology News. And virtually everything they report is a rehash of what is announced by Dear Leader Miscavige at his "international events." These smoke and mirror stories are absolutely vital to keep his sheeple following and donating.
Watch this weeks' edition of Scientology The Aftermath where we cover some of this information.
People are outraged about both the Clinton Foundation and the Trump Foundation. They are models of virtue compared to the IAS. The only hard work the IAS is engaged in is the relentless effort to take people's money for nothing.