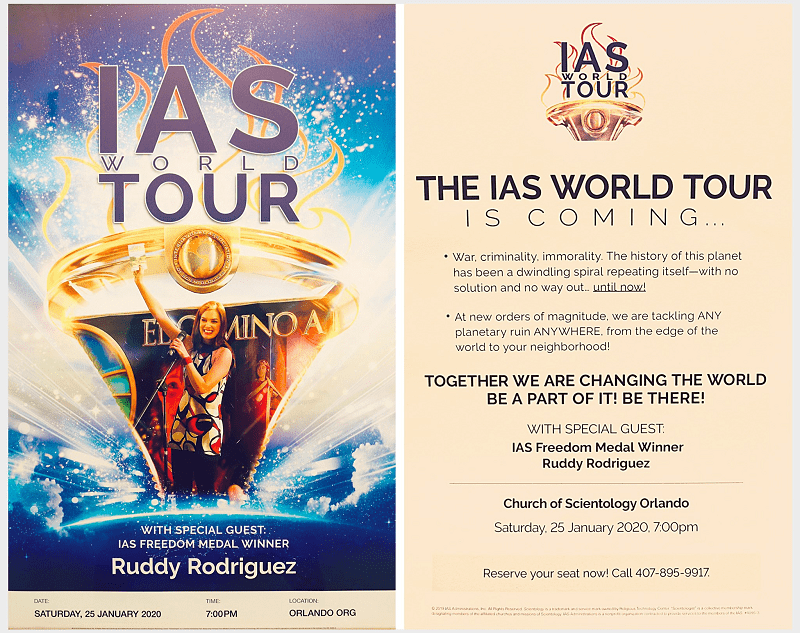 The IAS is truly the biggest scam in scientology.
And that is saying something.
Just look what they say here:
"At new orders of magnitude, we are tackling ANY planetary ruin ANYWHERE, from the edge of the world to your neighborhood."
This is such astonishing bullshit it even surprises me.
They also claim that the they are the ONLY solution to war, criminality and immorality. And "WE ARE CHANGING THE WORLD"…
And they are serious!
And how odd is it that the person doing this pitch is Ruddy Rodriguez, IAS Freedom Medal Winner from VENEZUELA! Hey Ruddy, how about doing something in your own neighborhood in Venezuela?
The IAS takes in tens of millions, if not hundreds of millions, each year. What do they have to show for it? A few photos and videos of random people in random locations around the world supposedly doing something. They claim they are "eradicating psychiatry" but that is certainly a lie that is easily disproven by the number of psychiatrists who are practicing or training. They themselves say that "psych drugs" are overwhelming the world (as a reason to give them money) but on the other hand claim they are effectively "cleaning up the field of mental healing."
They claim they fund the "largest private relief force on earth" but they are invisible except for a few random, staged photos and videos. Nobody sees them ACTUALLY doing anything effective in the natural disasters they claim to be "handling" (even when they occur right next as the Florida panhandle and Bahamas hurricanes and the California and Australian fires).
They supposedly pay for some buildings for "ideal orgs" but then charge them rent.
They claim to buy ads to "disseminate scientology" but this happens once a year on Super Bowl Sunday and they milk it for the rest of the year.
The IAS is nothing but a repository for unspent cash.
It's only REAL function is squeezing money out of scientologists with lies and false promises.
It should be called the International Association of Scamologists.