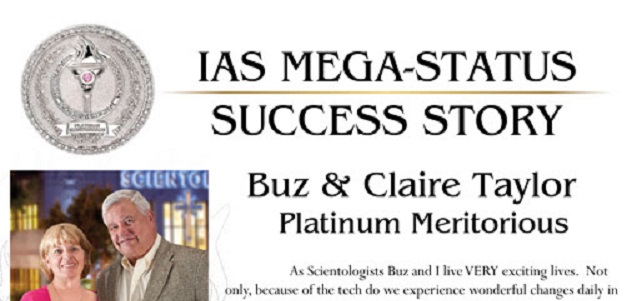 The Big Being concept is spreading. More and more people are trying to shoehorn in on the exclusive club reserved for COB and Mr. Cruise.
I wonder if the IAS is telling people that giving them money makes them "Big Beings", like giving money for ideal org buildings makes you a "humanitarian"? Seems like this is a good possibility.
Sooner or later the IAS can do away with scientology altogether. They don't really need it — you can get all the case gain and OTness and become a Big Being just by giving them money. No need to be bothered with any "bridge" or redoing the bridge or buying endless packages of books and lectures. They are all just unnecessary vias. And they are costly too. No outlay whatsoever required to rocket people up to Big Beingness in the IAS. Maybe COB could announce it with an Epic, Monumental, Milestone confidential briefing — the new Golden Age of Streamlined Progress (GASP) where EVERY single arbitrary has been removed and progress to full attainment of true spiritual enlightenment now has NO barriers. Nothing to learn. No time wasted with arbitrary "bridge steps" that were NOT what LRH intended.  No MEST interjected to block the flows — like books or those endless boxes of lectures that were entered in as a total arbitrary by some SP typist. No, it is now a straight shot to Big Beingness. All you need is a checkbook and a the desire to hand over everything you own to free yourself from the traps of the MEST Universe.
What a fantastic plan!
But enough of the idle daydreaming. You have to wonder about the intelligence of anyone who thinks "there are brilliant people who are the management of this [IAS] organization." Brilliant at fleecing suckers like you, pretending your money is going to  "worthwhile" projects — "They take these small amounts of funds (compared to the dollars used by psychs and pharmaceutical companies) and create HUGE effects."
Sorry to break it to you Claire, but for the most part, CCHR begs and scrapes to finance its OWN activities, they are NOT funded by the IAS except for photo ops.
But even more to the point, CCHR has had absolutely NO impact on the state of psychiatry and pharmaceutical companies. Nothing.
Here is an exercise you can perform easily.
Whereever you are, Google "Psychiatrist" and "psychologist" and see how many hits you get in your city. Then Google "Scientology auditor" and "Volunteer Minister" and see how many you can find. It's not looking good for the "good guys in the white hats with the S and double triangle."
Then go to Google Finance and type in the name of any big pharmaceutical company, like Johnson and Johnson. See what their annual revenues are, and how many other similar companies there are that are making tens of billions of dollars a year and have market capitalization in the hundreds of billions of dollars.
OK, I saved you the trouble, here is a screen shot from Google Finance:

Who do you think is winning?
You see AstraZeneca down there near the bottom? That is their annual revenue — 26 billion dollars. And there are dozens more like this and they are the small guys on this sample.  Just those 9 companies up there have annual revenues exceeding $375 BILLION dollars a YEAR. Now, you can say this is just the "drugged society" — but people WANT those drugs. You claim to have the ONLY technology for salvaging mankind and dealing with the problems of life, even psychosomatic ills. You also have the only tech of administration. The tech of Marketing. The tech of Data Series. Statistics. Surveys. Organizing.
Yet, nobody wants what you are selling. And if it really WAS what you claim it is, you would not have to be selling it to anyone at all. People would be breaking down the doors to get at it.
Hell, Facebook has you beat as far as technology that people want and will adopt. They've got 1.2 billion active users a month. It started in 2009. Just goes to show if you DO have something that people want and it works, they find their way to you — as long as you don't try to trick them or rip them off in the process. That business model doesn't work…  Do you really think people want a social app so much more than they want freedom and happiness and ability and everything else scientology says it gives?
Perhaps instead of spouting about the brilliance of the management, you should actually LOOK at reality and see what YOU conclude rather than just what you are told to think.

As for the silly statement "The IAS makes us BIG BEINGS creating effects at the orders of magnitude we should be doing as Scientologists. The IAS is each of our organization and each of out tool be BIG and handling this planet." Well, perhaps you could start out by learning some grammar and english as this whole thing reads like a grade school writing assignment.
The IAS is the bottom of the slimy barrel that is at the bottom of the well of money-grubbing that is corporate scientology.
And Buz and Claire are promoting for others to jump down the well and swim about in the sewage water and sludge with them — "Come on in, the water's fine."
Probably they are just dupes. They are certainly being lied to. But just as clearly, they like the status that the IAS slimes them with. So, they get to be called out with the other pitch-men for this horrendous rip-off scam.