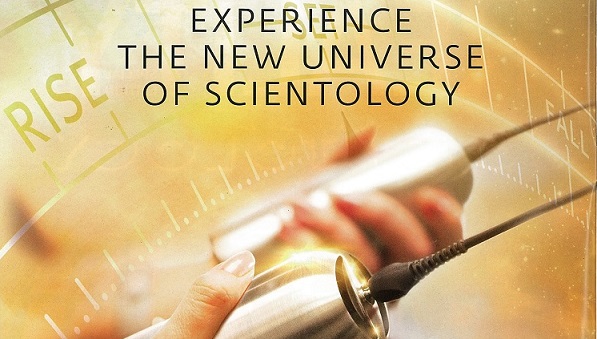 The new LA Org Mag is being sent out. A special correspondent scanned and sent it to me. Portions of it appear below.
It is the hype mag for the new universe of scientology at LA Org — the org that  "sets the standards for making planetary clearing a reality." Even though they haven't made a single clear.
Along with some other fine features, it provides a listing of the key execs and their experience.
Then it continues with many pages of apparently endless superlatives about the incredible services they are offering, as if they never offered them before when they were merely the "Model Ideal SH Size org."  Along the bottom of each of these pages are a bunch of "stats" — at least they are "stats" about the building and it's potential delivery capacity (strange thing as the one thing that DIDN'T change was how big the building is?)
I wanted to record this here for the future as it will be interesting to see whether they actually come close to ANY of these "capacities."
I included all the "stats" below and some other pages of interest along with a few comments. You can see the page numbers so you know where there is stuff missing here.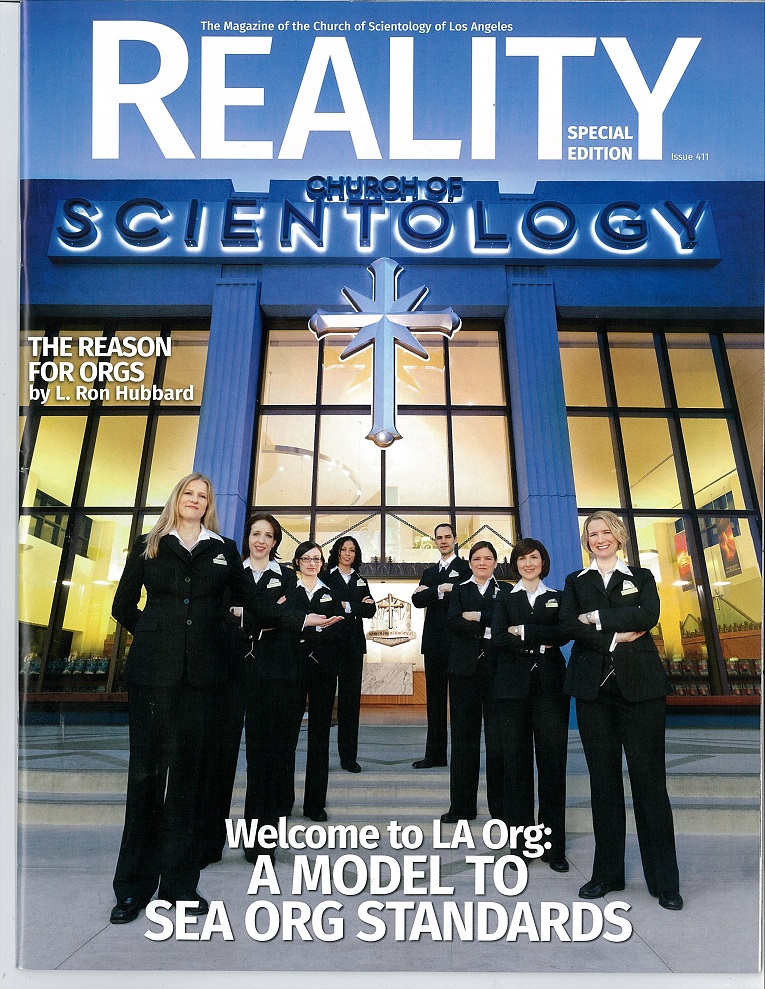 I wonder how many other Class V orgs are going to be done to "Sea Org standards"? By definition this is NOT a model. It cannot be duplicated anywhere. So typical — EVERYTHING has a weird twist to it. But none of the clubbed seals will notice, they will start parroting the line "Model Ideal Org to Sea Org standards" as if it makes sense.
Bu after this spread, the mag gets going for real.
And who is the first person featured? Not the new ED of the org, but the "RTC Representative for Training."
This org has its own RTC Representatives?
And they get 3 pages of coverage to address the public of the org and there is exactly NOTHING from the ED.
How weird.
Perhaps it is an omen of things to come and all orgs will soon have RTC Reps to ensure the wishes of Dear Leader are fully complied with and anyone showing any signs of possibly doubting his magnificence are found and eradicated early.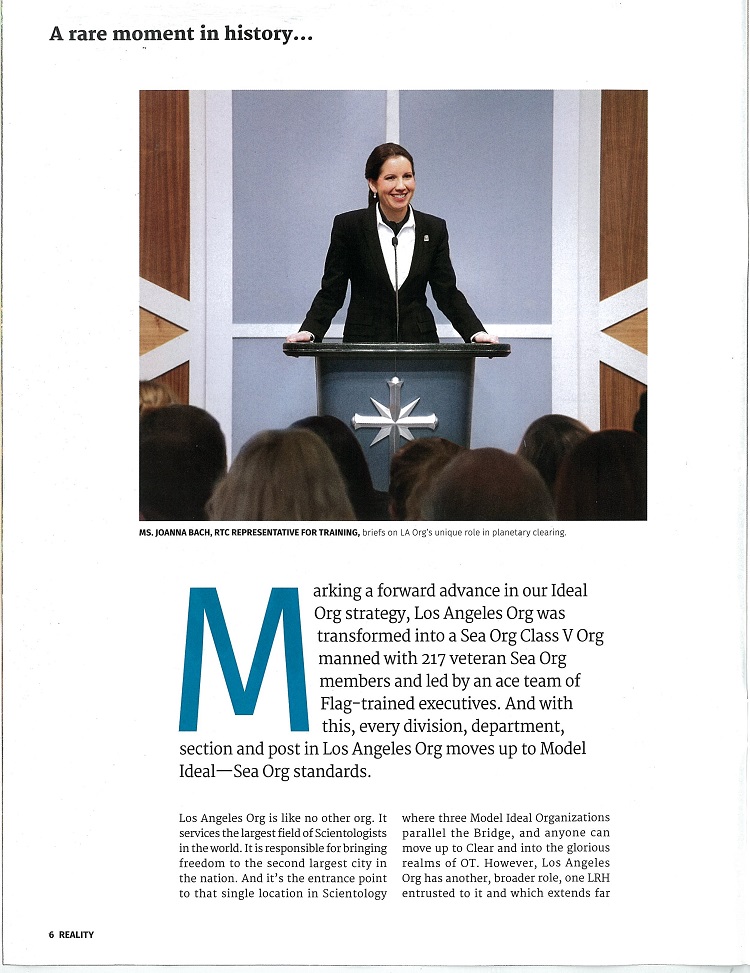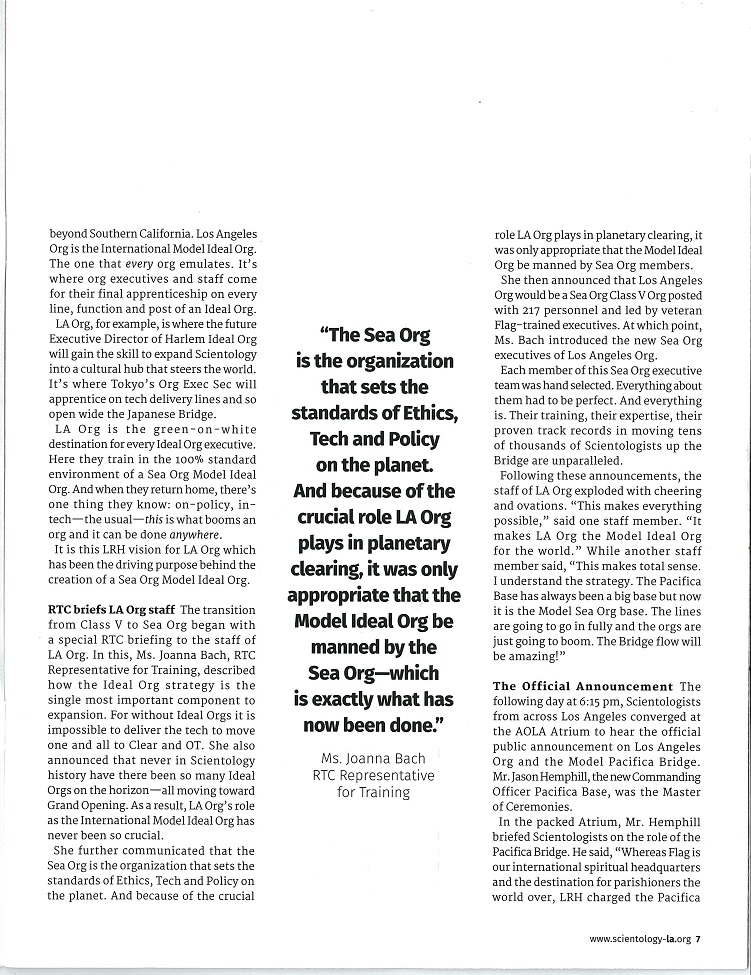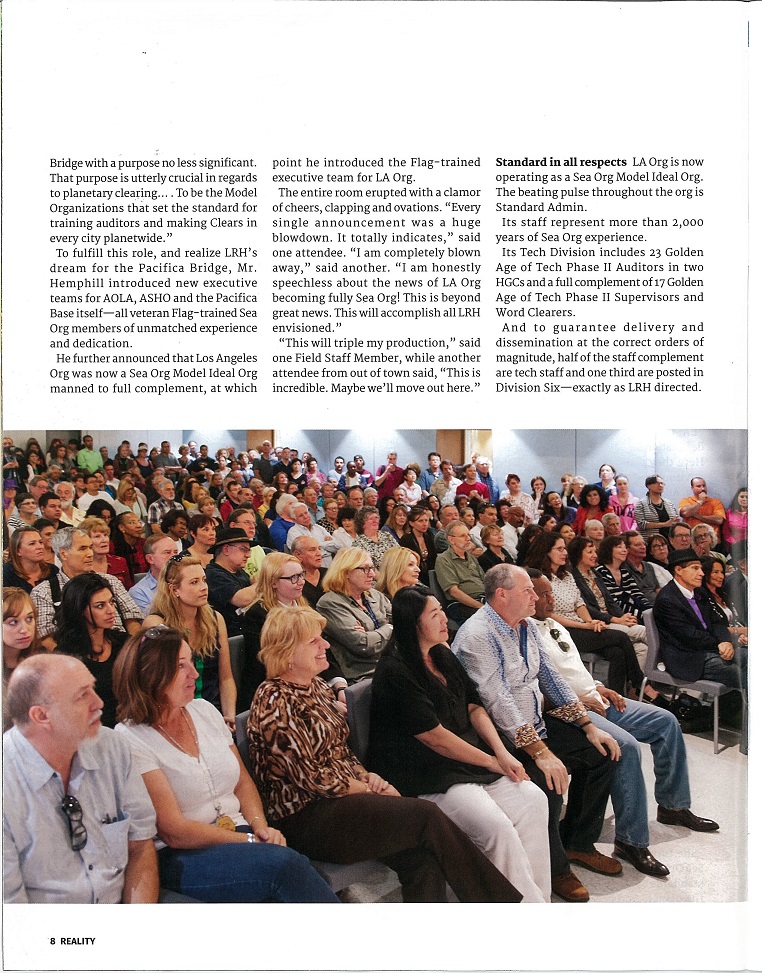 She has some great lines in her little speech too.
"without Ideal Orgs it is impossible to deliver the tech to move one and all to Clear and OT…." (especially amusing in light of the fact that this "ideal, SH Size Org" produces NO clears — see below)
"Each member of this Sea Org executive team was hand selected.  Everything about them had to be perfect." Like the copy for a Harry and David catalog and their baskets of fruit.
Shermanspeak has trickled down.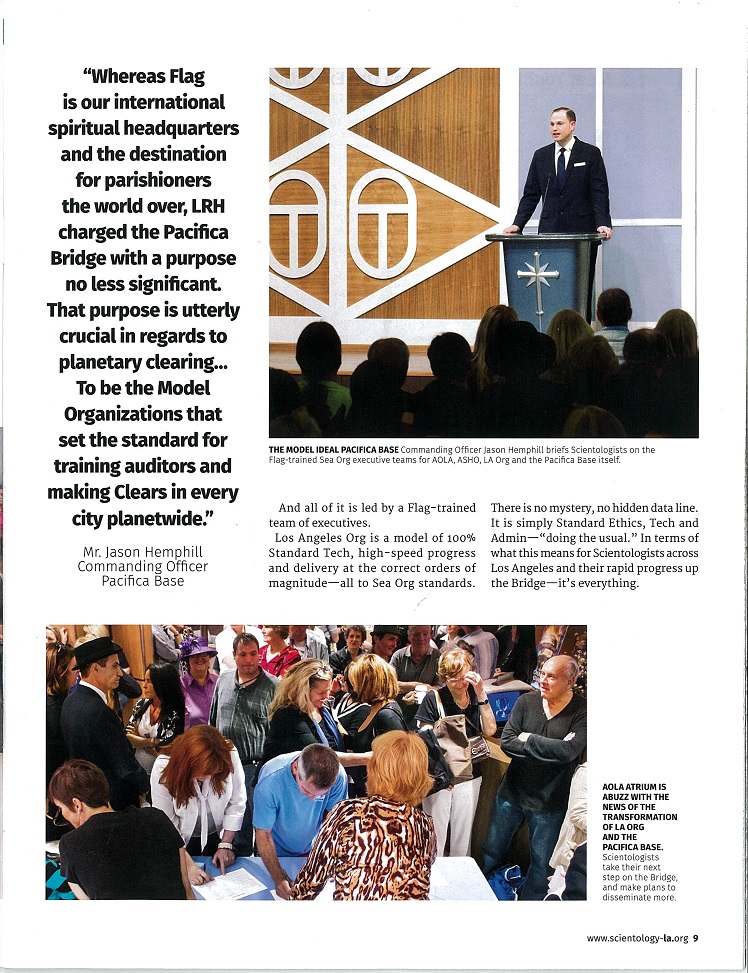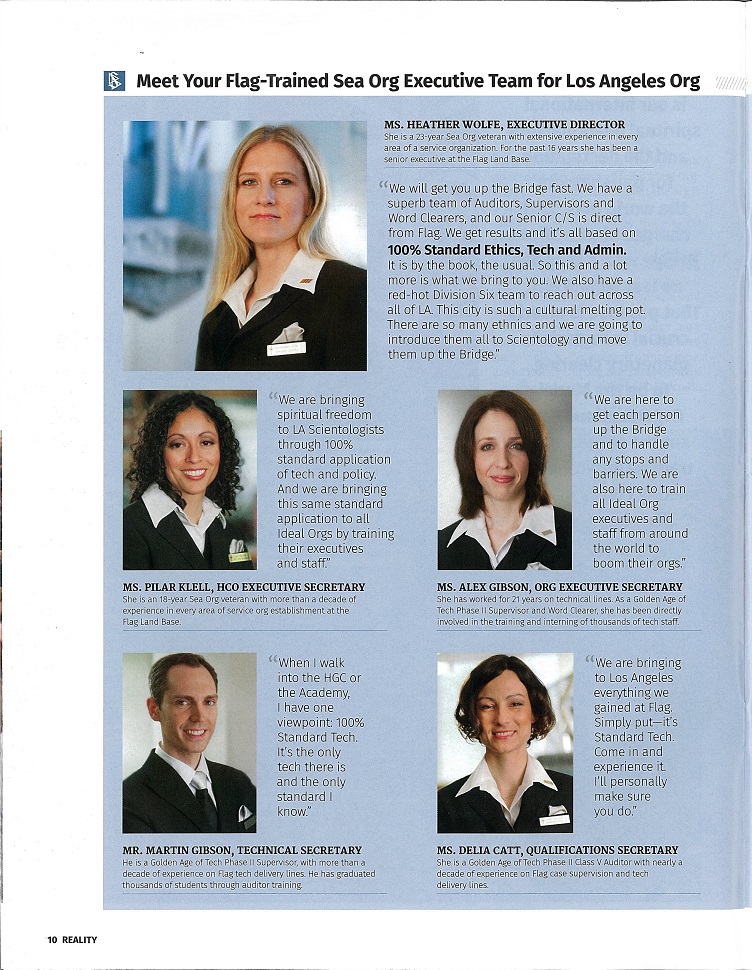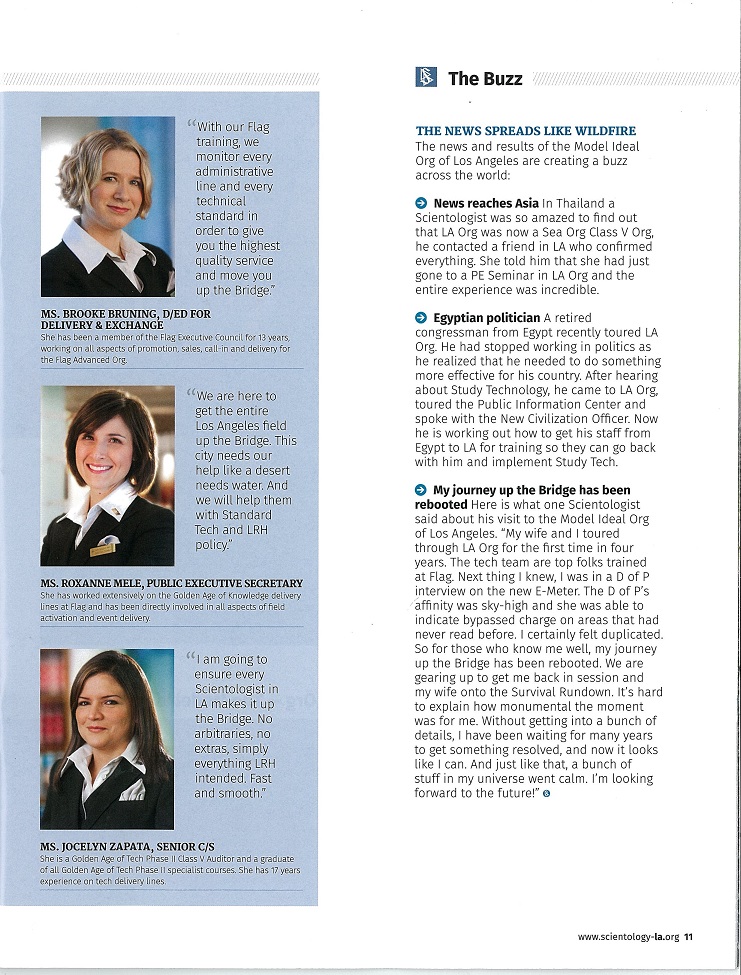 Check out "The Buzz" section above — wow, someone in Thailand heard something was happening… and it is. And another guy from Egypt now has plans. It's pretty buzzy.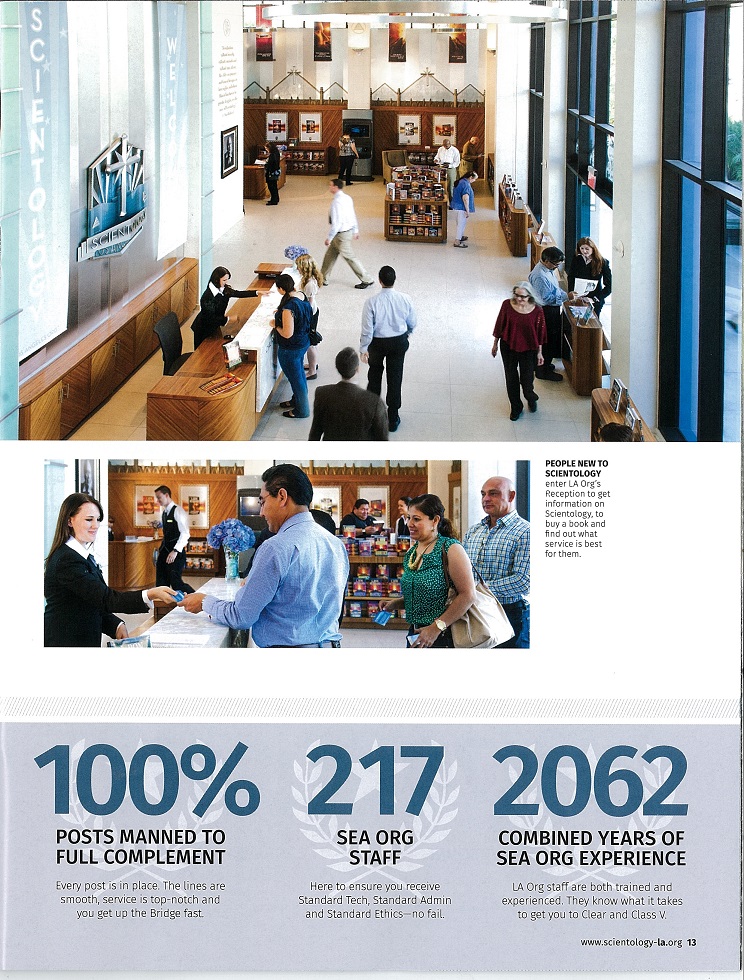 From this page on there is a lot of fluff, but across the bottom of each page is this gray band with "stats." I have excerpted them all below.
Near the end of the magazine are 2 pages of completions:
Now, these are obviously NOT completions in the model Sea Org Class V org, but they are completions from the Model Ideal St Hill Size LA Org. It tells you how long it takes them to round up some completions when the same person is listed as completing Academy Level 0, 1, 2, 3 and 4.  They made 7 Class IV auditors in a period of 6 months (that would be my guess).
But even more significant. This Model Ideal SH Size Org in the city with the greatest number of scientologists on earth has not made a SINGLE CLEAR.
As with everything in scientology, it is 95% hype accompanied by pictures and meaningless statistics.