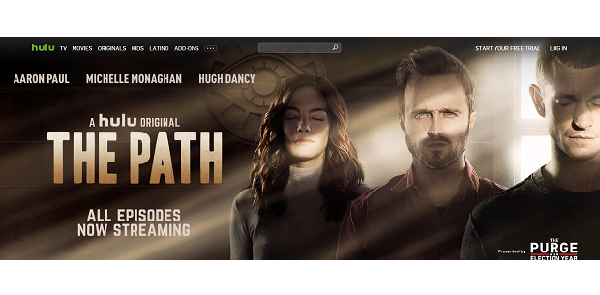 I posted about this on Facebook, but think it is important enough to reiterate here.
I just finished watching the last episode of season one of The Path on Hulu.
This is a very well scripted, acted, shot, edited and scored series. But more importantly, it is the best portrayal I have ever seen of the prison of the mind that entraps those in cults. It is extremely difficult to understand why people remain in a cult for anyone who has not experienced it themselves. This show portrays it accurately – the torment and anguish that those with doubts go through, the threat of losing loved ones, the deceit and false hope that everything will turn out to be true.  It is difficult to explain, but when you experience it through the characters in this show it becomes much easier to grasp.
For those who have been in a fundamentalist organization, it may be difficult to watch as it cuts very close to the bone. But it may also give you some insight – I know it did for me.
Jessica Goldberg, the creator and writer of this show claims it has nothing to do with scientology. That is very difficult for me to believe, given the show has
"Volunteer Ministers" who appear at disaster sites to "help" and recruit new converts,
a "Bridge" (called the ladder) with "rungs" up to 7R and the founder of the movement is supposed to be writing the "last 3 rungs" but he is dying of pancreatic cancer.
They have a sort of an e-meter.
A compound with a gate and a guard booth where the headquarters of the movement is.
They conduct enforced "unburdenings" to disclose your transgressions.
The movement has a new leader who is a charismatic sociopath claiming to be anointed by the leader but actually inventing altered "tech".
A sort of RPF and a "Hole."
They call non-believers (wogs) "IS" (ignorant systemites).
They practice ruthless disconnection. As soon as you become a "Denier" everyone in the movement disconnects including spouses, parents and children and they demand you sign legal papers to protect the organization.
They have a drug rehab program that they use to gain credibility in the world.
There are more parallels and it seems impossible that Ms. Golberg has not either studied scientology or had a close relationship with a scientologist. But then again, a former Jehovah's Witness commented that it was creepily similar to the JW's. So perhaps it is just that all fundamentalist movements/cults have similar trappings.
Whether you have been a member of such an organization in the past or are interested in how people become entrapped in them and apparently lose the ability to think for themselves, this series will likely leave you with a better understanding of the cult phenomena than before you started it.