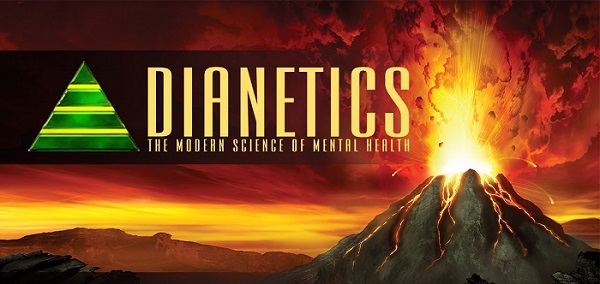 L. Ron Hubbard came up with a theory that he explained at great length in his book Dianetics The Modern Science of Mental Health.
He presented is as scientifically proven fact, which it was not. Scientology to this day STILL claims that scientology is where science meets religion — and the most fundamental "science" is the so called "discovery" of the Reactive Mind.
Hubbard describes the Reactive Mind this way (this is taken from the "Technical Dictionary" and is the first definition):
REACTIVE MIND, 1. a portion of a person's mind which works on a totally stimulus-response basis, which is not under his volitional control, and which exerts force and the power of command over his awareness, purposes, thoughts, body and actions. Stored in the reactive mind are engrams, and here we find the single source of aberrations and psychosomatic ills. 
If you ask a scientologist to explain the reactive mind this is what they will describe with varying degrees of accuracy. But the concept is definitely that this is a mind that dictates your crazy outside your control. It's an interesting construct and sells itself pretty easily. Everything wrong with you and all your problems, pains and unwanted emotions are caused by this thing that you have no control over. It is not "you" it is your reactive mind. And if you pay us we will get rid of it like we were cutting out a brain tumor that is making you act irrationally.
But in 1952, this was essentially abandoned as a concept after Hubbard lost the rights to Dianetics. Scientology became the "new things" and Dianetics was pretty much scrapped. Everything became about the thetan with new theories about how it is the spirit that controls all.
It was not until 1955 when he managed to get the rights to Dianetics back, and he "integrated" Dianetics and Scientology with a Congress and his book Dianetics 55. This brought Dianetics back as something to sell again and it has remained part of scientology since.
But even today, scientology promotes things like this: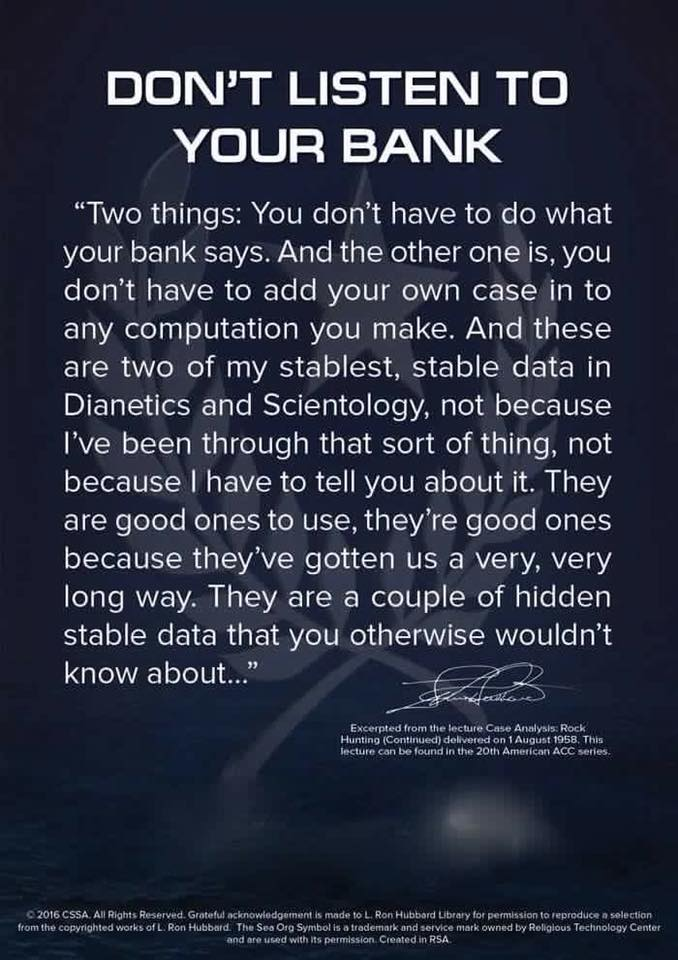 Well, excuse me Ron, but didn't you say the reactive mind (bank) is NOT under a person's volitional control? And isn't this still what it says in Dianetics and other places?
Is it or isn't it? Is it really a stimulus-response mind beneath the consciousness of the individual? This is how you sell it to people when they come into scientology to this day.  It's how scientologists today understand the reactive mind. But numbskulls like the person who designed this promo piece don't even notice anything odd about their selected quote….
But it is worse than this — you actually TEACH them that they have a Reactive Mind, something they had NO CLUE about before they contact scientology. You then convince them you have found the method to erase the reactive mind and get them to pay for this. They are sstill on the lengthy quest to erase their reactive mind by running engrams. Hundreds of hours of auditing may be entailed.
Yet when they reach the vaunted state of Clear they are supposed to arrive at an understanding that they just "mocked up" their Reactive Mind. In other words, it all vanishes when they realize they "created it." Tens of thousands of dollars later. Not only is it not true that you are at complete effect of something, but all that is required to vanquish it is to realize you made it that way.
Even the "you mocked it up" is cleverly sold. "Only now have you become aware enough and at cause enough to overcome the reactive mind by seeing it for what it really is. It means you have become incredibly powerful. And forget all the things we told you would happen once you got rid of your reactive mind, they were just make-believe too."
And if this was all protected under the cloak of religion and tax exempt status — well, it is a pretty much perfect con.