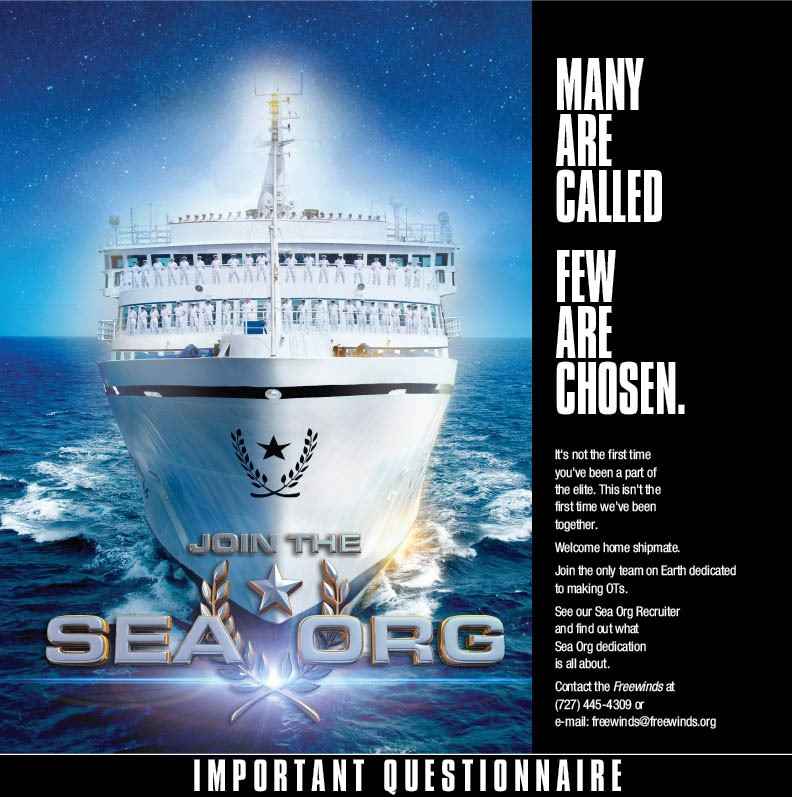 With the recent outbreak of measles on the Scientology ship, Freewinds, Leah and I thought it important to highlight some points that are the real story about this ship.
With the exception of Newsweek, generally the media is missing the boat.  Their focus is on a case of measles rather than the bigger picture of the Freewinds.
To directly answer the least important question:  Do Scientologists believe in vaccinating?
Most Scientologists have little faith in "Wog" (non-scientology) medical care. L. Ron Hubbard believed medical doctors wanted to maintain their monopoly on "healing" and therefore they rejected his "discoveries." He thus proclaimed them enemies.
Scientologists are taught to believe they are superior beings who can heal themselves with Hubbard's technology. He proclaimed through the use of Dianetics a person will not even contract common colds.
With that said, there is no exact proscription about vaccines written by Hubbard, though he certainly believed "Big Pharma" was deliberately drugging the world to control the population.
The Daily Beast article "Inside Scientology's Measles Infested Million Dollar Cruise for True Believers",  includes the following:
Among the most visible anti-vaxx advocates is Scientologist, Jenna Elfman, who came out against SB-77, a 2015 California bill requiring vaccinations before students enroll in school. 
At an anti-vaxx rally in May 2015, Elfman told the crowd that when "You open up the door of taking away parents' rights, you open the door to a constitutional slippery slope." In a Facebook post from that year promoting a petition against the bill, Elfman asserted, "There is no health crisis (unless they care to create one— wait for it….)." Danny Masterson, another Scientologist (and one facing multiple accusations of sexual assault; he denies them), circulated the same petition, calling the bill in a tweet "California fascism." And both Juliette Lewis and Kirstie Alley, also prominent Scientologists, came out against the bill. "NO on SB277…no no no…protect your rights to CHOOSE the vaccines your kids and YOU have…they are NOT all HARMLESS…" Alley wrote. "Ur kids,Ur choice [sic]."
Most fundamentally, scientologists believe that if they do get sick, it is only because they are connected to someone or something that is negative about scientology. More on that below…
Scientology and "Wog" Medicine
Wog is a derogatory term used by scientologists to describe non-scientologists or things/ideas not based on Hubbard's ideas.
Scientologists pity "wogs" — they consider them lower level humanoids unable to truly cope with life and rise to their full potential because they have not availed themselves of the "tech" provided by Hubbard. It is a cold view of the world and everyone in it. Scientologists are only solicitous to wogs to humor them in the hope they will create a good impression and perhaps get them to join up and hand over some cash. Behind your backs, scientologists are generally condescending towards everyone who is NOT a scientologist.
"Acceptable Truths"
Scientologists are taught and believe they are above wog medicine AND wog law.
They are taught how to lie to authorities and tell what is called in scientology an "acceptable truth" to avoid "negative PR" or trouble. Scientologists are trained to tell a "Shore Story" which will be acceptable to the "wogs" "on shore" to protect the operations of scientology (in this case aboard the Freewinds).
Here is a perfect example of a "Shore Story" offering up an "acceptable truth" about the measles case on the Freewinds. It is a typical L. Ron Hubbard inspired "Nothing to see here, we are law abiding citizens on the Scientology Fun Ship"…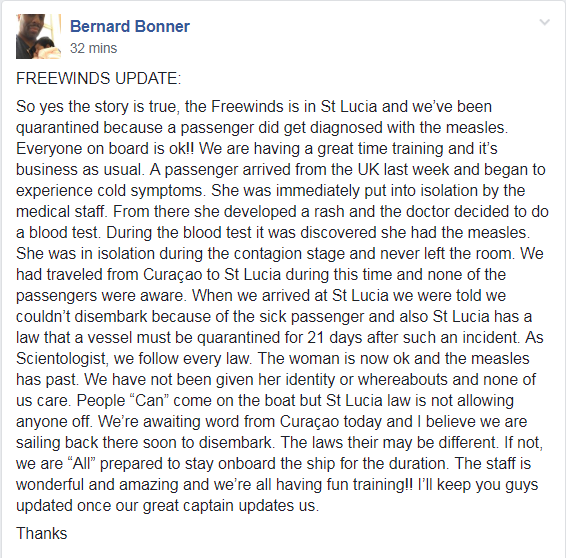 According to Bonner, "As Scientologists, we follow every law. The woman is now OK and the measles has past [sic]," — no, they absolutely do NOT follow every law. Not even close.
"We have not been given her identity or whereabouts and none of us care." And neither should you — we don't want anyone outside the bubble being able to track this person down and discover who ELSE she may have been in contact with.
"We are "All" prepared to stay onboard the ship for the duration. The staff is wonderful and amazing and we're all having fun training!!" In fact, the only people REALLY enjoying this are the scientology registrars who have a captive audience to suck money out of.
The Harsh Truth 
If a Scientologist or sea org member gets sick, they are immediately pulled into a scientology interrogation to find out who they are connected to that is "anti-scientology" and what transgressions against scientology morals they have been involved with in order to "pull in" this bad situation. In scientology, especially if you are a staff member, you are penalized for being sick.
They are grilled on the lie detector meter (called an e-meter) to see if they have seen Going Clear or The Aftermath or have read anything "negative" about scientology.  Once they have the intel, the victim is then sent to the "Ethics Dept" of the Sea Org where they are met with an Ethics officer or Master At Arms, (MAA) who has been provided with the "confessions" and their punishment is determined. For parishioners this often entails handing over money.
Being labeled PTS
This is an acronym for Potential Trouble Source. A state that Hubbard described to explain those who get sick or are involved in accidents despite their participation in scientology (which in theory should prevent bad outcomes such as this). It is "explained" that by looking on the internet or talking to your mother, father, sister, child or anyone who is negative or questions scientology, you become "PTS". Those sources of negative information are making you sick . You are connected to Suppression. Evil. Unless you disconnect from the evil, you will be trouble to yourself and scientology.
The "PTS" then has to agree in writing that they will no longer look at anything negative about scientology, L. Ron Hubbard or David Miscavige and they very often have to make up the damage to the group for their evil deeds.
If a sea org member is sick, in addition to uncovering their "connection" to negative information or people, they are also interrogated on the e-meter with demands to know what their "evil intentions" are towards scientology and mankind. These sessions do not end until you come up with an answer. And then you are required to confess to wanting to purposely infect the ship or something similar, and admit to seeking the destruction of David Miscavige and every man, woman and child on earth.
This is why scientology has so many "confessions" from former Sea Org members they pull out once those people start exposing the abuses of scientology.
If the "flap" is bad enough, the Sea Org member can be removed from his or her post and be assigned to the Rehabilitation Project Force (RPF) for months and years. There they will be physically and emotionally abused beyond the average abuse Sea Org members bear in order to reform their thinking.
What is the Sea Organization
In 1967, seeking to avoid the efforts of governments to investigate his activities, L. Ron Hubbard took to sea where he would be outside the jurisdiction of the US and British authorities.
He created the Sea Organization, a paramilitary organization that runs scientology in accordance with Hubbard's policies and directives.
Sea org Members profess their loyalty to Hubbard and scientology by signing a billion-year contract. They live communally and forfeit their former  lives, possessions and relationships. Scientology and the Sea Org becomes their ONLY life.
Scientologists believe it is a great honor to hand over their children to the Sea Organization.  For it is the Sea Org that is literally responsible for saving mankind.
Nowadays Sea Org members cannot have children. But before those rules were implemented, both my children were born and raised in the Sea Org by the Sea Org.  My wife and I did not raise our children. The Sea Org did. They were (and still are) Sea Org members first. Our job was our Sea Org job, not parenting.  We rarely saw our children, no distraction was tolerated to Clearing the Planet. No bed time stories, no family vacations, outings, first school plays, graduation of Kindergarten, dances, Valentines Day, Mothers Day, Fathers Day etc etc. It is a horrible way to grow up, and I wish now I could change it.
The Sea Org creates a nazi youth mentality in children. Their Sea Org training is harsh, their miserable lives are clouded by the idea that they are on a very important mission, giving them a sense of purpose and creating an alternate personalty devoid of empathy and compassion. They are in reality groomed to be victims of abuse (and to some extent so is every child raised a scientologist).
This explains why it is so easy for young Sea Org members to disconnect from even their scientology parents.
The Freewinds is NOT a Cruise Ship
The Freewinds delivers Scientology's ultimate service: OT VIII. It is the only place in the world where this most exalted level of scientology is available. (Though there are only a handful at any given time who have completed OT VII ready to do OT VIII so they allow other scientologists to come on board for lower level services as long as their bank accounts are adequate — at times the Freewinds has been so cash-strapped it could not buy fuel so sat at dock for weeks).
This is the pinnacle of scientology at the top of "The Bridge to Total Freedom" — a confidential level that all Scientologists seek to achieve. Most scientologists spend a large part of their lives, sacrificing careers or families, but certainly hundreds of thousands of dollars trying to get to OT VIII. Before this, they must progress up the Bridge and through the earlier "OT Levels." These materials are confidential to scientologists until they have made their way "up the Bridge", but they have been available on the internet for years.
Hubbard promised immortality and spiritual freedom as one progresses up his Bridge. For scientologists, Hubbard's "technology" holds the answers to life, including promising you can be cured of the causes of all illness and disease on OT V (New Era Dianetics for OTs or "NOTs").  OT's believe that they will be given the keys to move into their next life with TOTAL recall of this life. They are sold lies. That is why many who finally reach OT VIII leave. They realize they have made it to the top and it is not what was promised and hoped for during their ascent.
Horrors of the Freewinds
The Freewinds promotes itself as being "off the crossroads of the world", and this is in some ways true. It is outside the purview of the US Government. It is not in the media spotlight. It is an enclosed and controlled world with no outside intrusion.
The majority of people on board the Freewinds are the crew of the ship. Sea Org members. They exist in an isolated bubble within the larger bubble that is scientology.
The Freewinds, has over the years, been a convenient place to keep dissidents or those scientology does not want in public view. Even things that would otherwise generate interest or outrage have gone largely unnoticed (See for example when it was discovered the ship was contaminated with blue asbestos and Sea Org and other workers had been exposed).
Former crew members of the Freewinds have provided extensive testimony concerning abuses aboard, including deaths being covered up and people held against their will.
In 2004 a Mexican Sea Org member who was an engineer on the ship named Jorge Arroyo went insane. He needed professional mental help. Instead he was locked in a small room under guard. He hanged himself in the shower. When his body was discovered, the ship left Aruba and sailed to Curaçao, because the Freewinds had better public relations there. Jorge's body was removed in a black bag so that no one saw. Jorge's brother, who was also an engineer on the ship, was lied to and told he had a heart attack. Jorge's family in Mexico was told the same lie. This is something the Mexican Government should be investigating.
Ramana Dienes-Browning wanted to leave the Sea Org. She was forced to spend a year in the engine room and on decks (doing hard labor) as punishment for wanting to leave.
Colm McLaughlin was held against his will, escaped onto the dock and was wrestled back to the ship — the local dock-workers were told he "was drunk."
Don Jason escaped by using a rolling pin to slide down the lines tying the ship to the dock.
These are the real stories that need to be told. They are the tip of the iceberg.
The Freewinds being in the news for the first time is the opportunity for the truth to be revealed.
As with everything in scientology, whenever you scratch the surface it is ALWAYS worse than it appears at first glance. This is not a cruise ship with an isolated case of the measles, it is a scientology prison-ship full of ugly secrets.