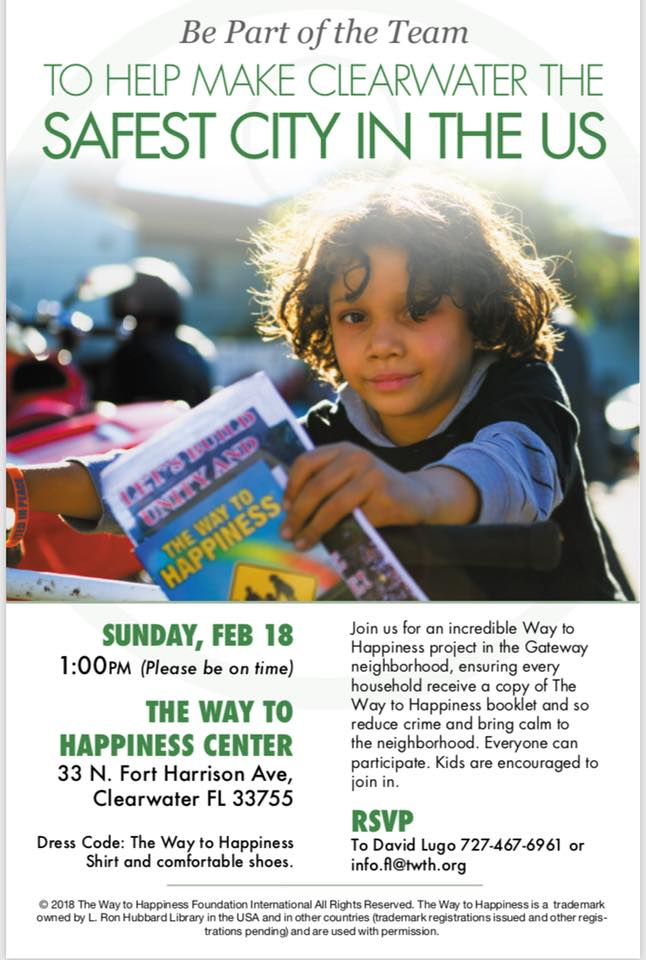 This is more of the scientology bubble crazy on display.
They have been convinced that handing out copies of the Way to Happiness "reduces crime" and "brings calm" to neighborhoods.
Why do they believe this?
First is because L. Ron Hubbard proclaimed this to be the case. He determined that problems in society all stemmed from the lack of a moral code, and that by distributing HIS it spread calm and peace and bring about miraculous changes. And of course, if L. Ron Hubbard says not enough smoking is the true cause of cancer, that LSD is stored in the fatty tissues of the body or that an OT is knowing cause over matter, energy, space and time and you can achieve that with diligent application of his technology – well, there is no reason not to believe this to be true. Is there?
And this "fact" is reinforced at virtually every event they attend. Miscavige spouts off "statistics" about how crime has been reduced 50% in the entire nation of Colombia thanks to handing out some WTH booklets. They show photos of Alfraudie Johnson in S.Central LA along with a handful of smiling kids and buy the story that the booklet is "bringing calm" to this "troubled neighborhood." The truth is far different than what they are told in every case. Alfraudie was there for a photo op with a few kids they brought in for the shot. The crime statistics in Colombia did not go down by 50% — and any improvement there may have been has no provable connection to the WTH. It's the same level of causation as the OT VIII's bringing down the Berlin Wall. A couple of them might have had thoughts about the wall. It did come down. But they caused nothing. It all goes along with the delusion they are saving the world and are the ONLY people who are doing so, in fact, the only ones who CAN do so.
But putting that aside. A crime-free Clearwater IS a laudable goal. And the people that participated in this event did so with good intentions. But there are a couple of big unanswered questions.
1.  They are talking about a TINY part of Clearwater. Tiny. How is this level of activity going to make any difference?
2.  Why is it such a small effort when according to scientology there are 12,000 scientologists in the Tampa Bay area…
3.  If it were true that distribution of this booklet would make this the safest city in the US (the world, presumably…) then why isn't scientology printing 150,000 copies (which would cost them about $15,000) and distributing them en masse to every single citizen? There are plenty of Sea Org members available. Hell, in a coupe of weeks you could put a booklet in the hands of every Clearwater resident AND all the tourists. They could even use the USPS. Just forgo a single mailing of junk promo and they could spend it on mailing it to all the zipcodes that comprise Clearwater and throw in some of the surrounding cities too so none of the criminals from Dunedin or Safety Harbor crossed over into Clearwater and disturbed the perfection of the perfect city.
The real lie this exposes is that scientologists, when push comes to shove, do not believe their own bs. Otherwise one or more of the Clearwater whales would have paid for this instead of giving another $50,000 to the IAS. Otherwise every org would be in an ideal building by now — and they would still have billions left over to waste advertising on the Olympics coverage. All staff would be Clear and moving on to OT VII to make the 10,000 needed to tip the scales of planet earth. Every staff member would be a trained auditor so they could join the top 10% of the top 10% on earth. etc etc
The evidence is everywhere — but none are so blind as those who have been convinced they do not want to look.