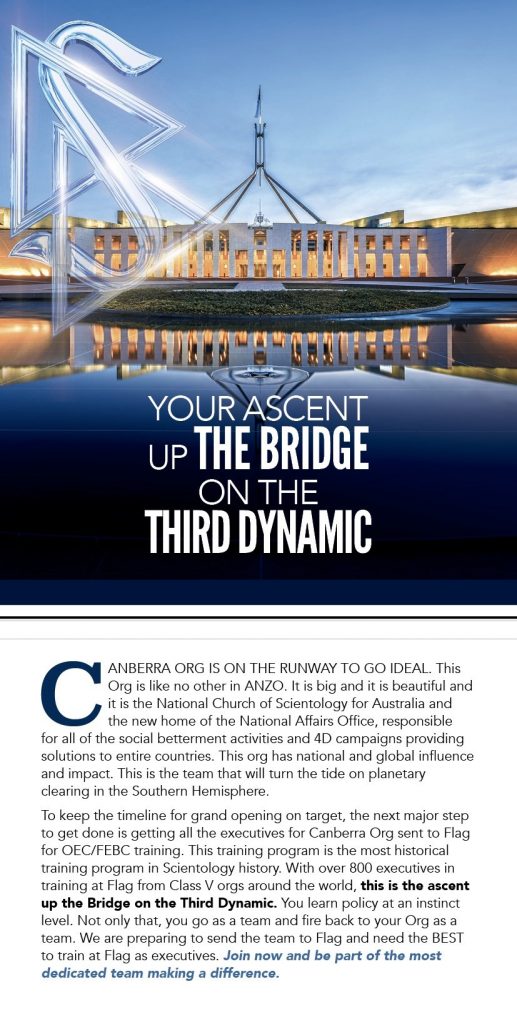 Hubbard wrote about the "Conditions of Exchange" and scientology uses this as their bible, operating at "Condition 1" — "A group which takes in money but does not deliver anything in exchange. This is called rip-off. It is the exchange condition of robbers, tax men, governments and other criminal elements."
This is today the hallmark of scientology. Taking money and delivering nothing.
The latest promises concern the "National Church of Scientology for Australia."
Canberra is a small city. Nobody ever goes there unless they have government business. Everything that happens in Australia happens in the major cities, Sydney, Melbourne and Brisbane. Yes, there are plenty of diplomats there — but certainly far less than in Washington DC, London or Brussels, where there are also "national" sort of organizations that are supposedly bringing LRH tech to the counties of the world. To even claim that this tiny, failing org (it has never had more than 5 staff and about 25 public) "has national and global influence and impact" and will "turn the tide on planetary clearing in the Southern Hemisphere" isn't a joke, it is utter delusion.
Scientology jumped the shark some time ago. It is winding down to nothing as they sleepwalk in a trance of delusion.