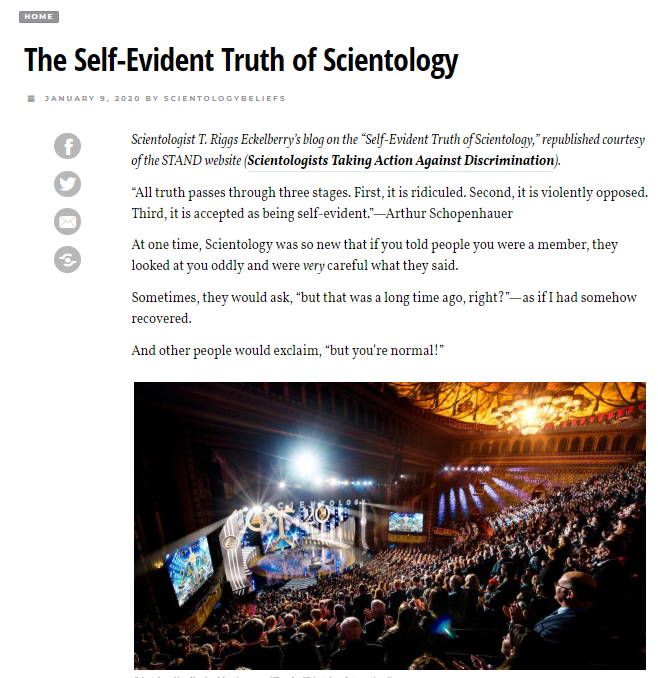 This is a recent posting on the Patheos website — which is really just an outlet for any content the scientology propaganda machine can generate.
Some of it offers good insight into the minds of scientology. This article, by T. Riggs Eckleberry (ex-SO — he was just Riggs back then) is another of them.
It starts with a premise that is entirely false. Namely that scientology is "truth" and proceeds to build on that false assumption from there. His first sentence asserts that of course scientology is true:
"All truth passes through three stages. First, it is ridiculed. Second, it is violently opposed. Third, it is accepted as being self-evident."—Arthur Schopenhauer
He then goes on to how back in the bad old days "if you told people you were a member, they looked at you oddly and were very careful what they said."
And interestingly he claims that "These days, people are more likely to mention how there are a lot of celebrities in Scientology and do I know them?" See, that tactic of recruiting celebrities really DOES work….
Though I suspect that more often these days he is asked "Have you seen Scientology and The Aftermath?" Or "Where is Shelly Miscavige?"
He then makes another wild assertion:  "It's a rule of thumb that the more something is attacked, the more likely it is to be true."
What exactly does this mean? The "attacks" on priests molesting children means catholicism is true? Or that the priests are in fact molesting children? The logic here is twisted at best, nonsensical at worst.
He then analogizes scientology to Alfred Wegener's theory of continental drift and Galileo's discovery that the earth revolved around the sun. Riiiight. Because they were not accepted as true and scientology is not accepted as true means that eventually people will realize that scientology is in fact true? A more apt analogy might be the ridicule heaped upon "flat-earthers". They too believe that one day they will be vindicated. The difference between Wegener/Galileo and the flat-earthers is that science had NOT caught up to their theories. Science has long since surpassed the nuttiness of the flat-earthers. So too with scientology — Hubbard is the one who claimed Dianetics and Scientology were  scientific fact and that he had "researched" and done "case studies" to prove it. No scientific testing has EVER validated any part of scientology and it never will. So, T. Riggs is going to be waiting about as long as the Flat-Earthers for the rest of the world to catch on that they have been wrong all along and scientology is in fact proven science.
He then goes for the gusto: "On BBC.com, Zaria Gorvett recently reviewed all the ways one could get oneself remembered in a thousand years. There aren't many. One way, she says, is to found a religion."
Wow, well, that proves it. I guess it also proves that Jim Jones, Reverend Moon and Joseph Smith were great men who made amazing discoveries that helped all of mankind?
Even T. Riggs concedes: "But, you say, none of this proves that Scientology is self-evident truth!"
And then follows with "Look, I'm not here to make claims."
Then what ARE you doing?
And he promptly proceeds to make yet another claim:
"It means a lot that L. Ron Hubbard founded the only lasting 20th-century religious philosophy." 
Well, I would beg to differ and no doubt T. Riggs doesn't have much knowledge of anything outside scientology. This is one of those assertions that scientologists love to make and nobody challenges them.  The Jehovah's Witnesses were founded in the early 20th century. They are multiple times larger than scientology. So too the Pentecostal movement. Even the Nation of Islam has more followers than scientology. And the Moonies. The only one? Hardly.
In fact, the Smithsonian listed L. Ron Hubbard as one of the 100 most significant Americans of all time (only 11 US Presidents made the list)"
Here we go again, another "fact" from the guy who is not here to make claims. And a fact that has nothing to do for with the truth of scientology.
And again, you're not giving the whole picture here T. Riggs. First, there are specific categories, each limited to no more than 11. Artists. Women. One of them is Presidents. Another is "Religious figures" and here is that list:
Joseph Smith Jr.
William Penn
Brigham Young
Roger Williams
Anne Hutchinson
Jonathan Edwards
L. Ron Hubbard
Ellen G. White
Cotton Mather
Mary Baker Eddy
Billy Graham
Benedict Arnold
Jesse James
John Wilkes Booth
Al Capone
Billy the Kid
William M. "Boss" Tweed
Charles Manson
Wild Bill Hickok
Lee Harvey Oswald
John Dillinger
Lucky Luciano
So, while Hubbard may be on the list that "only 11 Presidents" were on, he is also on the list with Benedict Arnold, John Dillinger, Al Capone and Charles Manson.