Good luck with that
The only thing they seem to be promoting is how good the Orpheum is. Like it's an "ideal" venue or something — it is "recently renovated" and it has close parking, it's right downtown and is "stunningly beautiful." Even if the video they are going to show is a Rotten Tomatoes 0%er, the place looks good.
And just like every ideal org, you can bet it will be virtually empty.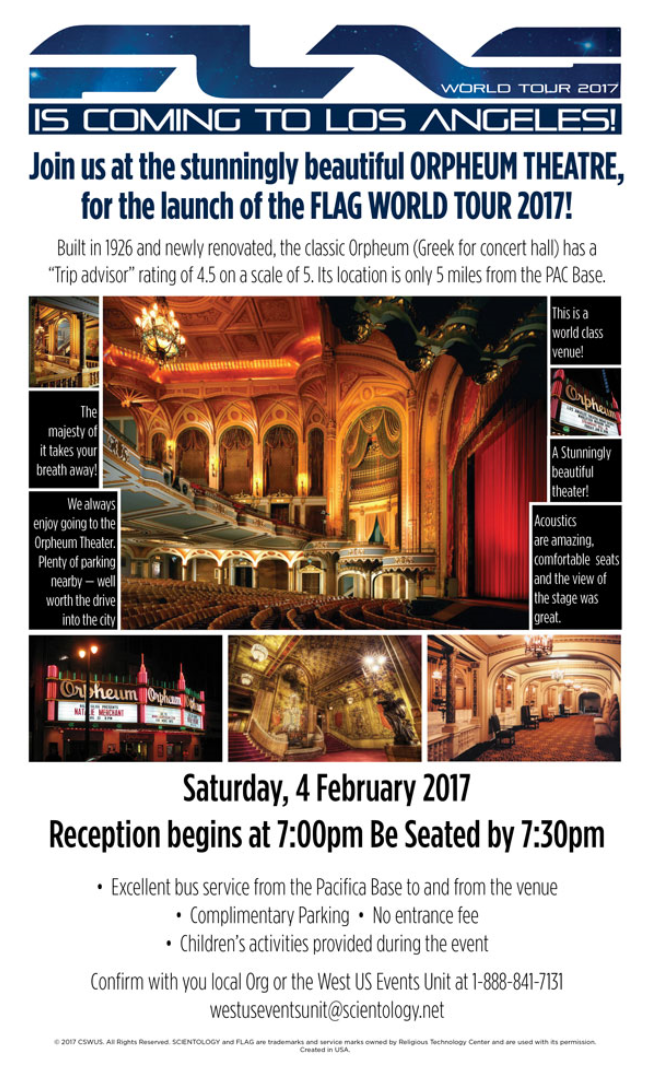 Grammar Police where are you?
"…the Ideal Org of San Diego is having an unprecedented expansion rate…" Seriously? Where do they find their copywriters? Oh yeah, "wog" education is useless.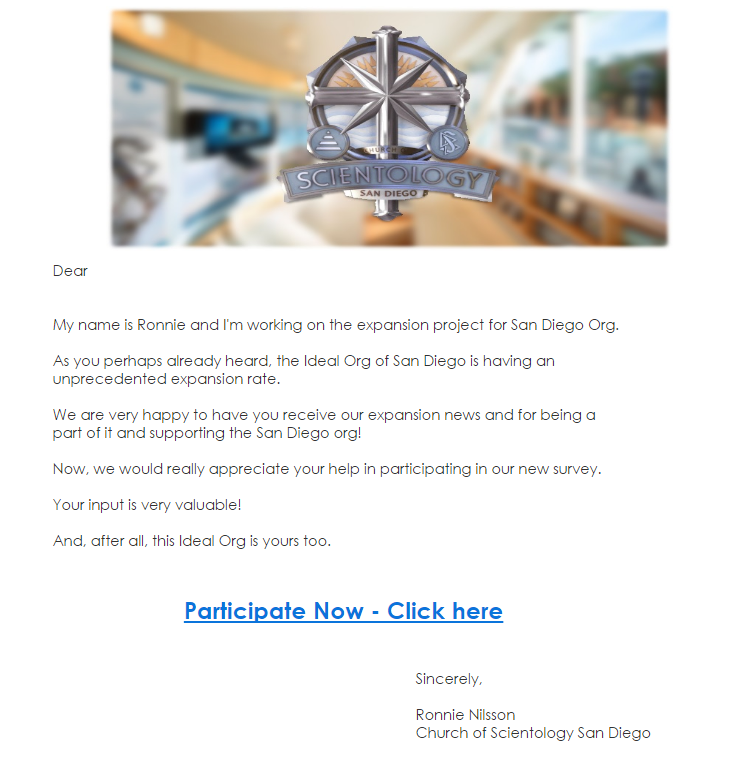 Taco 'bout expansion
Is ALL they have been doing in Dallas since their new "ideal org" opened in the boonies. Taco'ing. And these other orgs are somehow relevant why?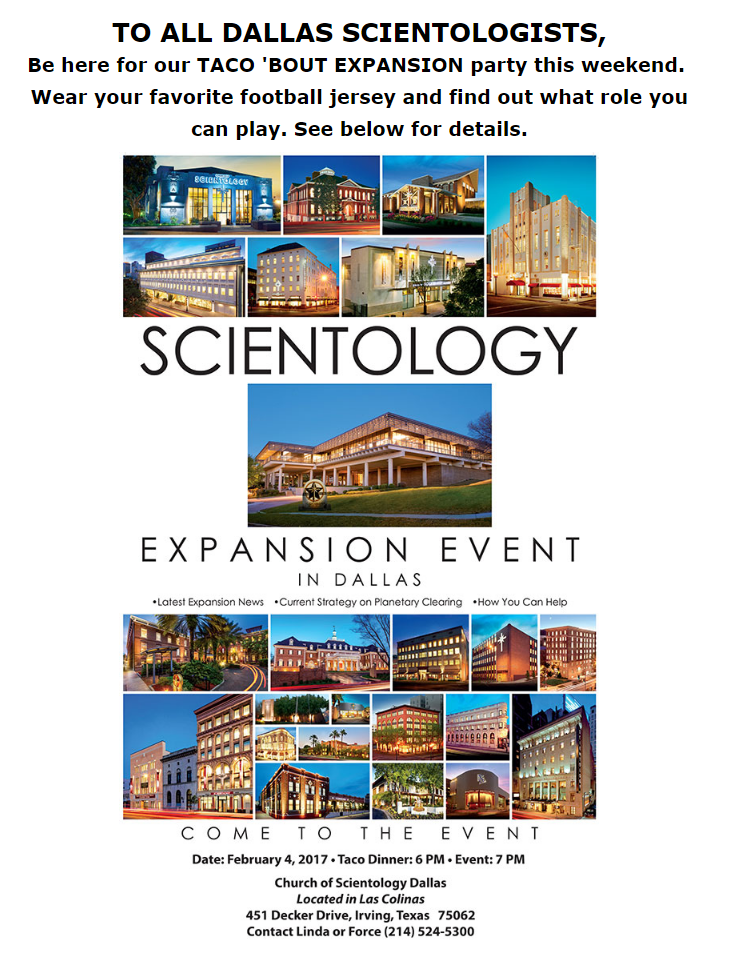 Here is a quote I can agree with…
Especially the bit about the falsehoods.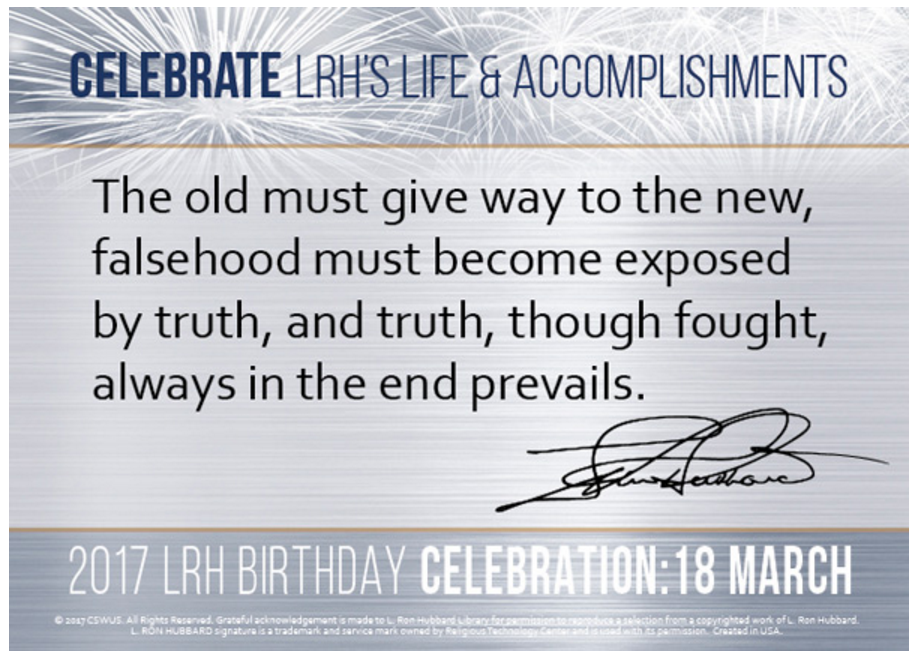 And another one…
Interesting choices to promote this event. Criticizing something? Like scientology?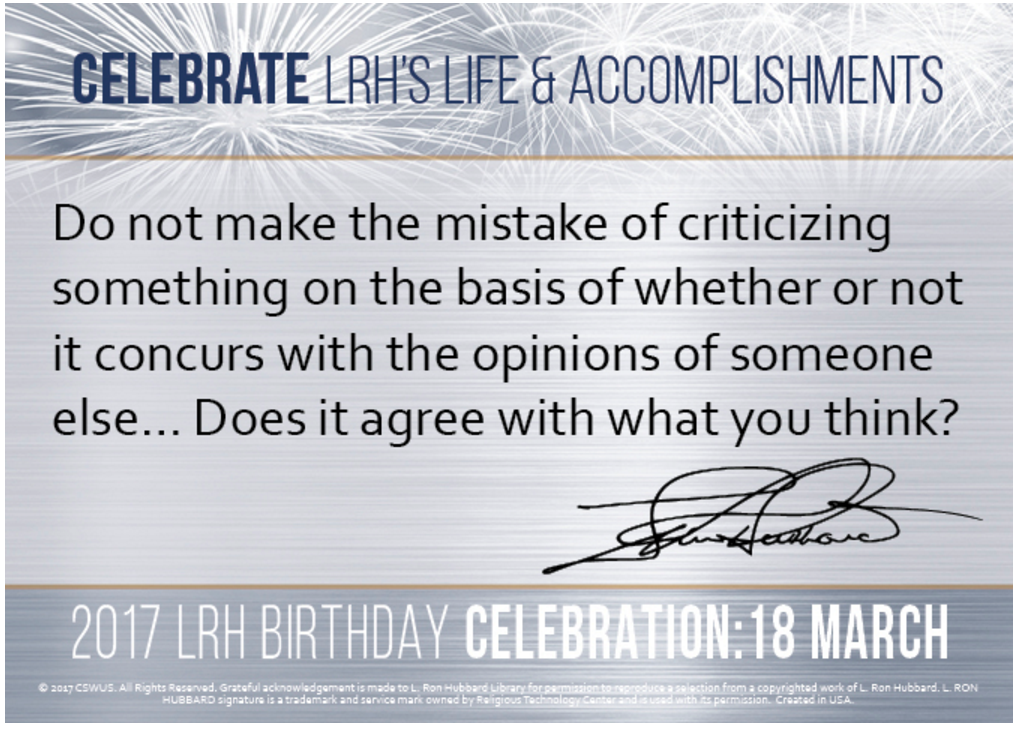 Grab the reigns…
Or reins I guess. But this is "truely" the most important city on earth. Ah, that "wog" education.
But hold on. That's not what is important. Just nit-picking really. Hyper-critical.
But this IS important.  This org has been "ideal" for more than a DECADE. And they are not even St Hill size yet? In the most important city on earth? With a Class VIII OT VIII super being running the place? No massive expansion here that is for sure. Haven't even managed the Atalanta 10X in more than 10 YEARS!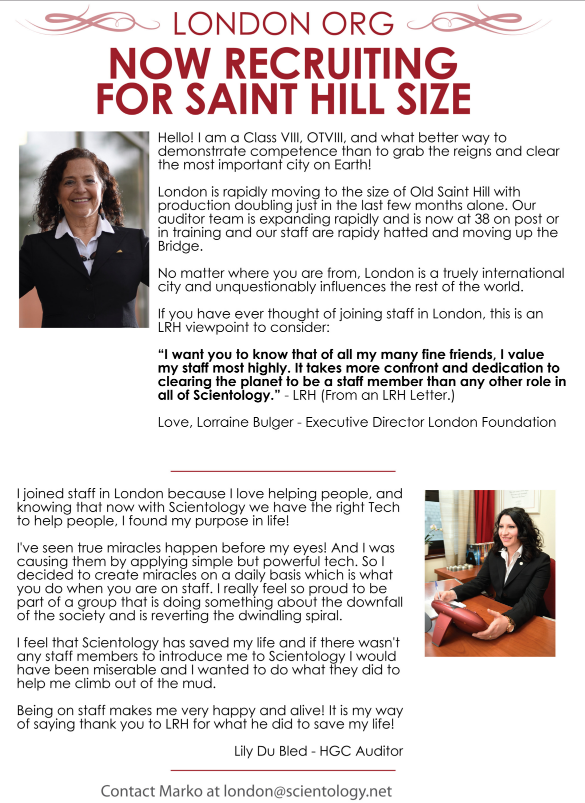 Massive, epic, milestone turnout
They arrived by the tens to hear from Dave Petit. Well, there were 10 people there as the photo shows. What, no "crowd" shots?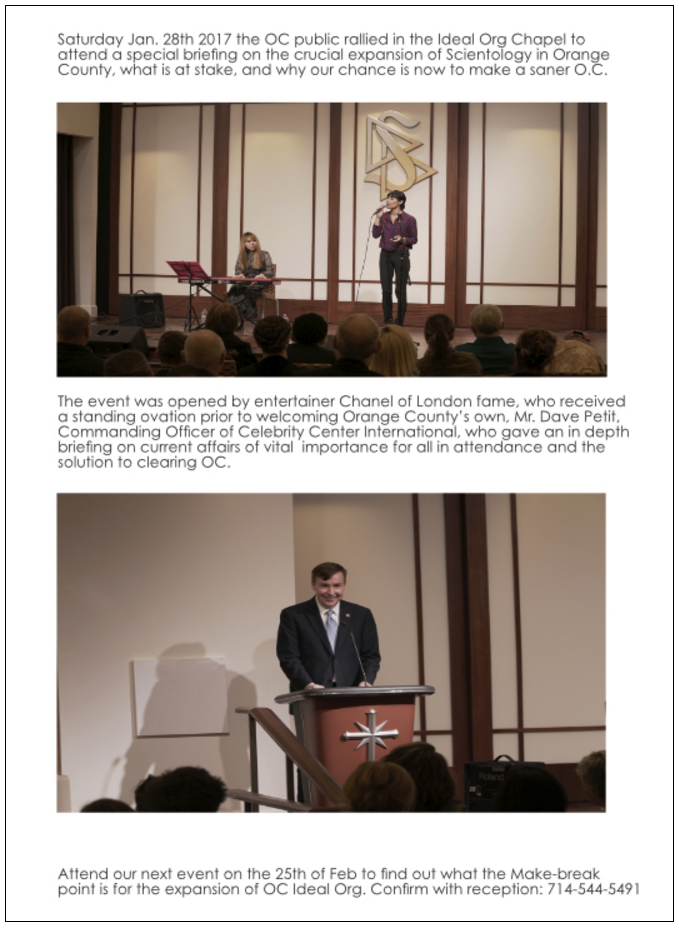 Good to know
The future of scientology is guaranteed by "4th dynamic campaigns". Finally they can abandon that Planetary Clearing BS and the 10,000 on, through or ever on Solo NOTs. And the "ideal org" idiocy. None of those are needed at all because the IAS is going to save the day with Criminon and the WTH to ensure the future of scientology (wait, I thought this was non-religious stuff?)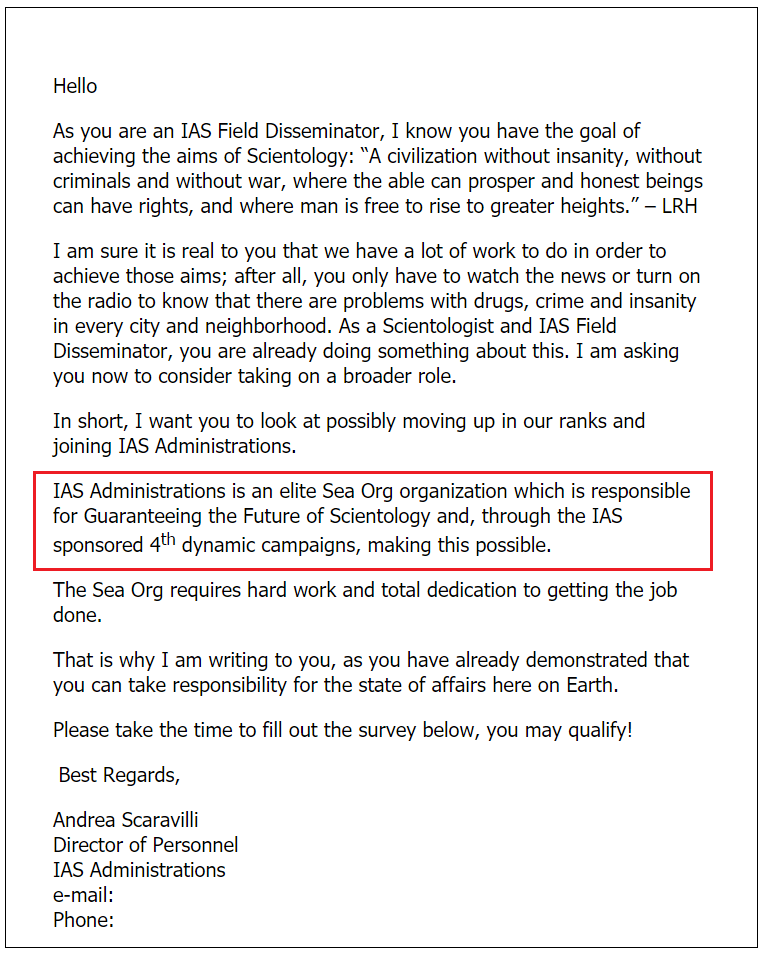 This changes nothing
They are recycling their posters. A few weeks ago this was the poster for Orlando. Before that it was Valley. And it changed nothing (except maybe lightening a few wallets for anyone fool enough to show up)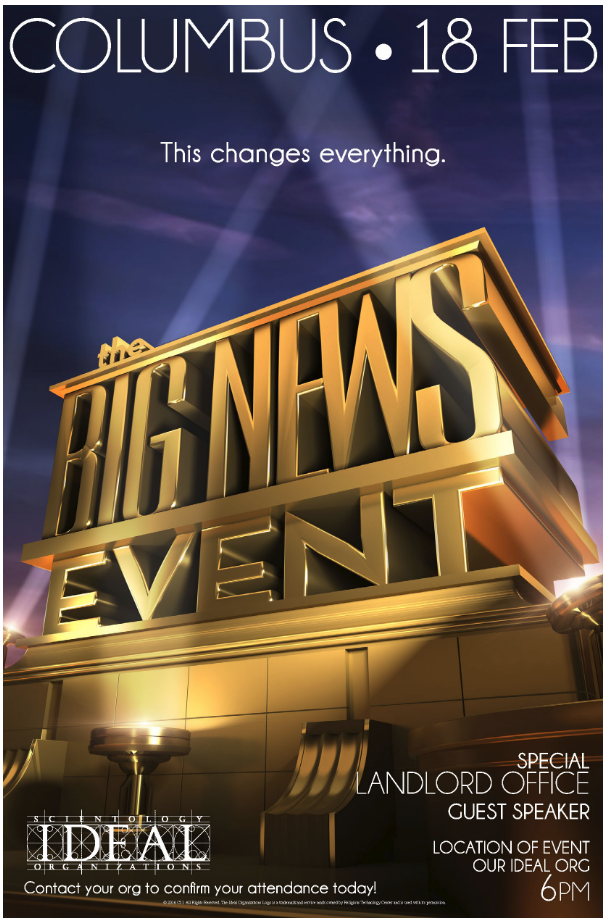 What is the value of a 50 year Sea Org veteran?
SFA apparently. Send him out to do talks at a MISSION in Seattle? Not even the "ideal org"? Wow. I guess they don't have many NOTs pc's if they can send a "Class IX" out to give intro seminars at a Mission.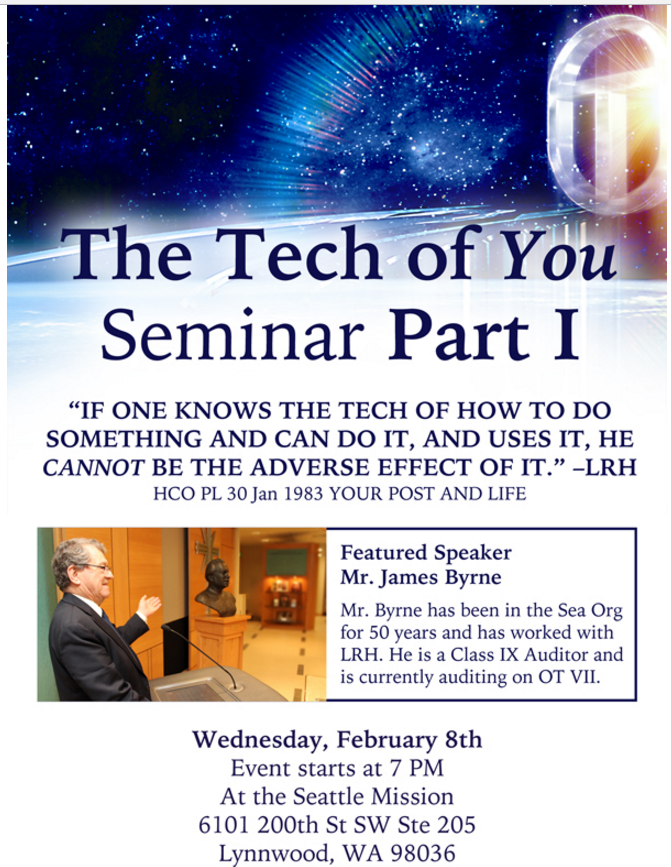 You still find me around don't you?
Well, erm, No We Don't.
But we do still use this quote regularly. They can't even bring themselves to just leave off the last sentence? Sheer lunacy.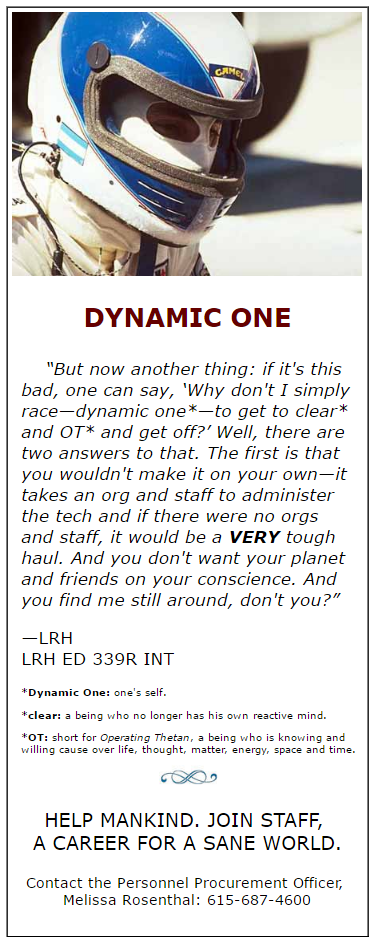 Prosperity Corner
It's what scientology is all about. Money. Always money. And here are some experts on how to take your money and earn some healthy commissions.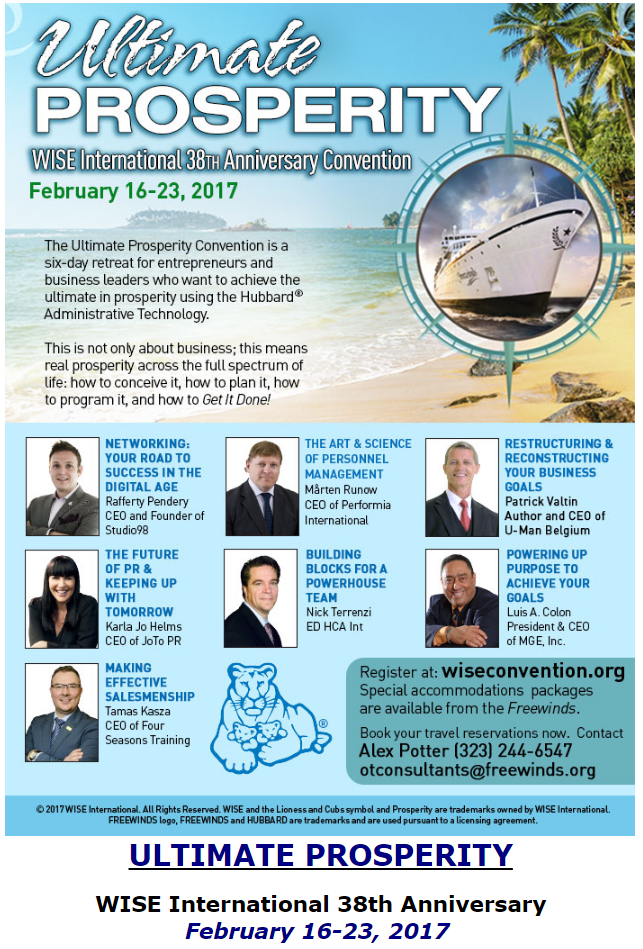 Prosperity is KEY
Of course, if you don't have any money, you cannot give it to us.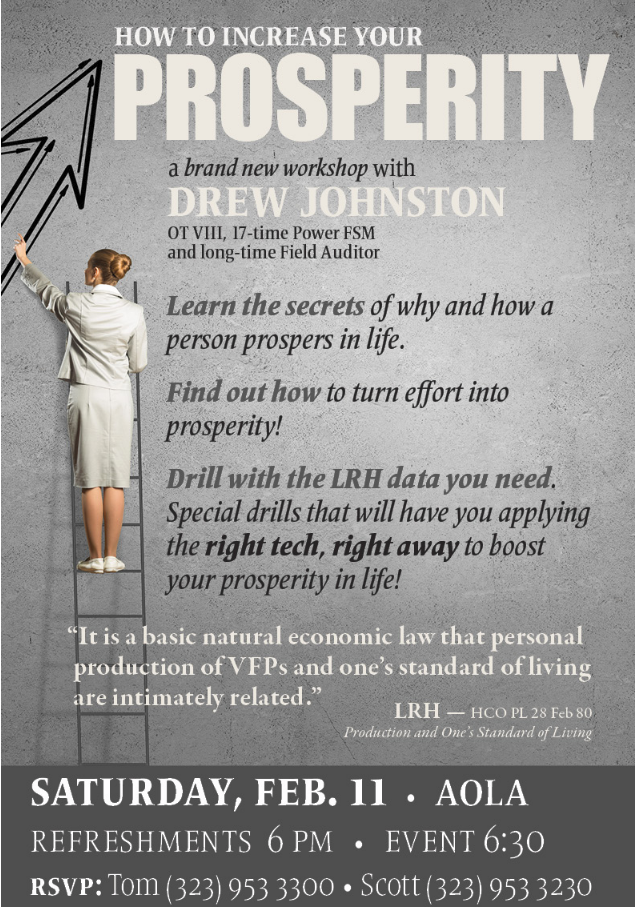 Yeah, like I said
Their funky highlighting, not mine…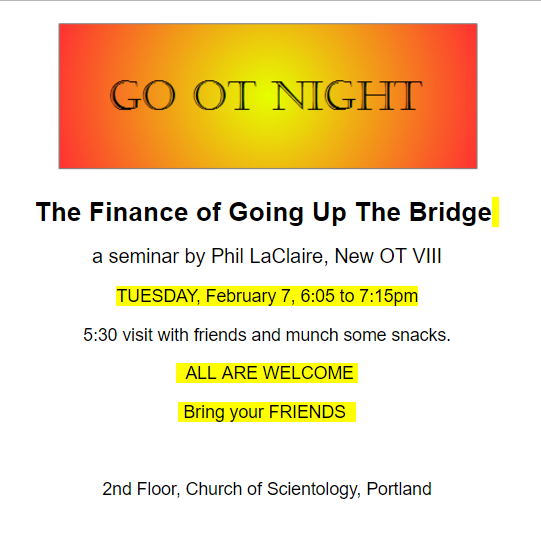 The Chan Man is back
After a brief absence for the holidays.  Wonder how many people he gets to pay him for the pleasure of listening to him tell you what Ron tells you to do?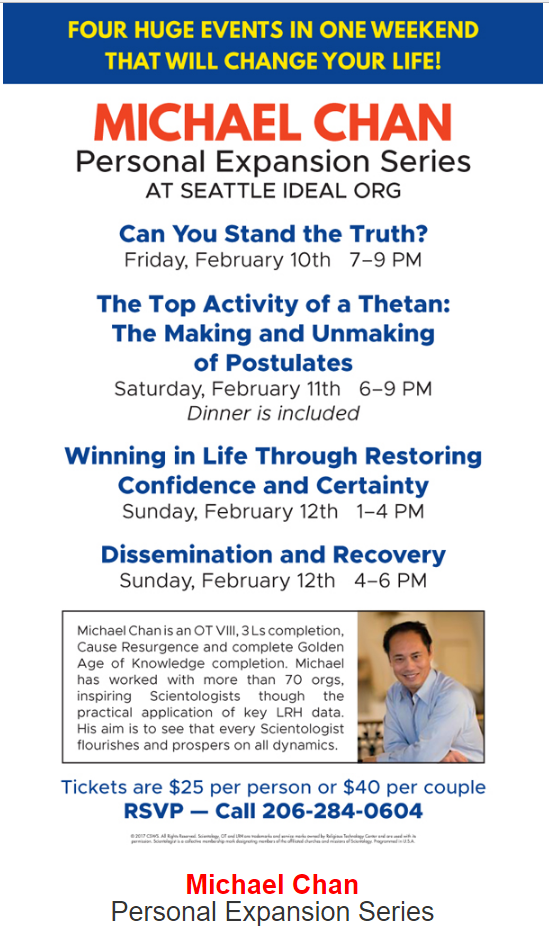 Clearing Our Zone — Facts and Figures
Should be a tragi-comic good time. AND exclusive data about the Universe Corps (it doesn't exist?).
Come on, you are too cheap to even provide coffee and donuts? The CO FOLO Canada is only worthy of a potluck? She is one of the most important people in scientology in Canada, leading it to greatness.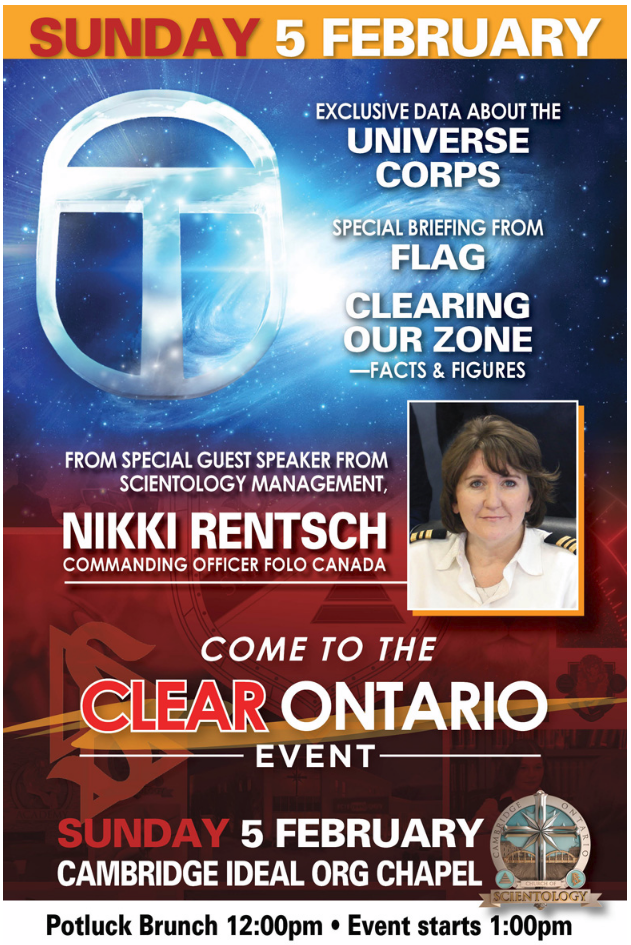 Oh Wow
This is now bigly time. SuMP is coming! To show at the Birthday Event. And pretend this actually shows how many people gather at Cambridge "ideal org" every week.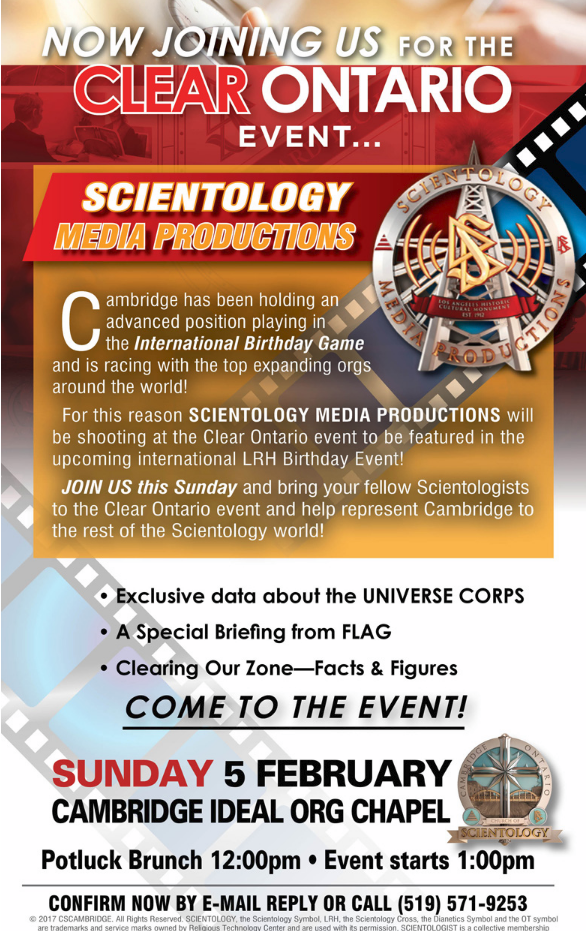 Fifth Time is the trick
Read the quote at the top and then try to get your head around how you could do this 5 times? And how this even works if you are Clear — where are these pictures if not in your reactive mind?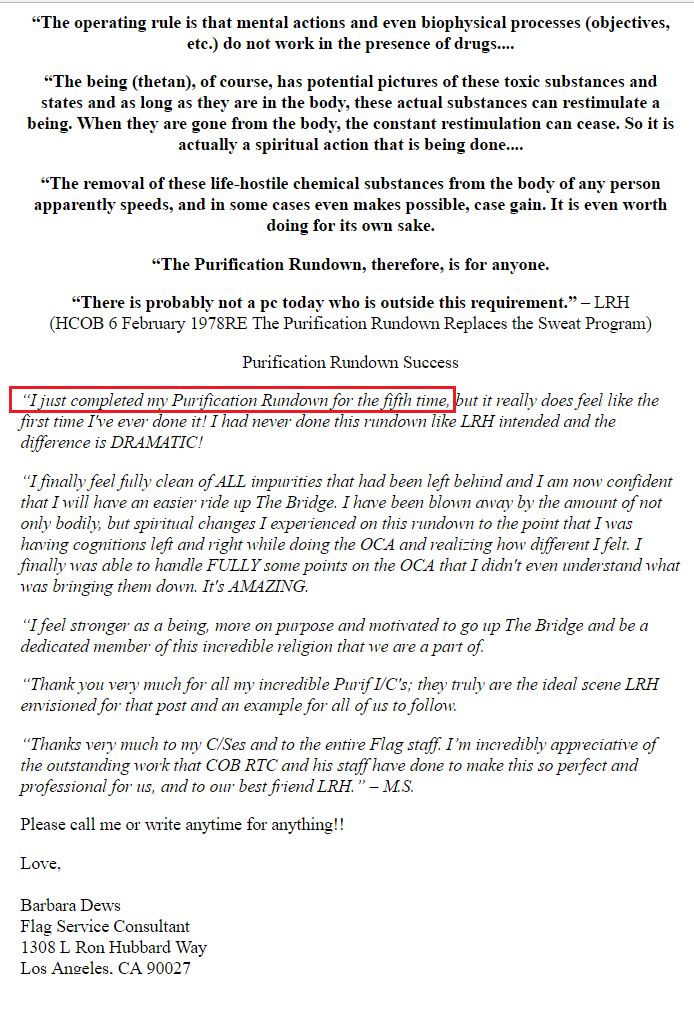 Recycling Successes
This skateboarder "success" was the source of considerable fun more than a YEAR AGO. They really don't have any NEW "successes" to offer up?
And this is what they think is really a great thing?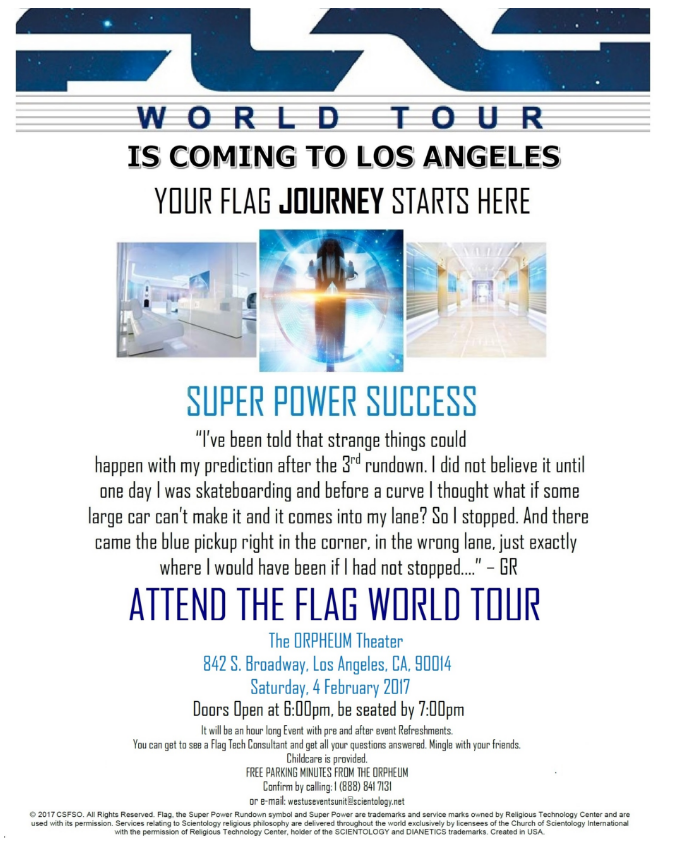 Orlando is about to be rocked
Not likely. Do they REALLY think that people are soon going to know Orlando not for Disney but for scientology? Hahahaha.
This photo of 26 people "celebrating" is composed of more people from the SO, Flag and Atlanta than from Orlando! And for this number of people they have a 52,000 sf building. That is 4,000sf PER PERSON!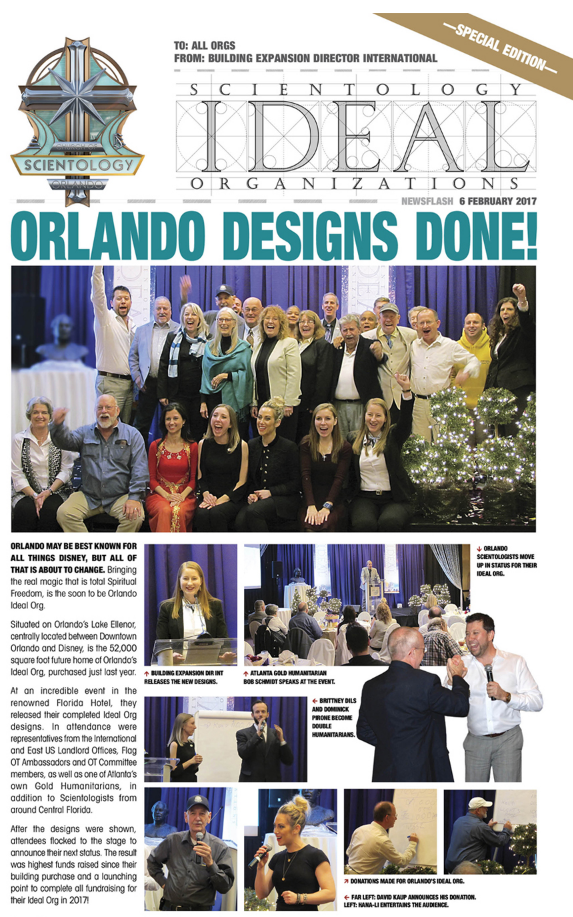 I'm confused
This is from the IAS. They are fundraising for the AO? At the L. Ron Hubbard house? Huh? What about Jobur org? I thought the IAS does 4th Dynamic campaigns?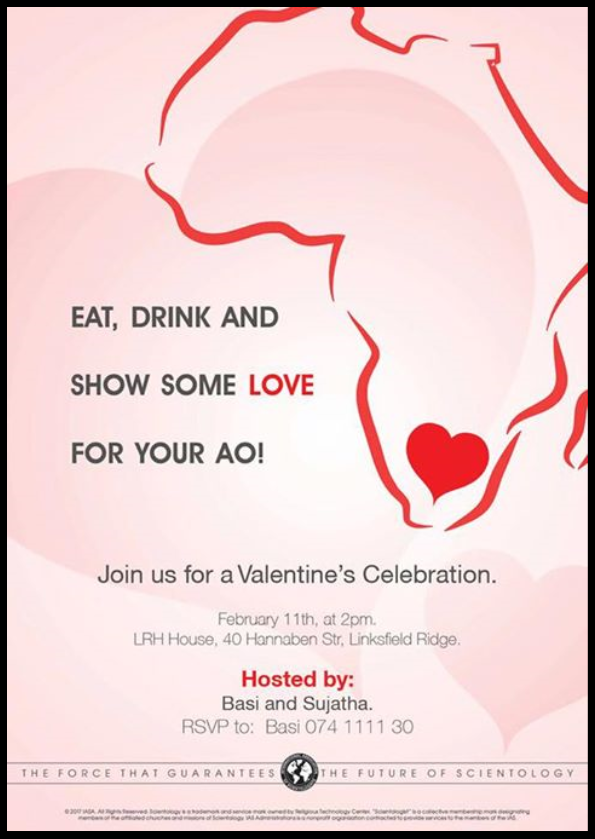 Rapper and Humanitarian
Wonder if he got his humanitarianship during the 25% discount days?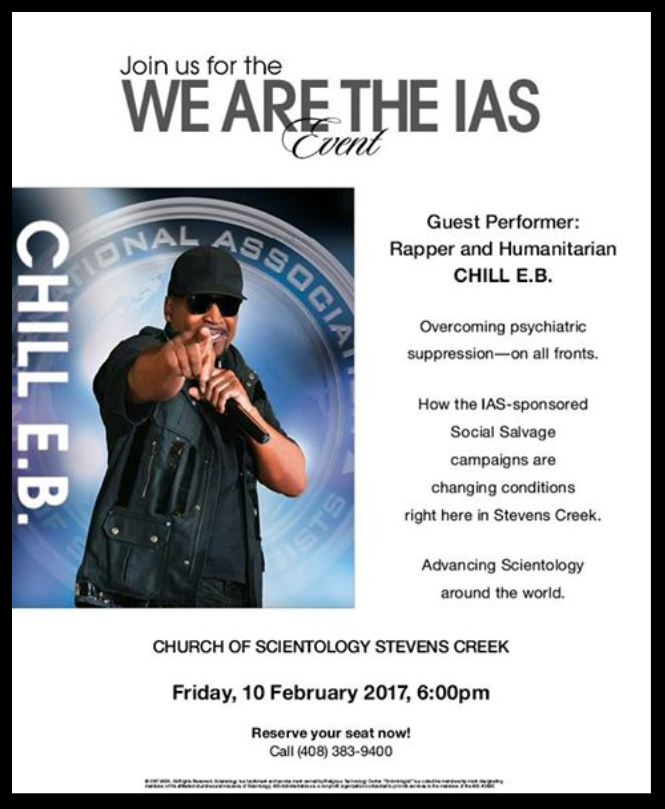 Tampa Fail
Remember all the noise about Tampa going "Double St Hill Size"?  Guess that didn't work out and they are back to "ideal SH Size" (whatever that means).
This is TWO orgs (Day and Fdn) staff — clearly they are NOT "regular SH Size". There should be more than 200 staff here. I didn't count them, but it doesn't look like 200 to me.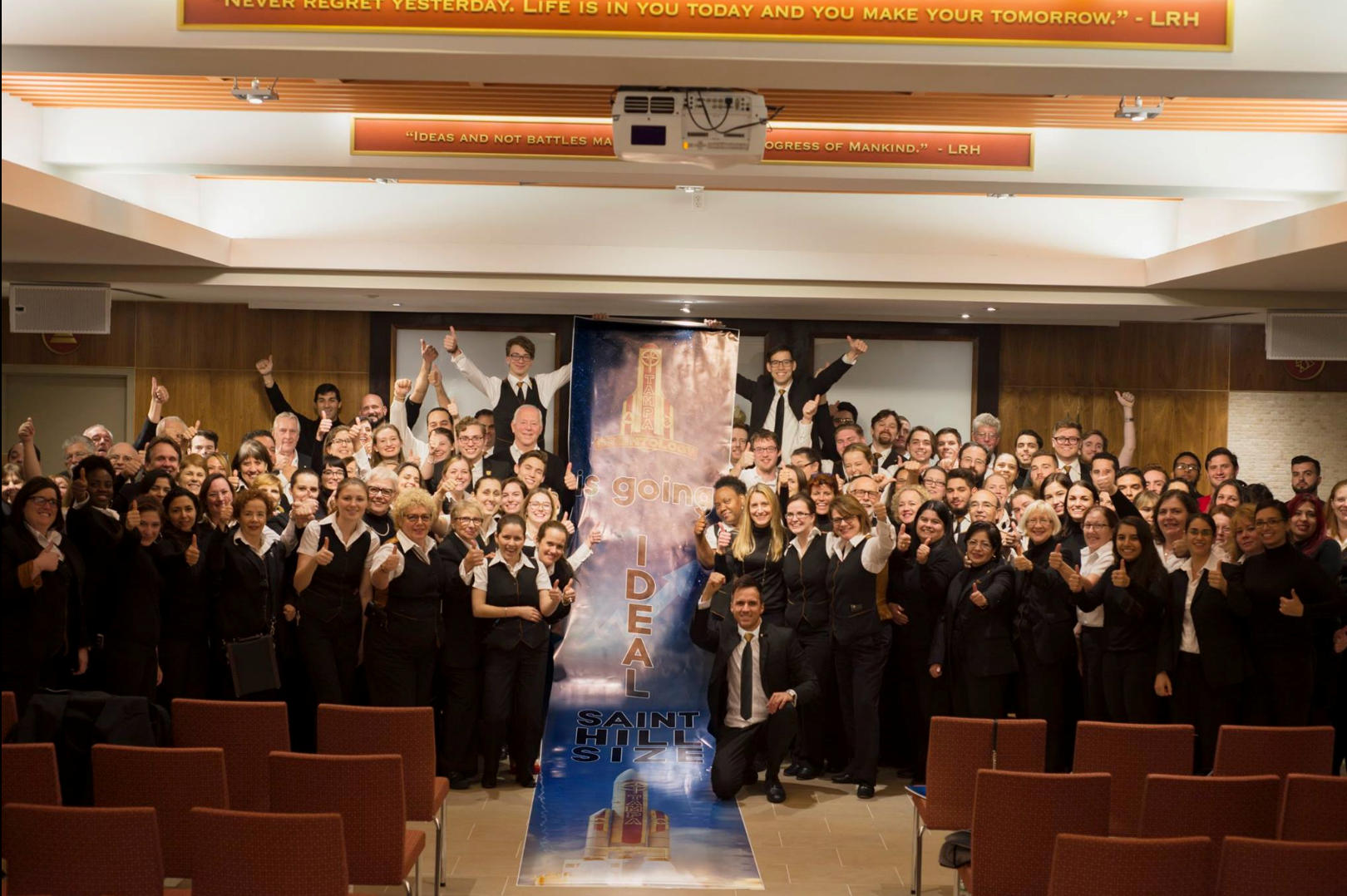 Try reading this
Talk about enthusiasm! Giving the sherminator a run for his money…
It's just a little odd she didn't accomplish ANYTHING in Columbus, but now is telling everyone "you can do it" while she sits in CLO EUS eating rice and beans.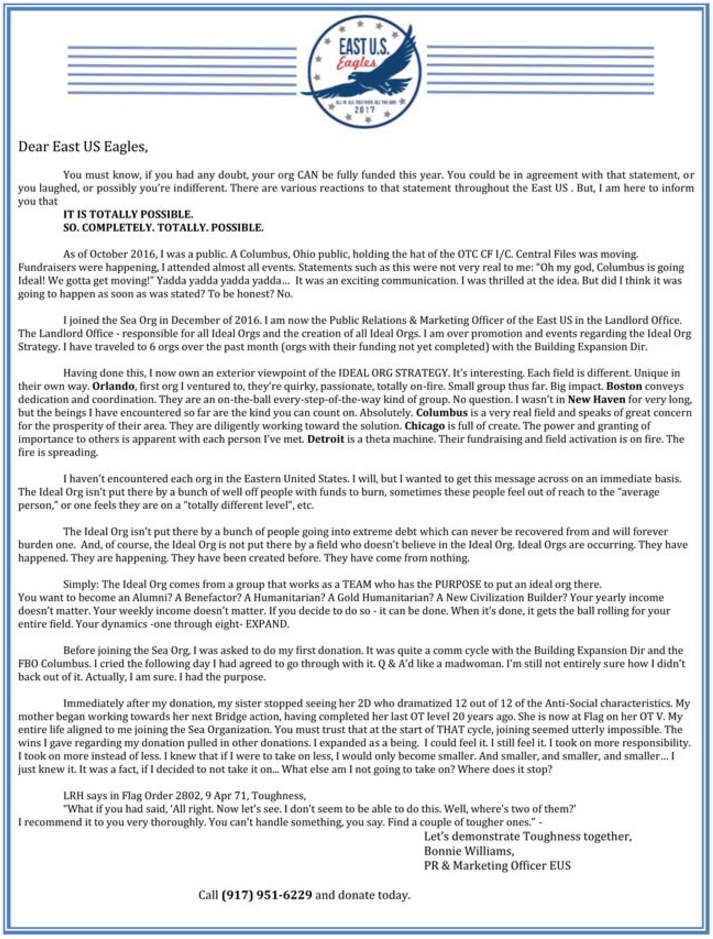 The obtainment of our Ideal Org building
This write up makes absolutely no sense. Can someone tell me WHAT is being "postponed"? Is it the obtainment? Or is it the Victory Party? And if so, what IS the awesome free dinner event this Saturday?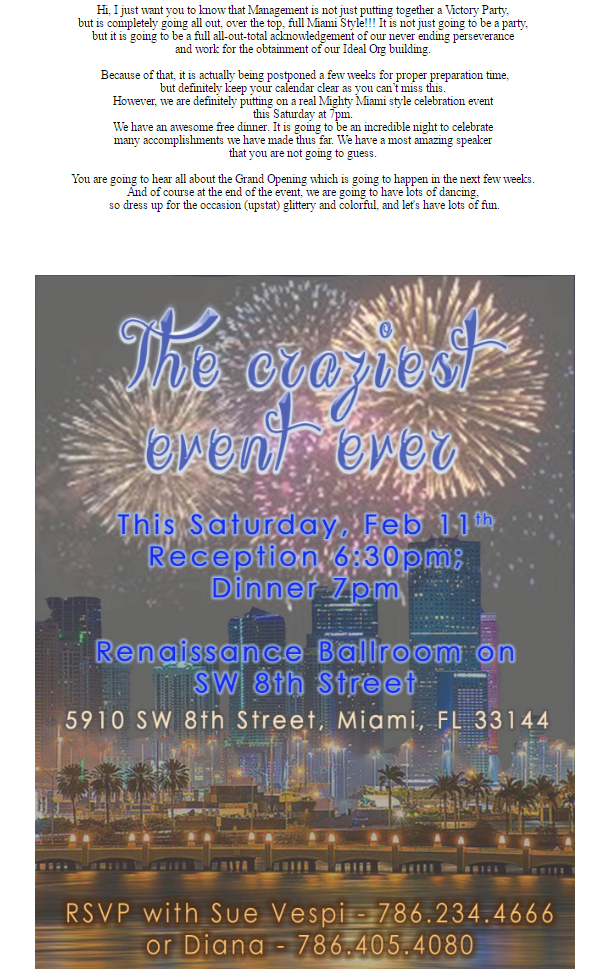 10 students to Miami
They brought in the Oliver Twist brigade. Kindly they gave them ice cream instead of porridge after toiling in the files for 17 hours…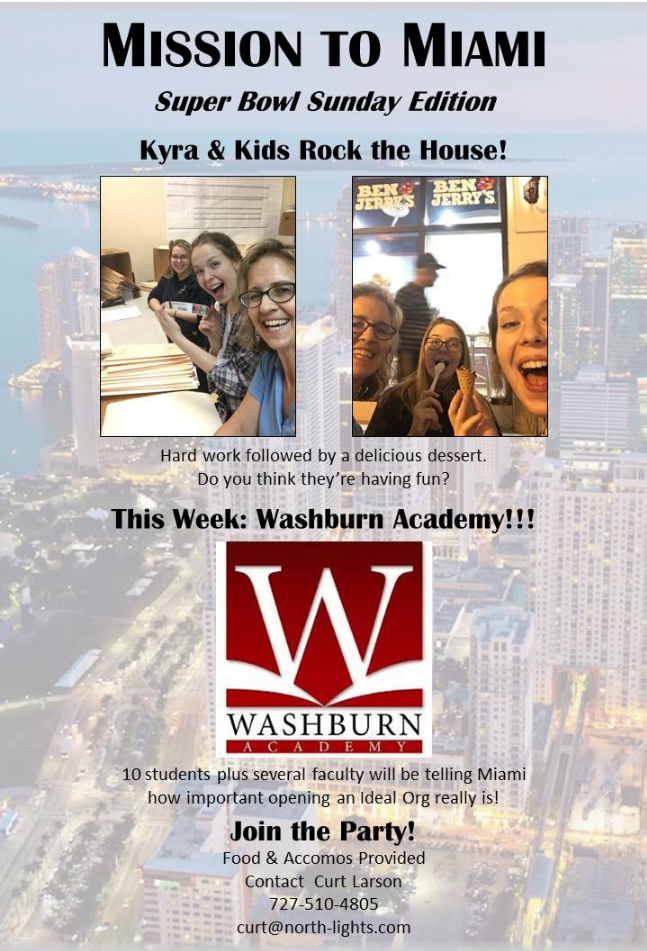 Ideal org clearing update
Turns out NY Ideal Org has a Facebook page where they track their new Clears. And boy are they ever "making planetary clearing" a reality….
Not a SINGLE CLEAR since May 2016… (The one before that was March 16).