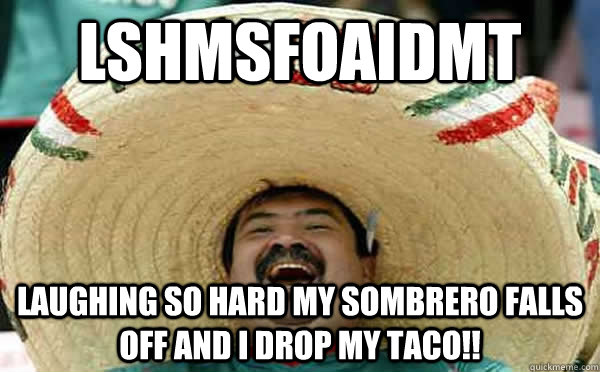 The (lack of) irony deparment…
This small collection of Craigslist ads is a study in irony. The people who destroy families and tear relationships apart, who lie with reckless abandon…
The Global Reach of Radio
How nutty is this. They can produce everything for radio without any "new studios", they have literally dozens of UNUTILIZED studios. If their figures are true — 95% of the world's population listens to radio, that means about 75% of those people (between China, India, SE Asia and Africa) cannot even afford to buy an overpriced book, let alone a service. Wrong public. As usual.

Freewinds "Success" Fail
Gavin Potter isn't succeeding. The big guns have been flown in…. Perhaps Gavin isn't taking the right amount of action to succeed? Or is depending on just a whale? Surely he can achieve success.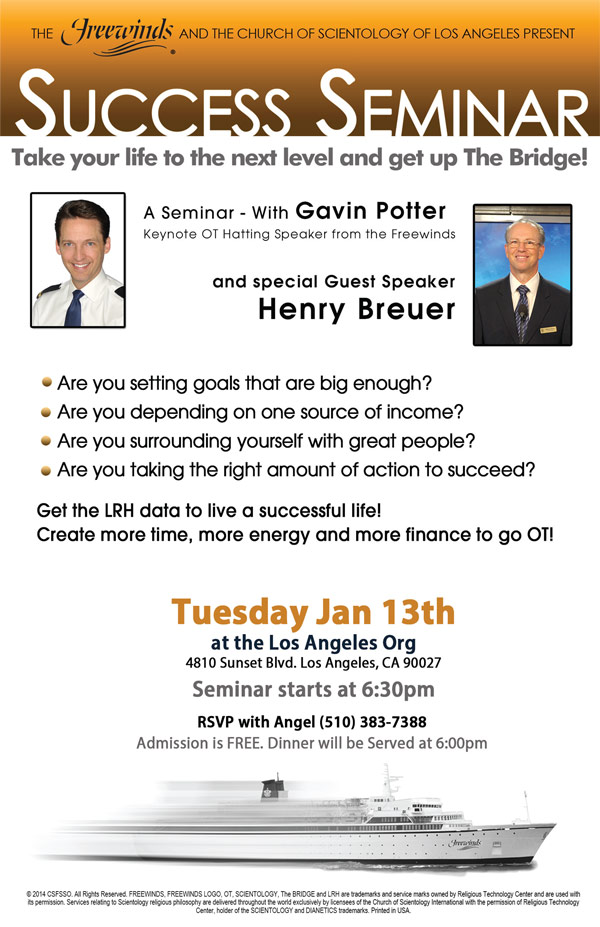 Late breaking news. The Freewinds really ran aground. Gavin is getting a full "correction." They just around this notification:
THIS SEMINAR HAS BEEN POSTPONED!
THE NEW TIME IS NEXT TUESDAY, JANUARY 20TH AT 6:30PM

OT VIII Daphna just completed the Purif…
She must have kept the suppression at bay to bust her way back onto the bottom of the Bridge. Next up. Student Hat. Then Objectives.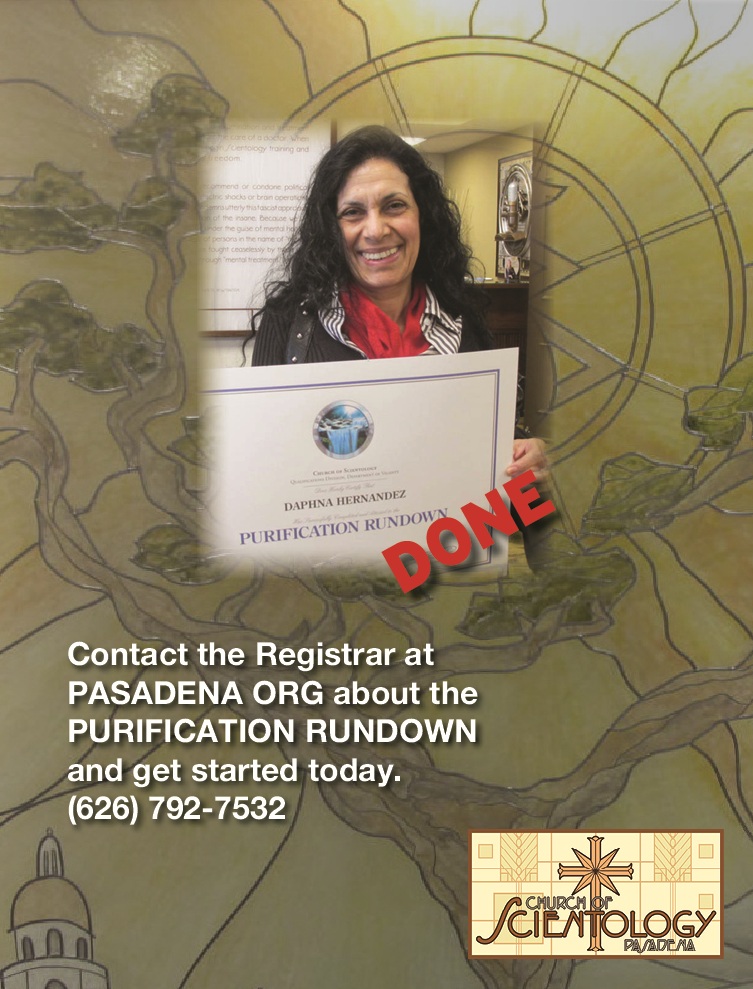 Promise to Ron Recognition
Seriously?
Limited to 40 people…. The seats on the bus to Target 2 are limited?
Especially wonderful here is the complete lack of response to the "Why I (we?) Donated" heading above their horrible cutouts…
I think there should be a little truth in advertising and this should be changed to the "Suck Up To Dave Recognition."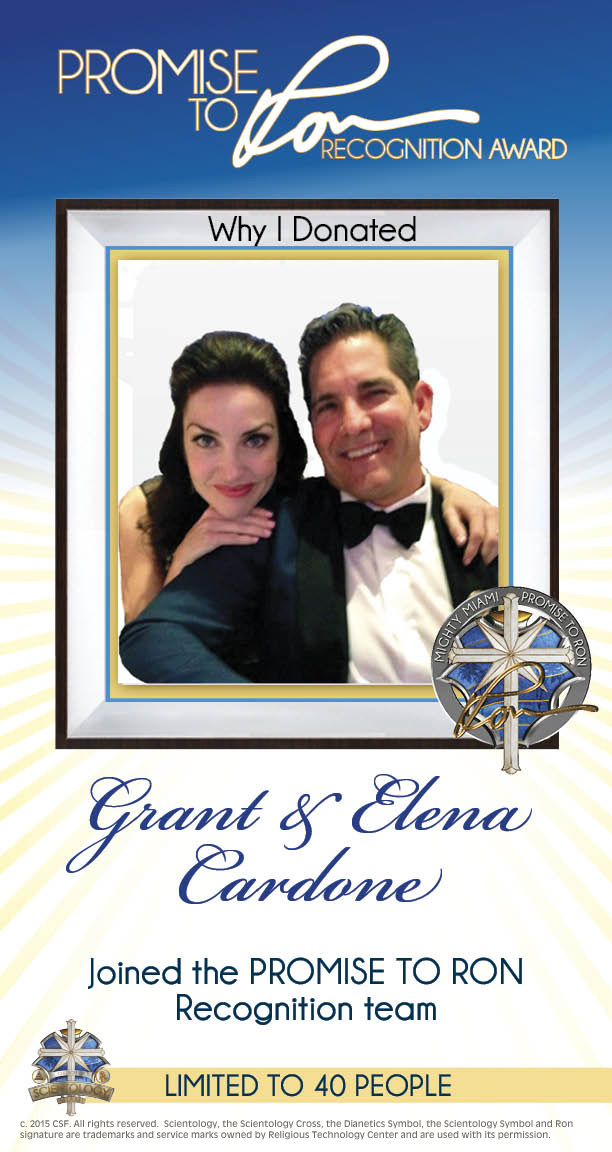 The Inner City Ambassador
Now on a world tour to make commissions. "The wins and successes from your support."
Ha. Just one day I would love someone to stand up at one of these things and ask the simple question "How much money did the IAS take in last year and how much did they pay out in grants for the uplifting of a culture?" Of course, that would get you an SP Declare from the champions of human rights.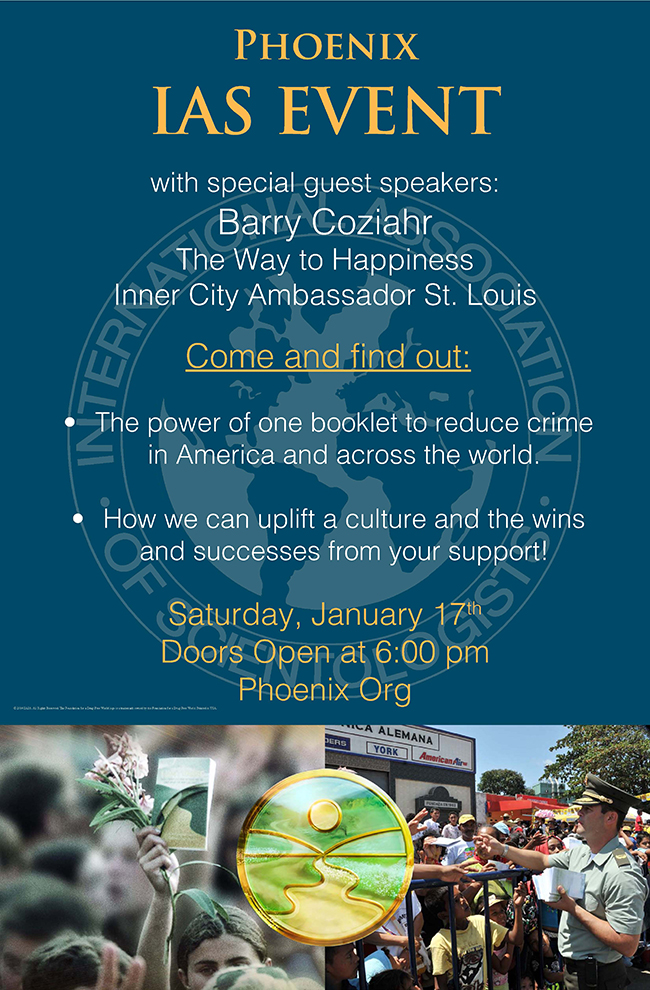 Inglewood graduation…
Now, this is one sorry-assed looking graduation.
And this is the PROMO shot! 3 mini or extension courses, one staff member and one regular cert. Of course no shots of the crowd that gathers on Friday night for graduation.
Then two other certs below from very atypical looking Inglewood public. Those two must be being bused in as part of some reverse segregation program. Most likely the son and wife of a staff member. Then another guy in a hat with no cert at all.
No outpoints here.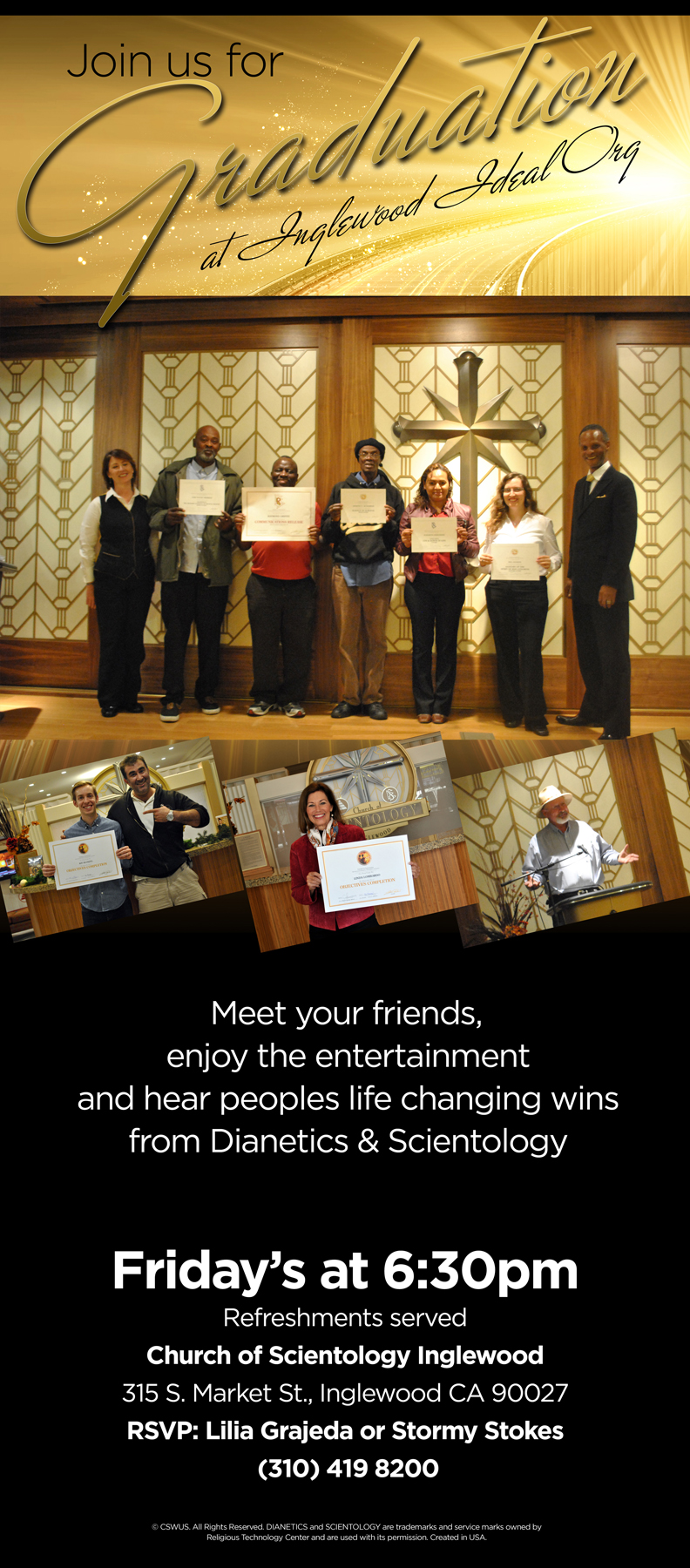 Food, glorious food…
This is becoming a bit of a theme. Try to persuade them to come by offering food. I bet a year of SO wages that the food that was served looked nothing like the shot.
Perhaps they should put a new heading on this one: THE FAST FOOD ROUTE TO OT.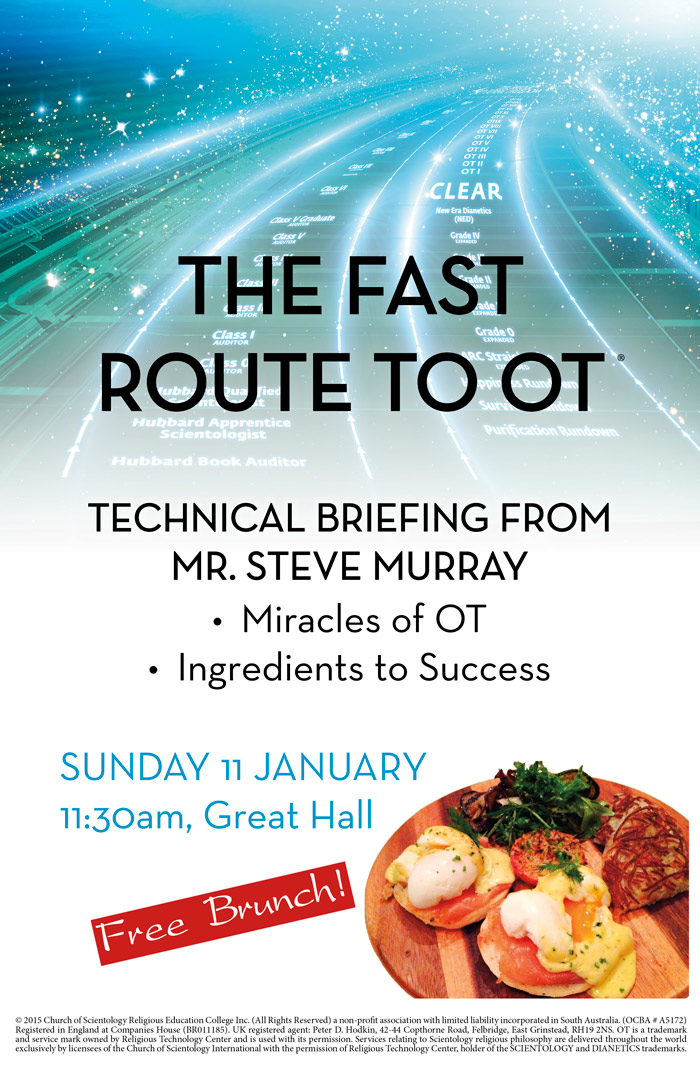 Even better…
Don't come for the food, come and watch the football!
Designed as a humanitarian act to help those who had to pawn their TV's to satisfy the IAS vultures last time they passed through. And for those who refuse to own a TV because they might see entheta and have to report themselves to ethics and pay for an intensive of sec checking.
And because this empty ideal org will do ANYTHING to get people to come in the front door. For anything at all.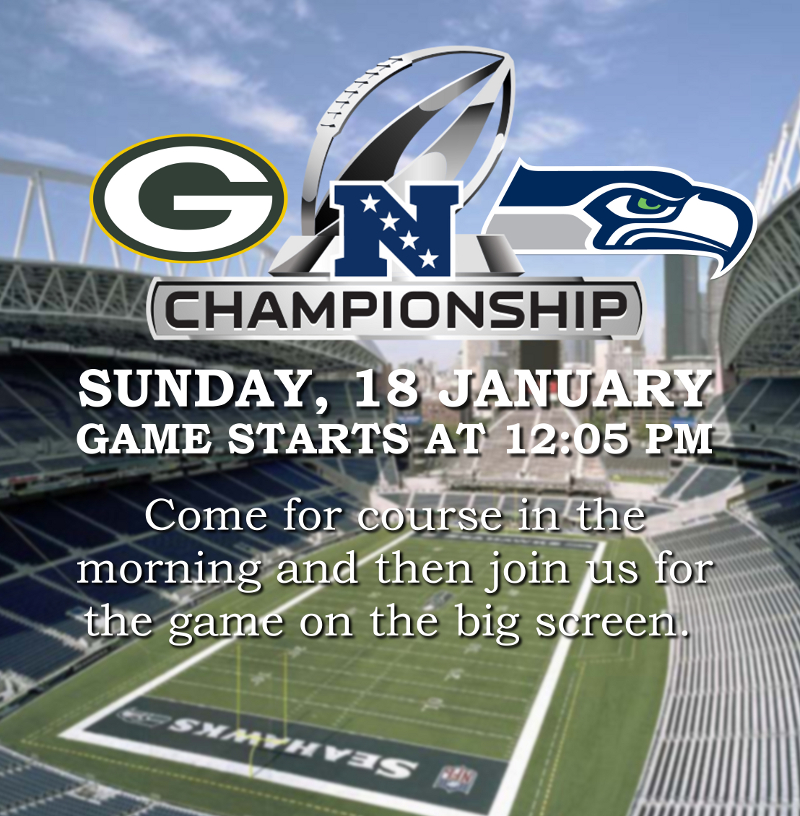 Chilli on the bandwagon
"IAS World Tour Event" sounds sort of strange. There was always a Flag World Tour. But like everything else, I guess that has been sucked into the IAS vortex…
This guy has become a full time IAS reg, pretty soon he will be able to afford a Maserati like Jeff Pomerantz.
Anyone have a clue what his claim to fame is?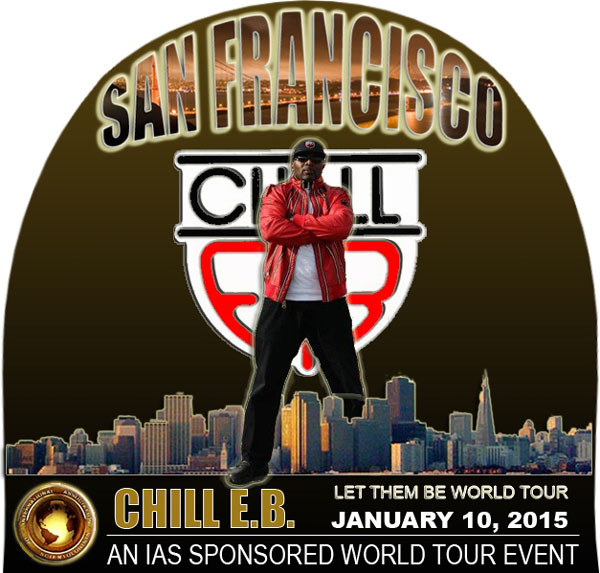 OCA — a $500 Value
This one totally cracked me up.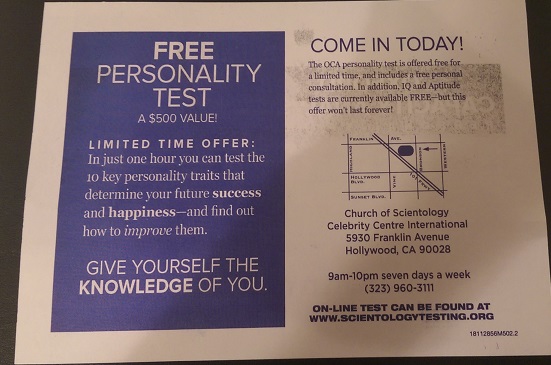 Regraded Being
Special long form this week. Sailing very close to home once again….