Surrounded by Suppression
Another must miss event. Daphna really has a bee in her bonnet about all the "suppression" that is around.
Maybe she has a computer and googled scientology? Those SPs are everywhere, just waiting to pounce!
Again, why is an Advanced Org resorting to promoting a seminar delivered by an FSM? Where is Julian Shwartz? Isn't he the expert on handling suppression at AOLA?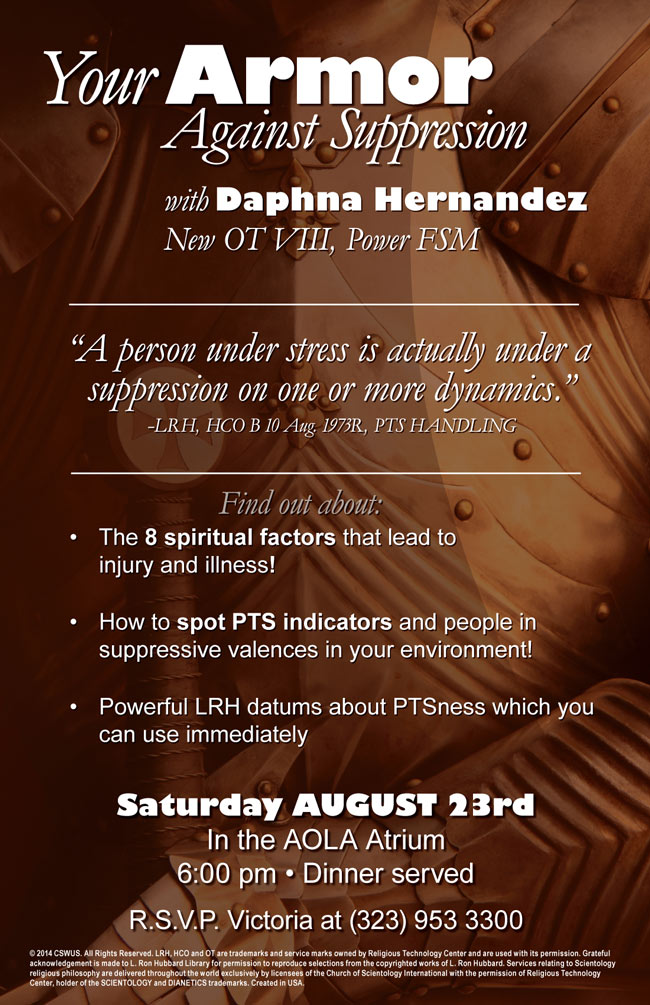 Arise Sir Knight
Yes, that is John Danilovich, Captain AOSHUK waving a sword.
Apparently the latest status in the UK is to kneel before John who touches the sword to your shoulders and declares you some sort of knight. And this is for completing "The Basics".
This IS supposed to be a St Hill and Advanced Org right? The "original"? I think John has been watching too much Monty Python and the Holy Grail.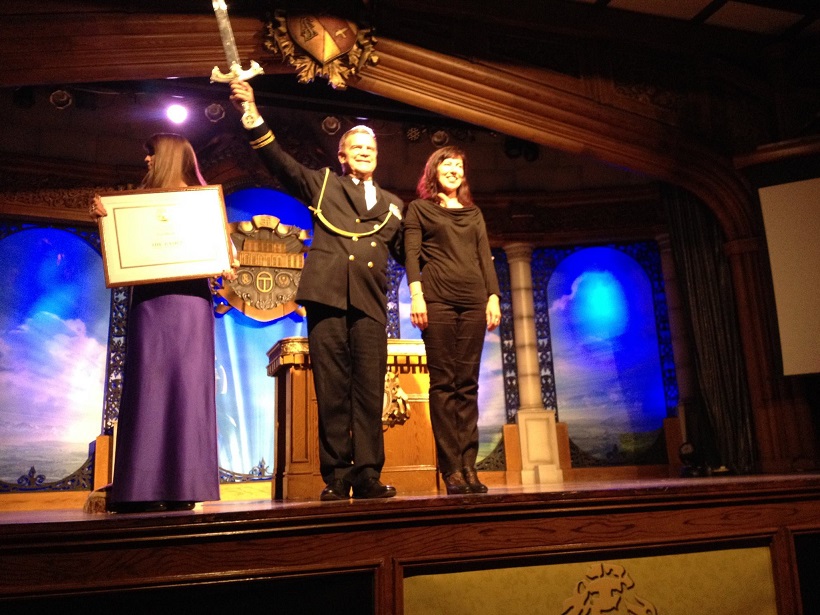 Scientology Is Booming…
I don't know what PAC these two are walking around? Maybe they should pop in on Pasadena. Or better yet, Inglewood? LA Org? The Test Center.
The "big lie" philosophy is trickling down to the public. Now they too are simply saying "we are expanding, the orgs are booming" and clearly they have NOT LOOKED.
How do you get people to say this sort of thing? Easy — extract their money, a LOT of it, and then they are OBLIGED to prove they are not stupid and did the right thing.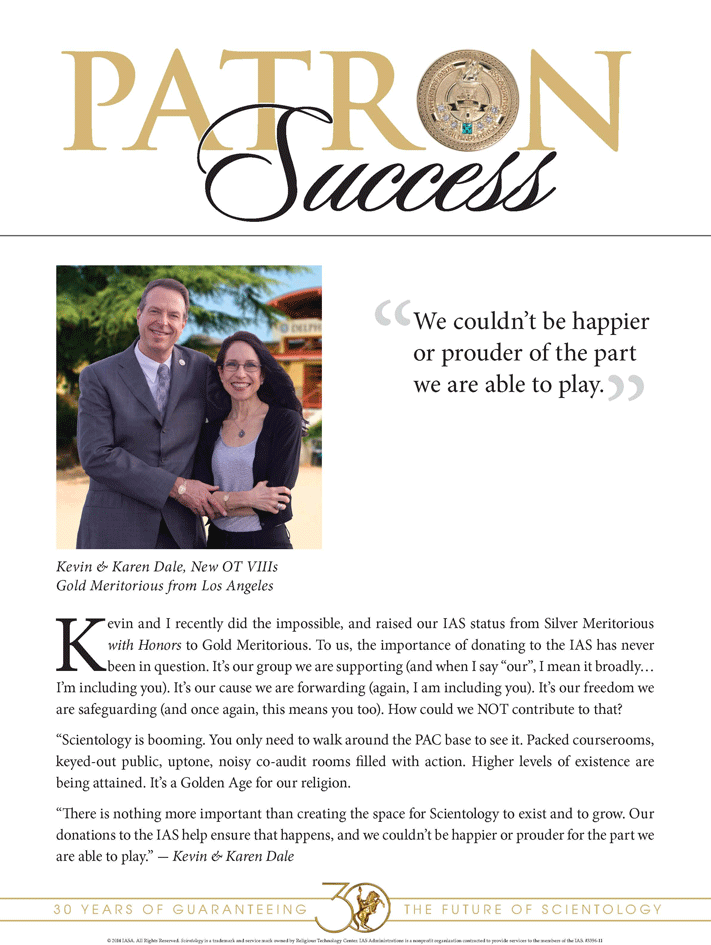 Masters Of The Universe?
CLO WUS is trying a new tack to unload the thousands of copies of the ACC's sitting in the Bridge warehouse. Appoint someone to the "post" of Golden Age Of Knowledge Consultant and then dump them at half price.
But not before offering some enticing bait.
But you have to ask yourself the question — if the Golden Age of Knowledge Consultant knows the answer to how to make the MEST universe surrender — why hasn't he sold all these sets at full price already?
In what famous LRH lecture does LRH talk about making the MEST universe surrender, and what does he say?

(You don't have to guess – just send this email back and I will give you the exact LRH answer)

 

BREAKTHROUGH BY STUNNING BREAKTHROUGH

LRH'S ADVANCED CLINICAL COURSE LECTURES Don't miss this very limited time discount

When you get the ACCs you get a full 42.5% discount if you act right now. 1,020 fully digitally restored LRH lectures on compact disc with word for word transcripts for all lectures, 500 additional hard copy issues of the time period and glossaries defining 30,000 words. The most OT and powerful materials ever available in this universe now available for the first time.

ACC Info Hotline: 323-953-3229

Or contact at this Email address right now:

Golden Age of Knowledge Consultant

Church of Scientology Western United States

1308 L. Ron Hubbard Way, Los Angeles, CA 90027
A Comedy Show
A scientology comedy show. Make up your own jokes.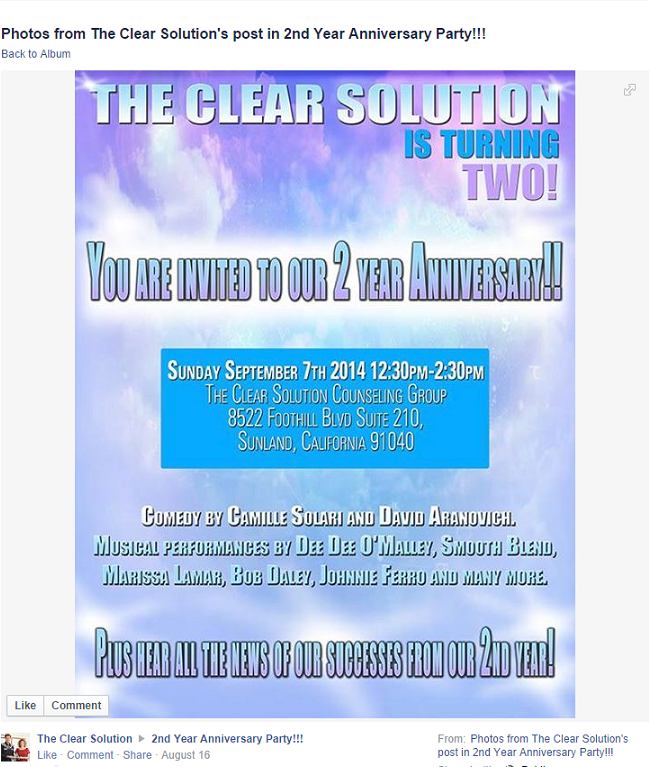 David Wilson Is Baaaack
You cannot make this stuff up….

There's a New "Celebrity" in Town
Look out Brandy Harrison (whoever you are), Mr. Miscavige does not like anyone else to be a "celebrity" from "International Management." Have you seen Marc Yager or Guillaume Lesevre or Heber Jentzsch lately?
But put that aside — why would anyone be interested in what Brandy Harrison has to say? The ideal org program has gone totally dead — just one this entire year. She is soon to be disappeared as the latest scapegoat for the failure of the program. Sorry Brandy. You look like a nice young lady.
Oh Wow, a "Milestone"
By definition, milestones are important. Space plans a milestone?
And they are having someone from Gensler speak to them. What a treat.
Maybe for the next one they can have the plumbing contractor give a talk…

Nikey
Seems awfully close to trademark infringement to me. And you know how vigilant the church is about protecting intellectual property rights (as long as they are their own)…

ASHO — Entrance to The Bridge
Where are the Briefing Course level completions success stories?
Oh, forgot — they don't deliver the Briefing Course any more.

It's Thin on the Ground
No Gavin Potter? In fact, no SO member at all.
They probably cannot afford to fly anyone to the UK so they enlist the services of "Freewinds (R) FSM" who is NOT OT VIII?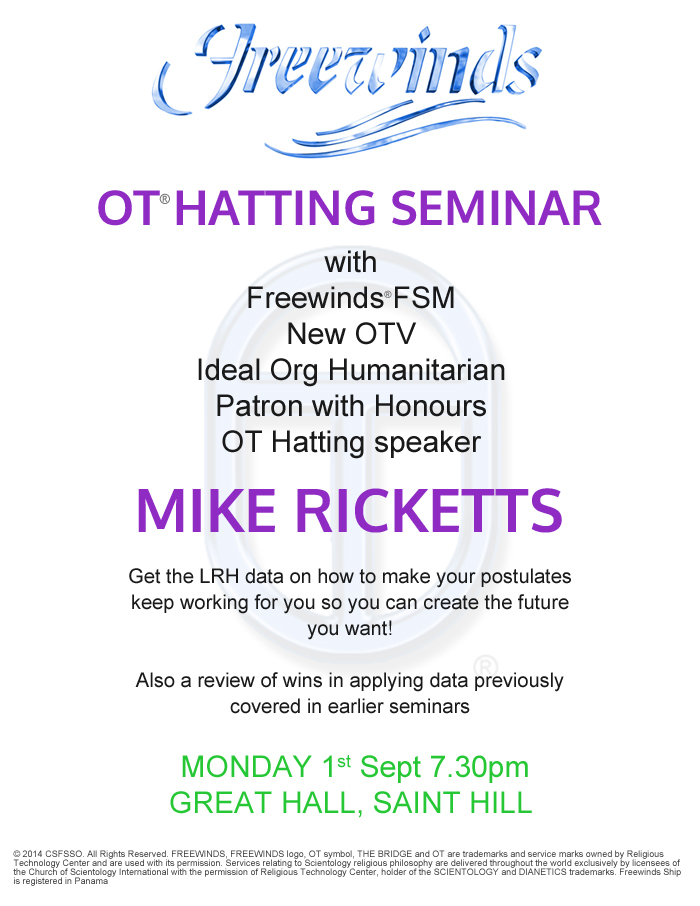 WUS Creative Math
How you "win" the WUS league but are behind Valley in the "international league" is a good question for an IQ test.
Cringe Corner
This may be a bit provincial, but I found this rather stunning.
Like the misappropriation of "101st Airborne" by St Louis org mentioned above that caused cringes for many who though this was bordering on sacrilege, the term ANZAC in Australia and New Zealand has a very special meaning.
The Australian and New Zealand Army Corps (ANZAC) was a First World War army corps that participated in the Battle of Gallipoli. For Australians, the Battle of Gallipoli is like the Alamo or Pearl harbor. An event that is forever remembered and according to Wikipedia, the campaign is often considered as marking the birth of national consciousness in Australia and New Zealand and the date of the landing, 25 April, is known as "Anzac Day". It remains the most significant commemoration of military casualties and  veterans in those two countries, surpassing Remembrance Day (Armistice Day).
To usurp this acronym and alter it is bordering on sacrilege in Australia and New Zealand.
Imagine someone in the US promoting an "MLK Day" celebration — "Mississippi Loves the Klan Day" and you will get the sort of outrage this would engender with the average Australian, let alone the veterans.
Proof once again that KoolAid causes you to lose touch with reality and how people think in the real world.