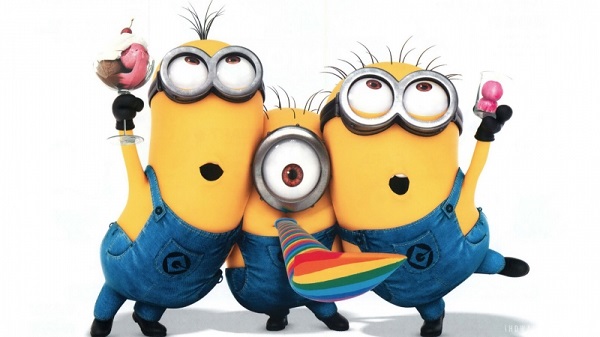 Join Staff
Or not. I guess I am the wrong public. There is no way this would interest me in joining staff in Birmingham… It has the opposite effect. If this represents the homo novis world of scientology then it's a sorry future indeed.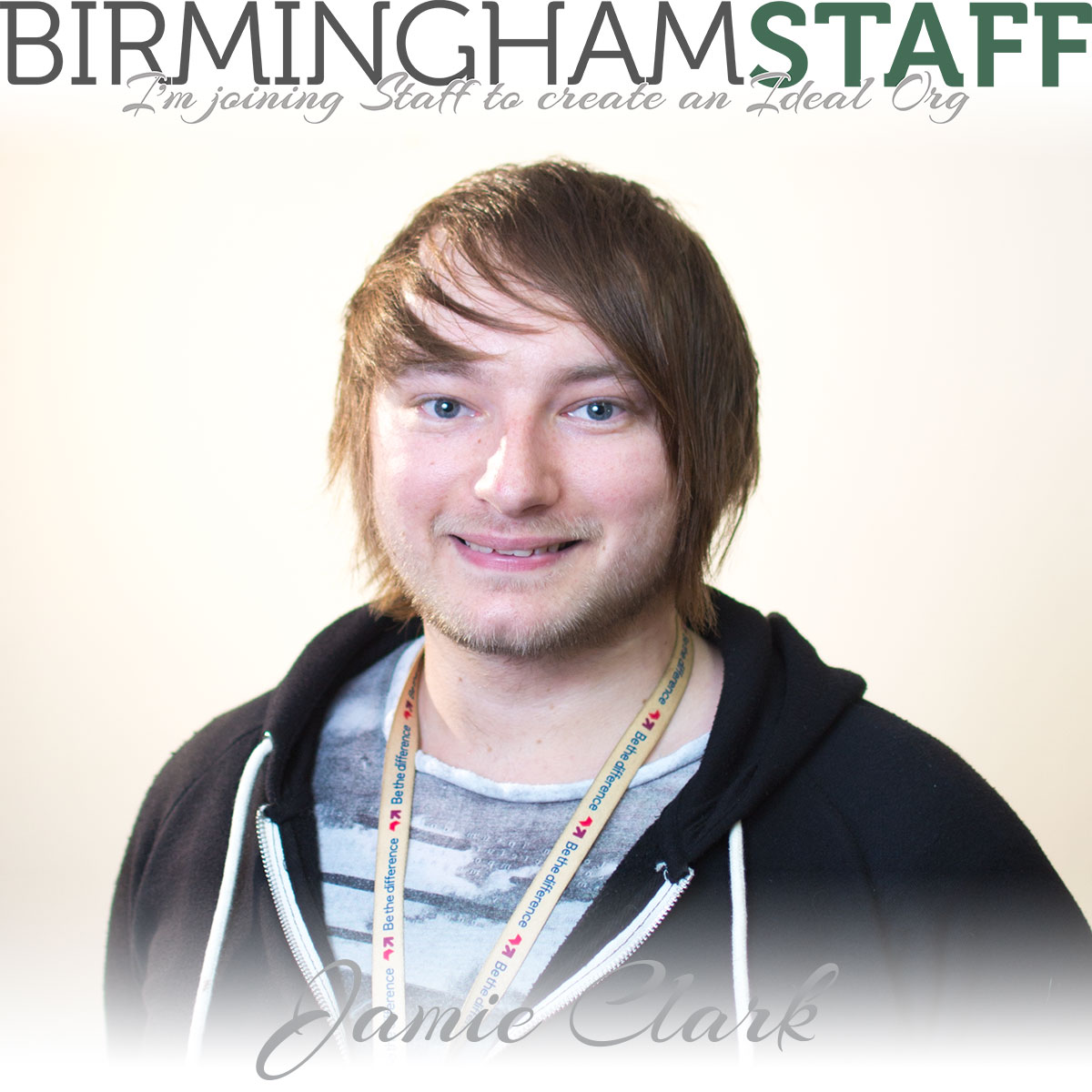 Valley STILL not done
And it's a looooong way to go. SO now CC is doing it for them? And some ringers from Flag (how did the LRH Hall let Tom Cummins give money to Valley instead of the most vital dissemination program in history?)
WTF
I thought the Scots had a bit more class than this….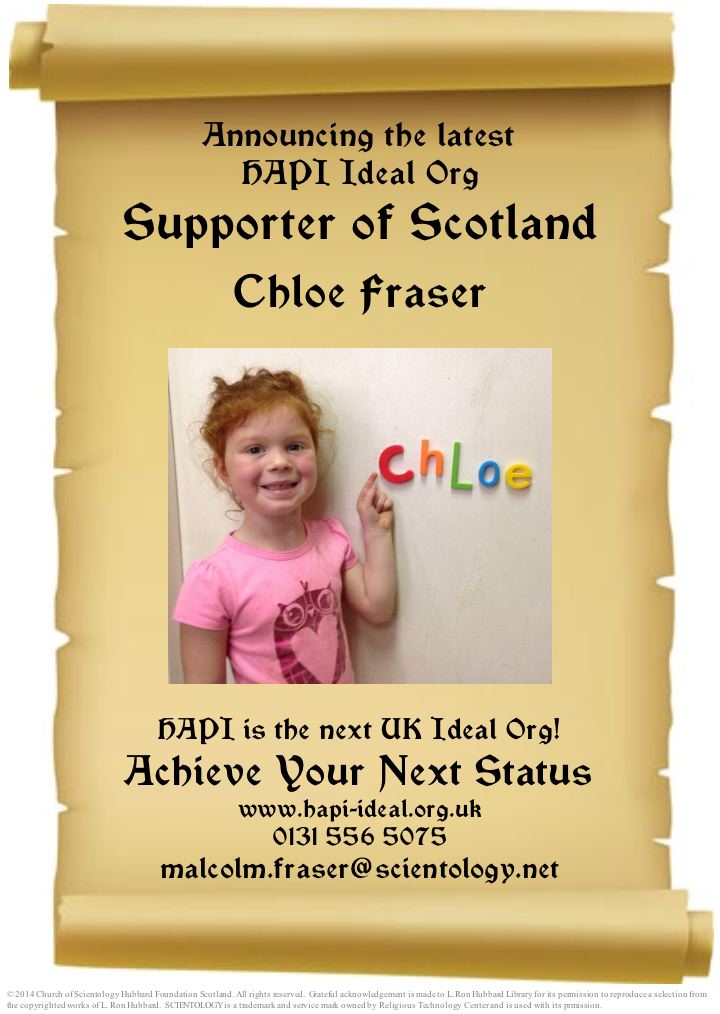 You DO NOT want to miss this briefing…
…it will brief you on the briefing you really don't want to miss (which is of course why you DIDN'T attend the MV…)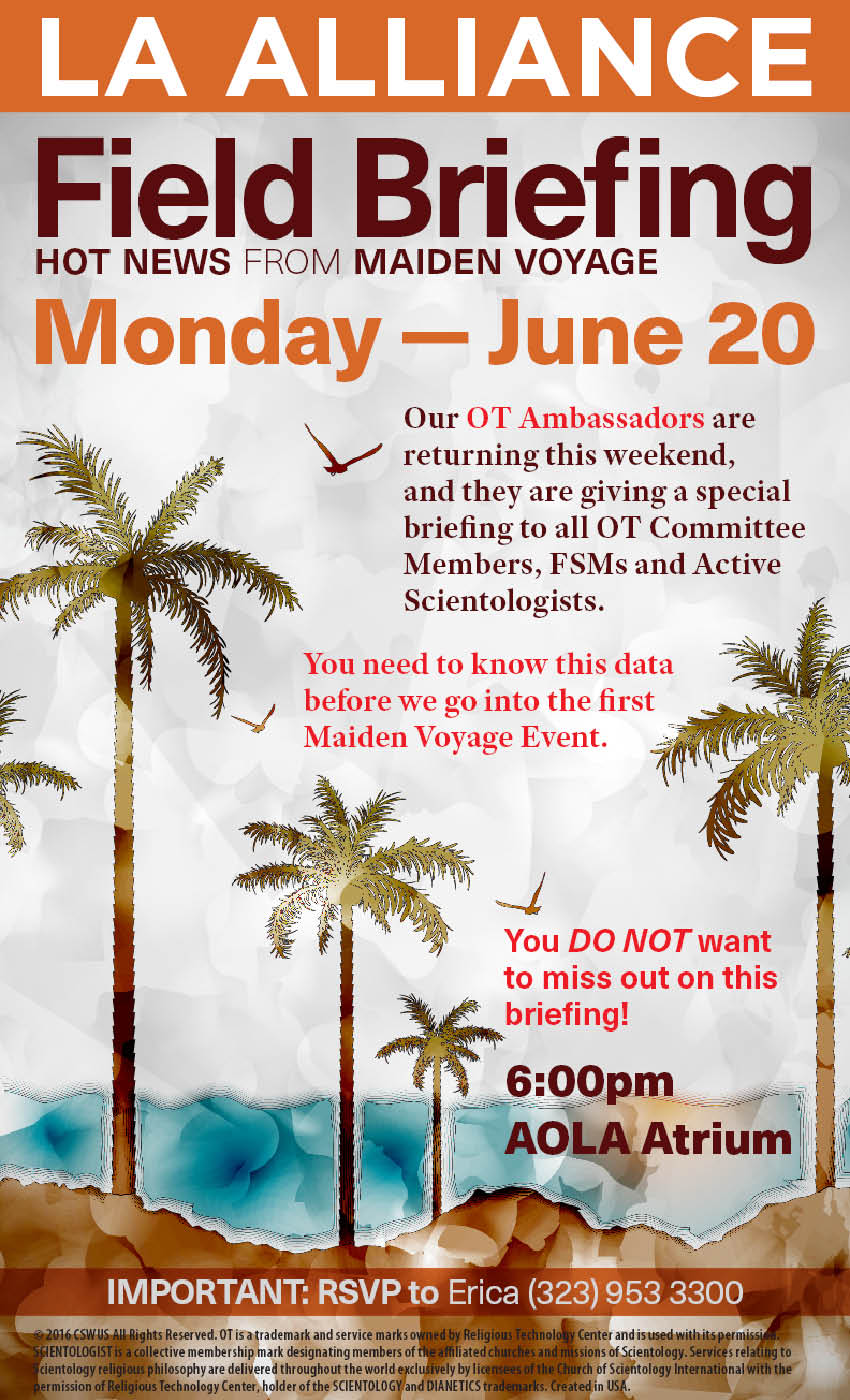 It's good for the soul…
It's also the "coolest religion on Earth."
This is what is known as damning with faint praise.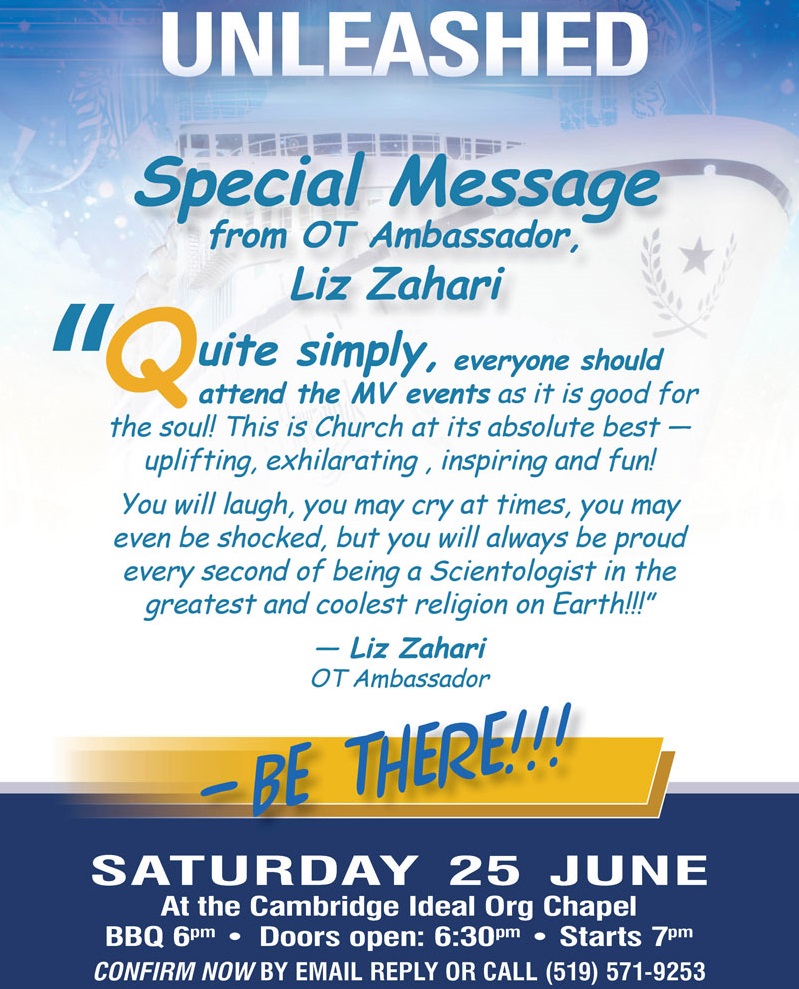 More from the Faint Praise Department
SuMP is the alarm clock for the world! Well someone forgot to wind it as it has not produced a single thing yet.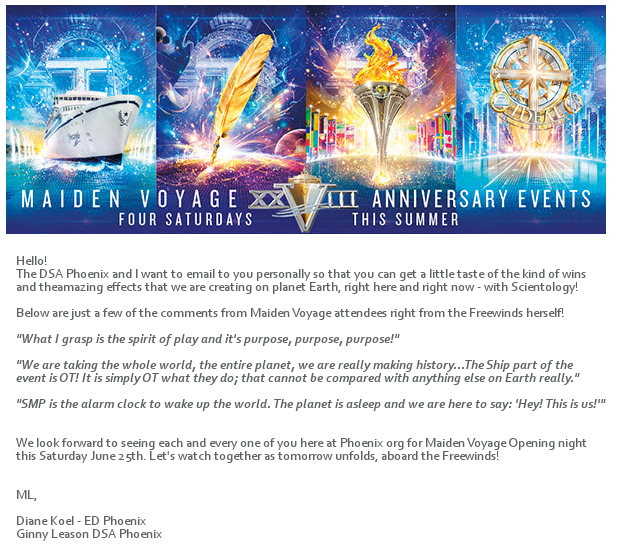 Even fainter praise
The "island people" tell it like it is. And not a single one of them knows anything about scientology and what goes on in the courserooms, auditing rooms or reg offices on the Moneywinds. They would also tell it like it is if they knew about that.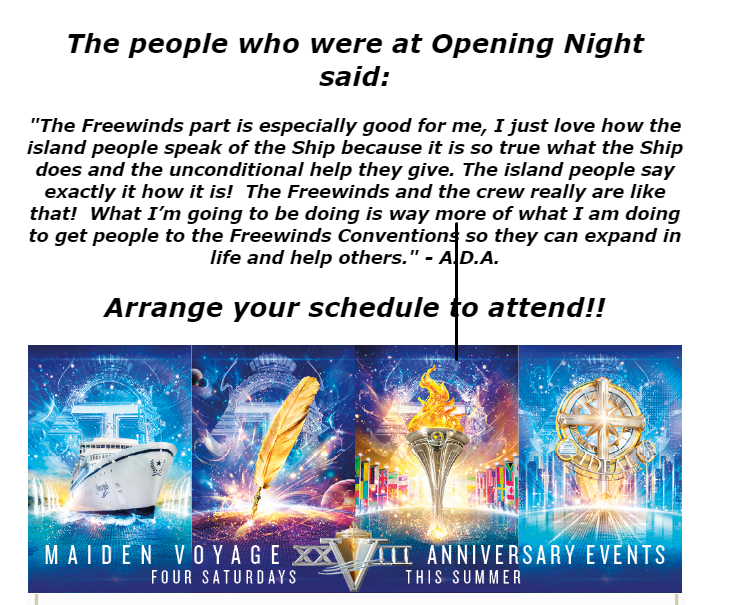 No specifics at all
But you will want to donate. Wow, if that doesn't get your butt in the chair, nothing will. Bubbles Champagne strikes again.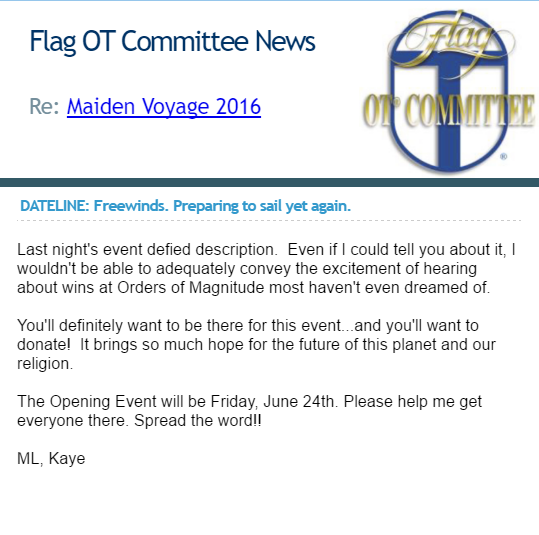 Scotland – you don't know the latest news…
They still don't even have a building picked out. Most of the other orgs in the UK have empty buildings that are not being renovated and are falling apart, but they DO have buildings.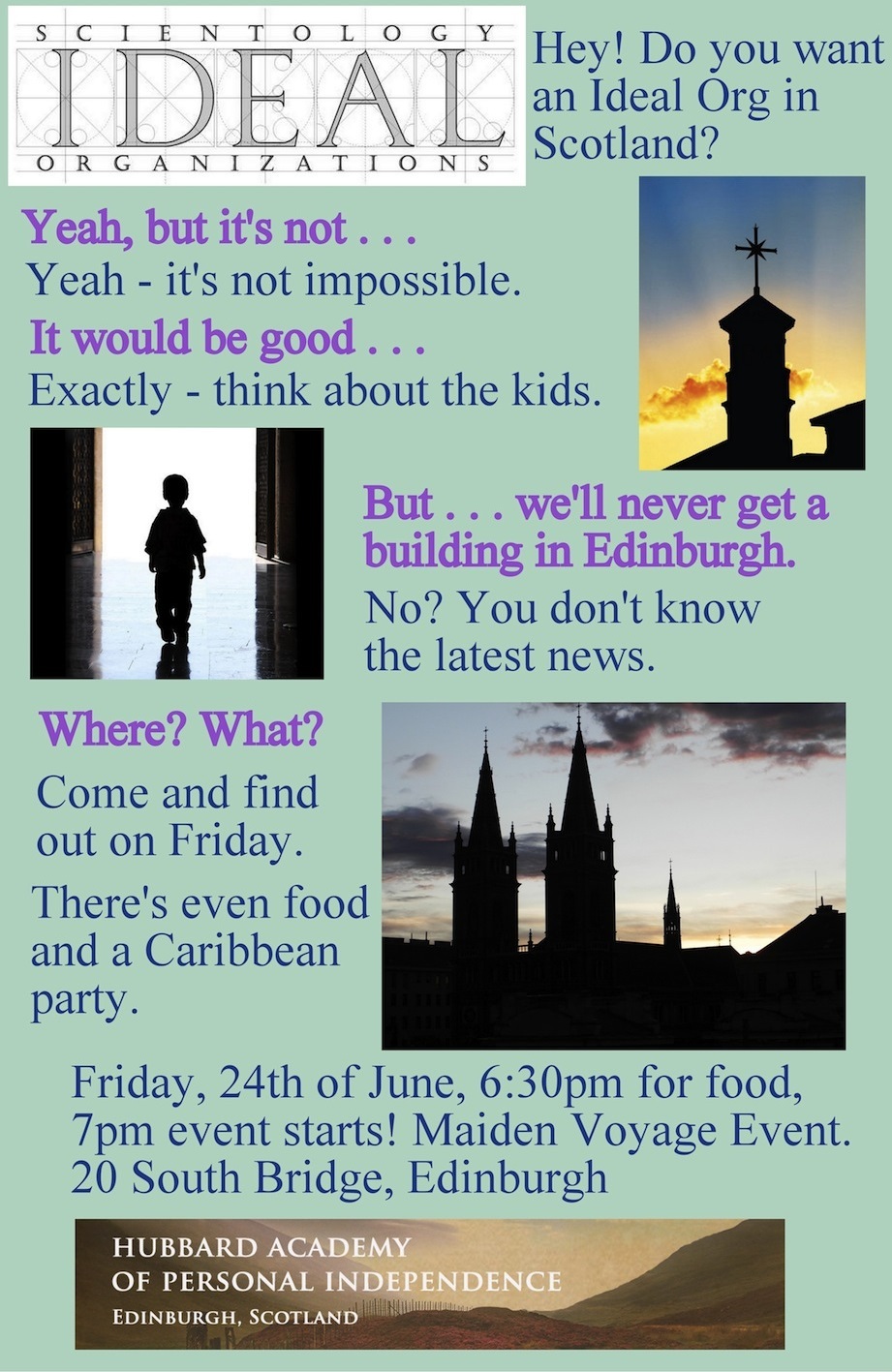 East US Milestones
Detroit's Designs "released", New Haven completed the funding for their space plan updates (space plans were done a DECADE ago when they bought the building — been empty since), Long Island has located a building.
Milestone non- accomplishments. Harlem still not done. Miami still not done. Philly empty org not even started. Same with Detroit and Chicago and New Haven. Buffalo cant pay their utility bills. New York is empty.
They are ROCKING it in EUS. And one of the Blues Brothers is behind Chicago ideal org all the way.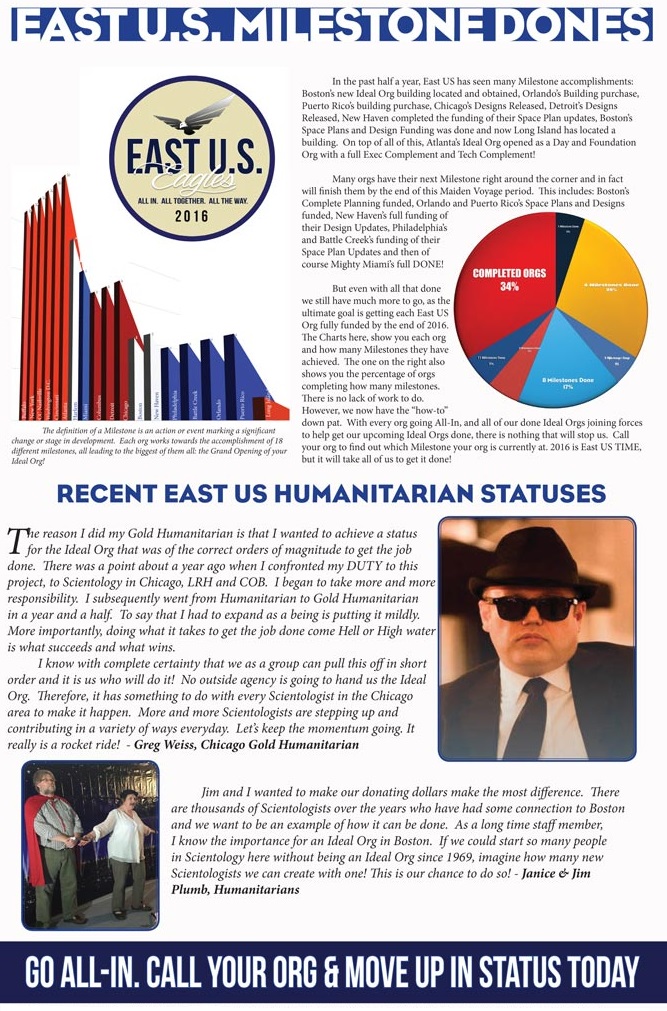 The Keys to OT are PR?
Fascinating. Yet if anyone from the media shows up she refuses to answer questions. That is pretty OT.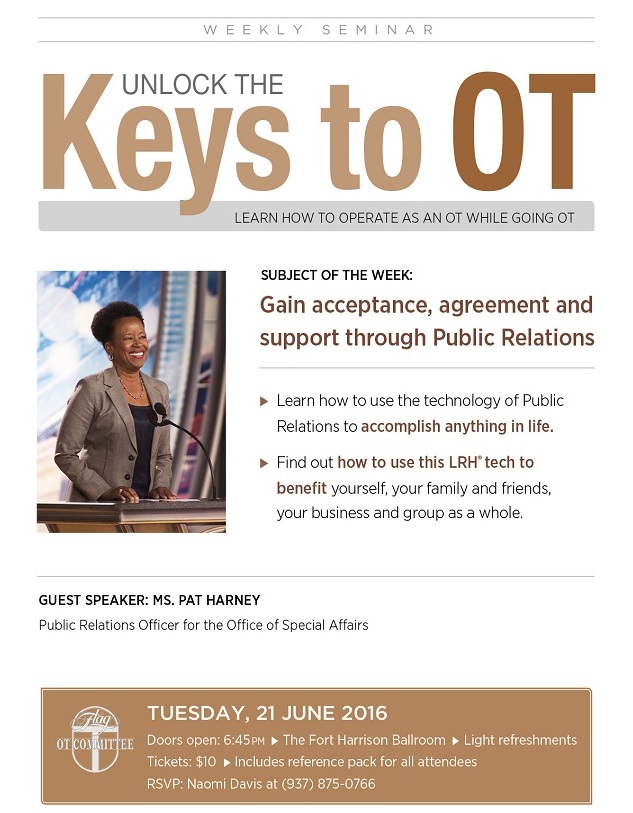 What happens when you delete one dynamic to make another happy?
Well, this is something he IS expert at. Negating the first and second dynamics for the "good" of the third is what scientology specializes in.

Super Power
Creating the new world and making planetary clearing a reality. Right. This was written in 1978!

Valley Children's Wing
Makes me feel ill.
Up Status
I am sorry, I know this is not politically correct and quite rude, but she looks terrible. May be this should be a "Fucked Up Status" alert?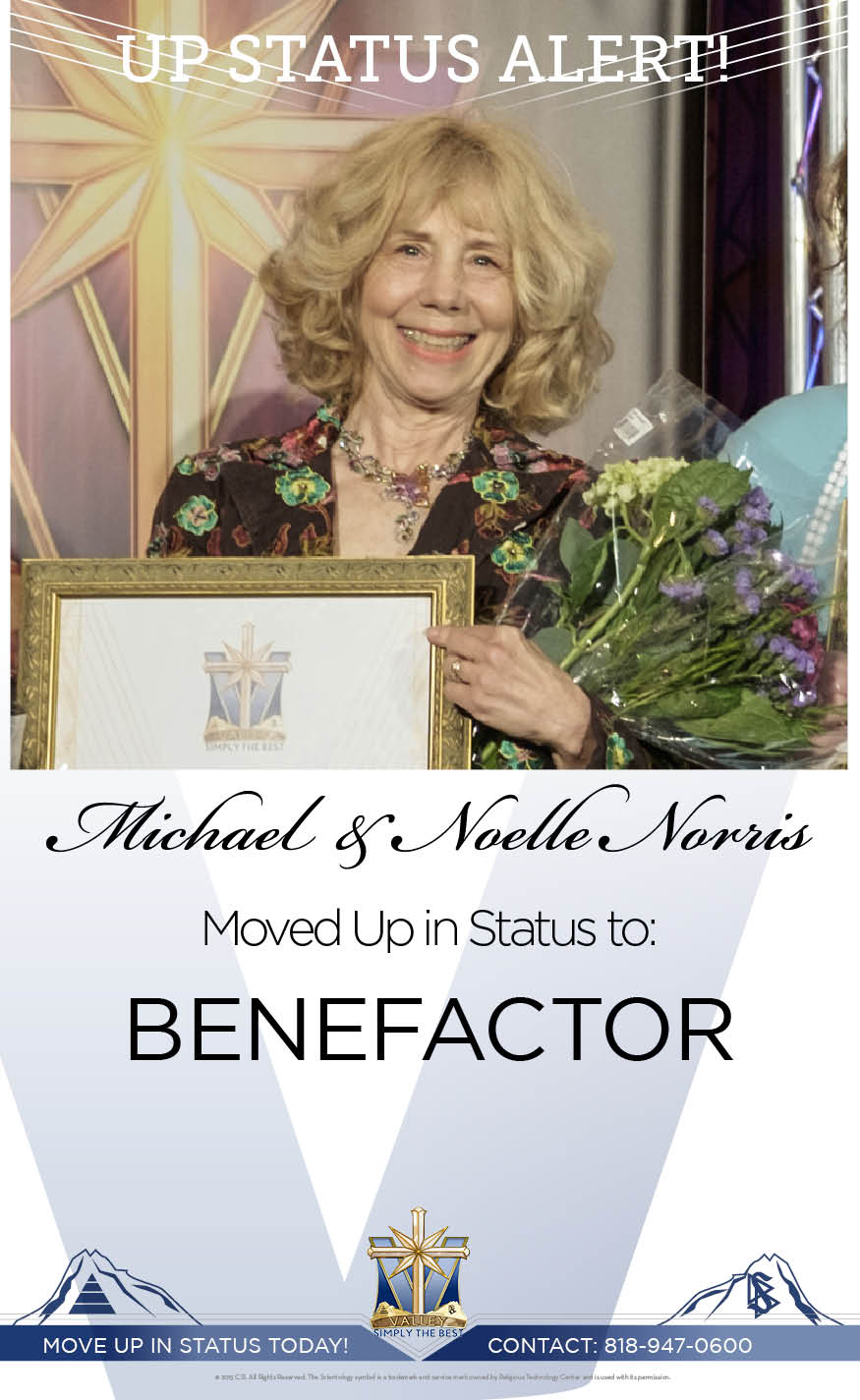 Huh?
How is a "Women's Auxiliary" a "Humanitarian"?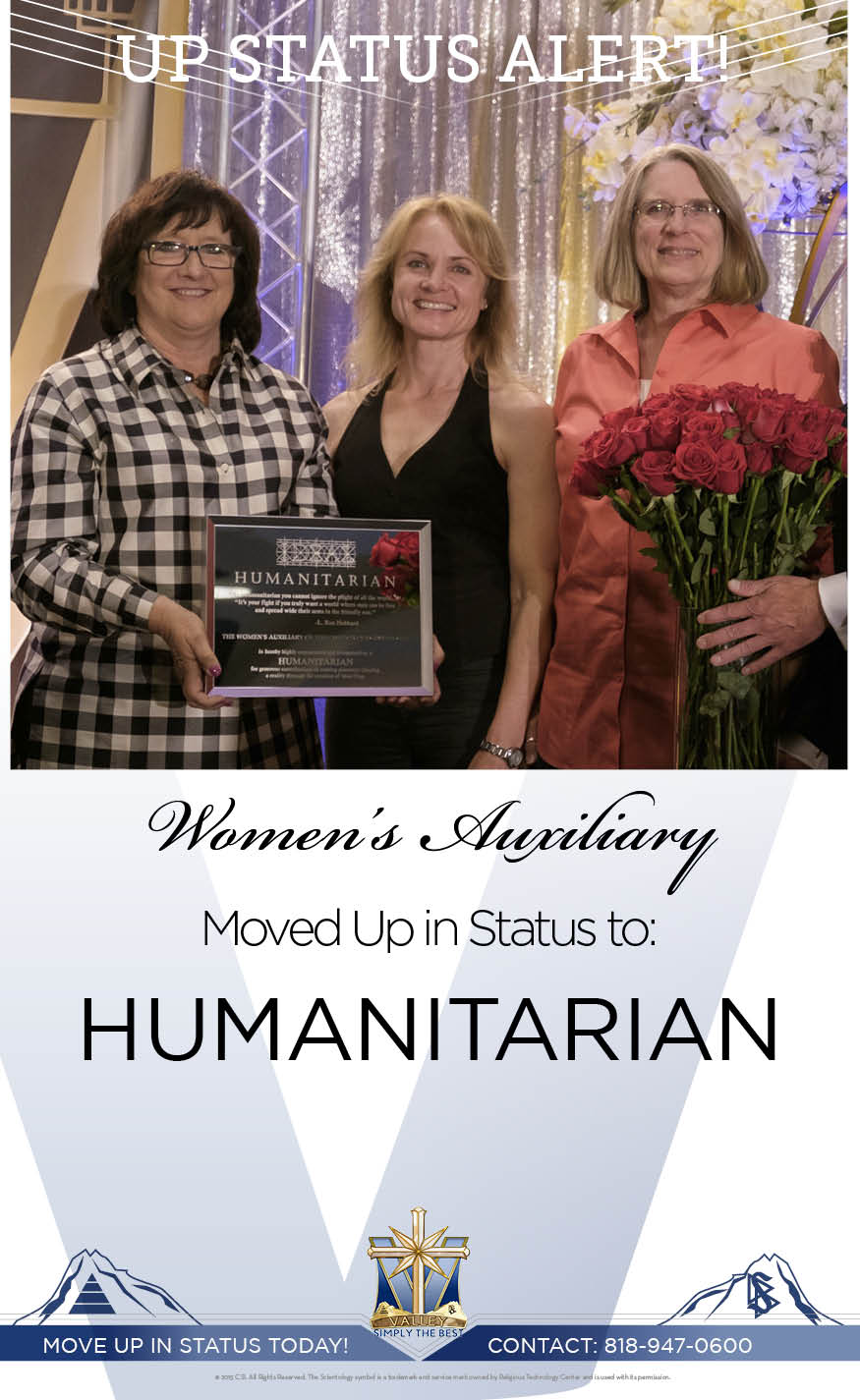 Maiden Voyage again
Hear how beautiful Grenada is.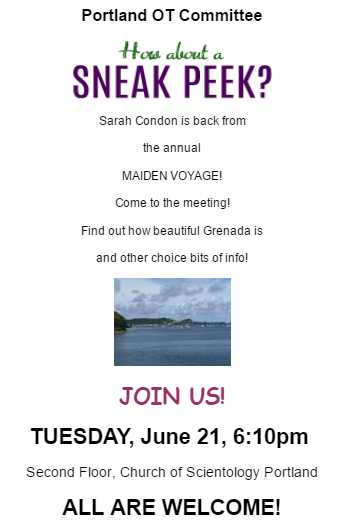 Epic, Exhilarating and Inspiring
Of course, they were the BEST EVER.
This is so much empty hype it could take its rightful place in the Hype Hall of Fame right next to the L. Ron Hubbard David Miscavige Hall.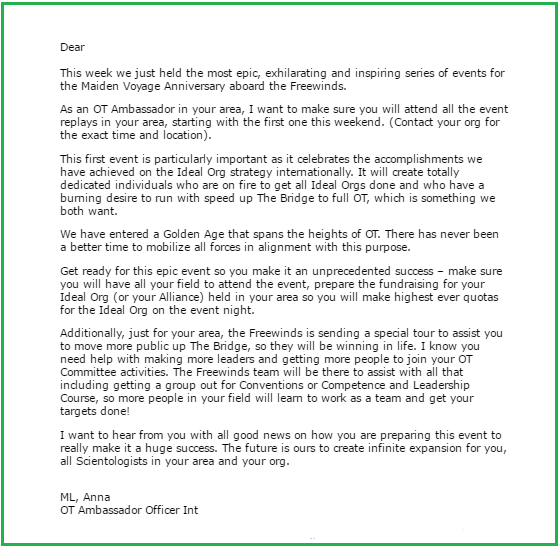 Just weird
Battle Creek is just floundering, they don't have a clue what they are doing. Just sending out random quotes. I wonder if they think this will inspire people to join staff. Even Birmingham seems to be more on the ball – and they are plainly awful.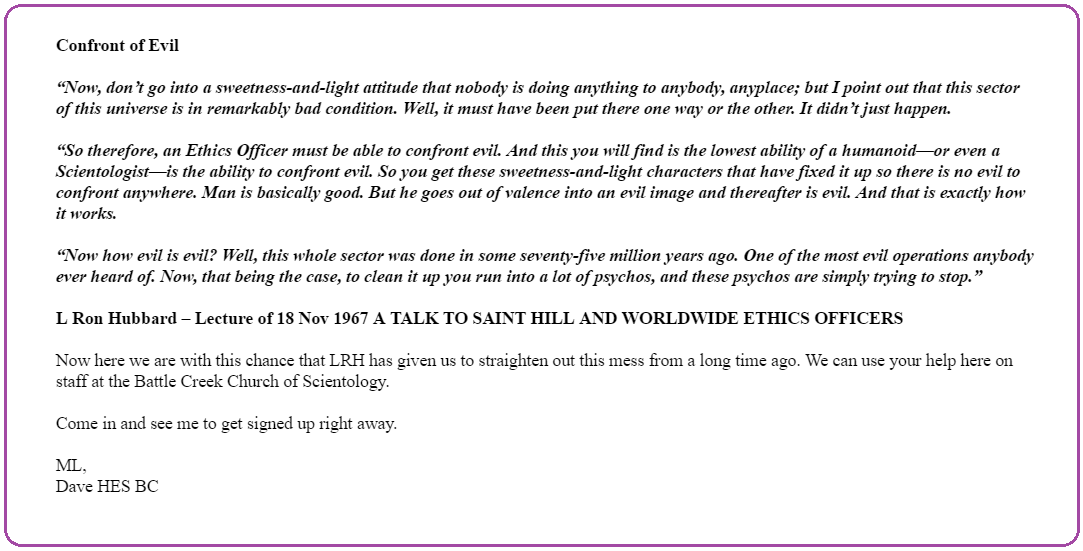 LRH Fables
They send these old guys out to tell tales. Wick is a nice guy. But after 46 years, he knows less about L. Ron Hubbard than anyone who has read Going Clear or Barefaced Messiah. 
I can think of a bunch of stories he is not going to tell, even including the development of NOTs that is promoted here. But the real story he isnt going to tell is that he was arrested and convicted for shoplifting in the last couple of years. He became a petty criminal after more than 40 years of training in the SO and working side by side with L. Ron Hubbard.
The irony.