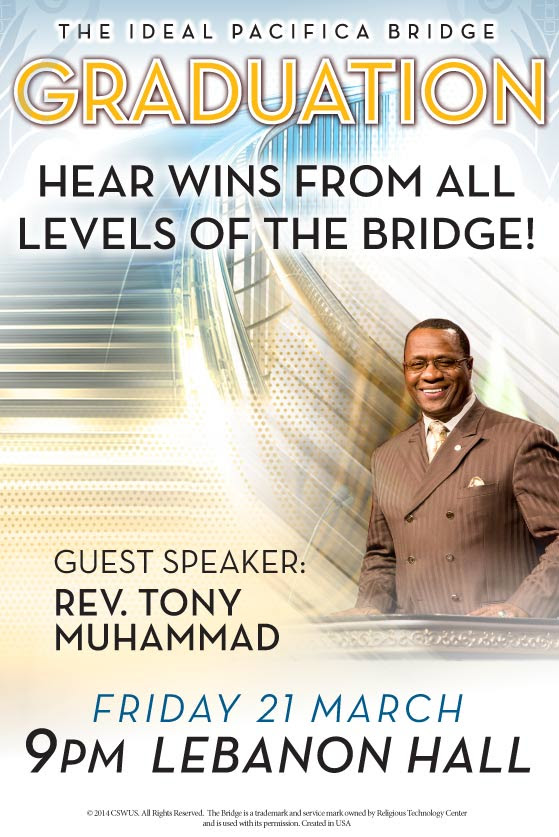 LET US KNOW IF YOU CAN MAKE IT. YOU MAY ATTEND EVEN IF YOU ARE NOT CURRENTLY ON COURSE, OR ARE ON COURSE AT ANOTHER ORG.
If I had seen this 10 years ago I would have taken it for a joke.
This is not an "interfaith meeting". This is GRADUATION where people are supposed to "give wins from all levels of the Bridge".  The "western leader" of the Nation of Islam is the "guest speaker" and this is supposed to be good news? If there was a "guest speaker" at "graduation" one would imagine perhaps a Senior C/S or a Senior Course Supervisor or maybe even the President of the scientology church.  After all, this is the IDEAL Pacifica Bridge — the "model" for everywhere else in the world.
How mixed up and weird can things get?
How incestuous is the relationship with the Nation of Islam these days?  I bet this is all a one-way flow. They send their honchos to preach to scientologists and the church doesn't send anyone to do anything with them — because there isn't anyone even allowed to speak on behalf of the church these days, but more importantly because the NOI congregation would revolt if some outsider showed up at their "graduation."  But the Scierntologists just follow along with anything that is given them — this is seen as "proof" of the "growing international acceptance" being generated by the fabulous PR of the fundamentalist church.  Tony Muhammad is an outsider imported to try and give some pizzaz to this most "internal" of all church activities. He is NOT being promoted as a "scientologist" whether he could be called one or not. He is not a "scientology minister" — he is "Rev." (more correctly "Minister") because of his position in the NOI. The "Ideal" Pacifica Bridge cannot generate enough excitement with the massive, unbelievable, unreal number of graduates rolling off the line with GAG II, so instead, they bring in an outsider who has more prestige than they have, and what a sad statement that is.   
Surely even some of the most brain-dead and cowed clubbed seals raise an eyebrow at this.
The second graduation after the big even to be declared "Ideal" and they bring in a Nation of Islam leader to speak to the assembled students and pc's at graduation.
Wonder if they will be bring in guest speaker from the Westboro Baptist Church next?  Or maybe a psych from UCLA?
Hell, maybe I could get an invite to be a guest speaker at Graduation so everyone can see a "real" SP and move onto equal footing with Tom Cruise…. Now there is an idea 🙂