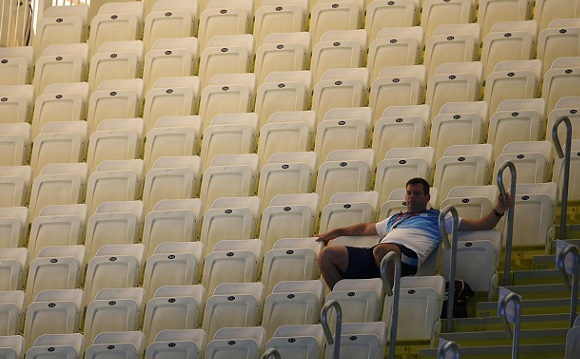 Dear me. Things are not looking well in the home of the largest concentration of Scientologists on earth, the land of the Ideal Pacifica Bridge, the Ideal LA Org, Ideal Orange County, Ideal Inglewood, Ideal Pasadena and rocking and rolling Valley All Stars.
And in this age of the "Golden Age of Tech II" when everyone is just FLYING up the Bridge.
And in this era of amazing expansion under the brilliant leadership of Dear Leader. Unparalleled growth and unbelievable enthusiasm.
Well, apparently the enthusiasm IS unbelievable. 
50 people "confirmed" for the "OT Convention" out of 700 means they are going to have a turnout of about 20 if they are lucky. 
This is a disaster. And boy, they have pulled out all the stops. I have been sent copies of this email and others similar by 6 different people today!
The insanity trickle down is happening. PUBLIC are starting to act like SO Call In people. "It's not okay to ignore or delete this comm", "explain why you can't be there".
Guess what Claire. I hate to state the obvious, but you are fighting an uphill battle. Too many promises. Too much hype. Too much regging. No results. No care. All adds up to Nobody Is Listening To You. Not only that, nobody wants to listen to Mr. Clive Rabey or Mr. Cal Cole tell them the same old crap. GAG II is another big fail. 
Each "new release" that Dear Leader comes out with is accepted by fewer and fewer people. 
Keep pissing on people and telling them its raining and each time you do a certain percentage will raise their eyes skywards and see the ugly truth. It's a dwindling spiral. 
Date: Thu, 3 Apr 2014
From: Claire Taylor <taylor8008@taybros.com>
Subject: It's not okay to ignore or delete this comm

The number of OT VIIs and VIIIs confirmed for Mr. Rabey and Cal Cole's OT Convention at 3:30 on Saturday is NOT representative of the 700+ people in this status here in LA. Matter of fact we have confirmed around 50 people.

It certainly isn't a lack of comm going out about this. The majority of OT VIIs and VIIIs are on "ignore" or "delete" and not responding. Please decide not to be part of the group of non responders!

We all know how much Mr. Rabey has contributed to us getting on and /or through the level. He is asking for our support. Please! Communicate and confirm or explain why you can't be there. Thanks to those who have replied!

If you can only stay from 3:30 to 5:30 then so be it. But PLEASE reply.

Claire Taylor