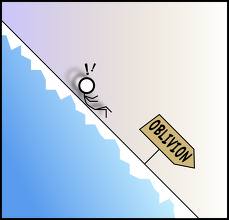 Not wanting to be left behind by Mike Smith and David Wilson, Ty Dillard is rolling out the latest rumor. Though for what reason is very unclear.
Trying to keep public from going to Flag to do their "OT Objectives Co-Audit"??? Seems a bit strange when they have been HAMMERING "OT's" to get to Flag to re-do their Objectives.
But, good news, GAG II is "likely" going to be released "within a few weeks." 
And for you OT's who "have wanted to do it" [that is redo your Objectives] this will make it easier.
Funny how if you are willing to pay, you can do almost anything you want. I wonder if an "OT" really "wanted to" whether they could route themselves back onto Life Repair? Book One auditing?
This is sort of like announcing to High School Seniors that "for those that want to, you can now re-do your pre-K classes right here, no longer a need to go to College out of state for that honor." 
Once you get rolling down the slippery slope of insanity, it's virtually impossible to stop. As the RCS keeps proving every day.
From: Tyree Dillard <tydillard@mac.com>
Subject: Objectives Co-Audit

Hello!

Sorry for the send-all email – but I want to get the news out to everyone amongst my OT selectees and friends. I talked to Anne Mintz, the I/C of the Flag Office in West US, today, and she gave me some very interesting data. Here it is, just as she gave it to me:

When the release event happens at Flag, likely to be within the next few weeks, all Orgs which have GAT II teams will be allowed to deliver the new Objectives Co-Audit to OT's. That is all Orgs, Class V on up.

The matter of who is C/S'ed for this action and in what sequence of actions is clearly individual, and would have to be worked out with your C/S'es. For those of you who have wanted to do it, either as a set-up for Superpower, or because you have heard of the wins other OT's are having on it at Flag or just because it indicates to you personally, this could make the logistics of doing so much easier.

If you want to talk to me about this, please call. If you don't have much data about this whole matter, I will fill you in. If you need help in organizing how to make it work for you, let's get working on that.

Love to you all,

Ty