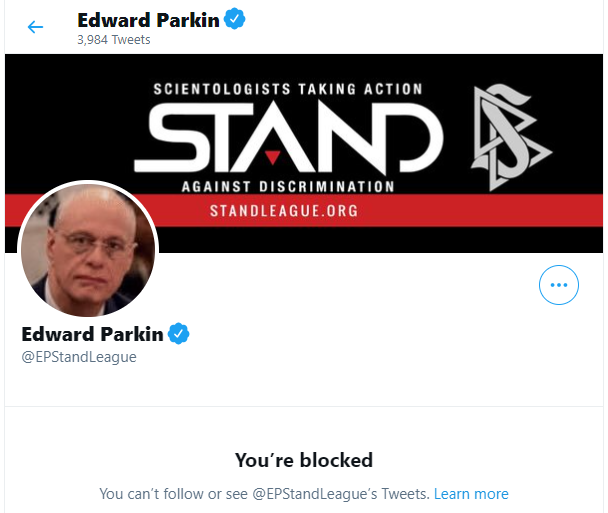 How is it that Ed Parkin, who writes about me constantly, who organizes protests against me, who gets others to put things on social media about me, is so cowardly that he blocks me?
What happened to "confront and shatter"?
He is supposed to be the spearhead for scientology dealing with SP's like me. The guy who has the job of "protecting scientology."
I don't block him. Or anyone else from scientology. I am not afraid of what they put on social media, disgustingly untrue as it is. I welcome them responding to anything I have to say. Would love to interact with them.
Not so for Ed and his minions. Yet, if asked, he would say he has done the PTS/SP Course and has achieved the product of being able to confront and shatter suppression. He probably wrote a success story saying this very thing each time he has been forced to re-do the course….
But it's all a lie. They are running scared. They're cowards. And you know, they should listen to what their Source says about cowards — they're liars.
It's like the scared scientologists anywhere I go — they run and hide inside, lock their doors and tremble waiting for the threat (me) to pass. I can literally empty the streets of Clearwater or L. Ron Hubbard Way by simply appearing there.
What do they fear? Knowledge. The truth.
Certainly they are not worried I am going to do them physical harm. They are worried I will say something they are not allowed to hear.
The world of scientology is built on fear. Fear of psychiatry. Fear of SP's. Fear of the government. Fear of going past misunderstood words. Fear of out-tech. Fear of squirrels. There is so much to fear. They say there is an old expression "If you're not having fun, you're not doing scientology" — the truth is more like, "If you're not in fear, you're not in scientology."