Some words of advice about "girls" from Mr. Hubbard — the man who abandoned his first wife to bigamously marry his second only to then deny her existence and claim he was not the father of their daughter he kidnapped and took to Cuba, and finally to disown his third wife when she took the fall on his behalf to prevent him going to prison.
Yep, with that stellar record, he qualifies to offer some sage words.
And what is even more remarkable — the scientologists think this is worthy of sending around to everyone because it is so brilliant (every word uttered by Hubbard is genius in their minds).
Talk about throwback attitude.  The condescension that drips from these words is sickening. This might have been acceptable in the 50's, no way it is today. But to scientologists, these words are timeless and for eternity and must be regarded with reverence. And apparently they don't know any better.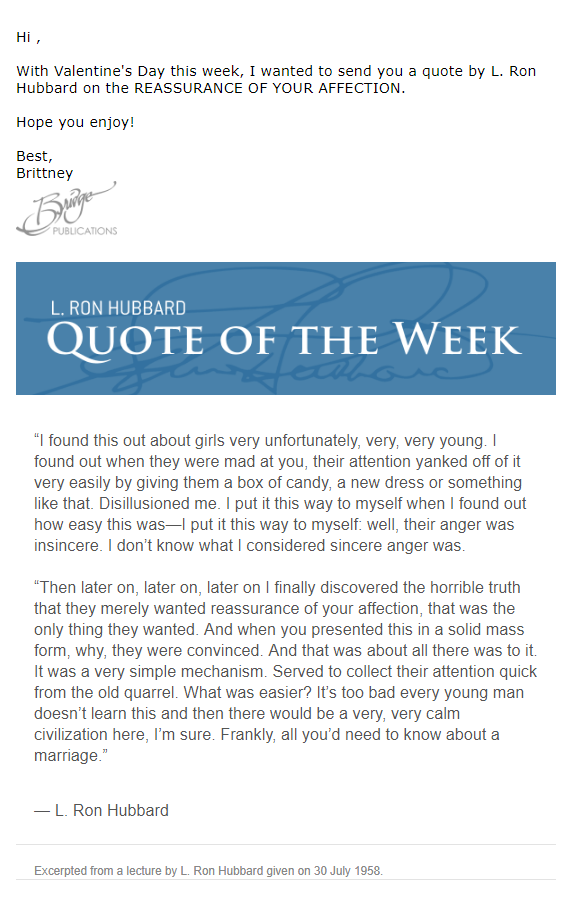 Just because I don't want to leave it with this, here are some words from someone I find worthy of quoting:
If you have only one smile in you give it to the people you love.
                                                                              Maya Angelou