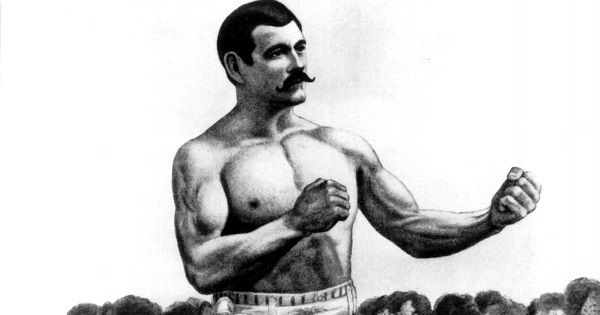 The latest internet smear on me is a video from a person (Hans Smith) who claims I punched him.
That may be true, though I don't recall it and I had little interaction with him. But I have admitted (and so have many others) to punching people when in the Sea Org. At the top of scientology, if you were NOT willing to use physical violence you were considered too weak to hold your post.
There are numerous witnesses who can testify to the culture of violence at the top of scientology, many of whom watched David Miscavige dishing out beatings on an assortment of senior scientology officials. This was first disclosed by the St Petersburg Times back in 2009, but there have been numerous reports since then from virtually every person who was at the International Headquarters of scientology near Hemet California. In fact, scientology itself has admitted that it was a culture of violence — though they claim it was all perpetrated by those who are no longer there (particularly Marty Rathbun, me and Tom DeVocht). They could never answer the questions posed to them by Anderson Cooper (among others) who wondered why if there was so much violence happening: a) it was not reported to law enforcement and b) how is it Miscavige could not know about it?
There is graphic court testimony from Debbie Cook detailing sadistic behavior by Miscavige and how he ordered others to dish out physical punishments on his behalf — including on women. We have covered it in Aftermath episodes, including one this season with the Headleys, Amy Scobee and Jefferson Hawkins.  So too, many other media.
There is some thought that the blame for this lays solely at the feet of David Miscavige. It is true, he perfected the technique of physical violence to go along with the mental torture to keep people off balance and in line. But he was NOT the original architect of the idea that a beating or two (or three or a hundred) will go a long way. As with EVERYTHING in scientology, it was Hubbard who laid out the blueprint for scientology and everything in it.
He penned a very well-known piece called "Ethics, The Design Of" which is found today in the Introduction to Scientology Ethics book. It is a parable everyone in scientology knows — a tall tale from Hubbard's childhood. But it tells scientologists how Hubbard expects them to conduct themselves:
To give you an example, when a little boy this life, the neighborhood a block around and the road from home to school were unusable. A bully about five years older than I named Leon Brown exerted a very bad influence over other children. With extortion by violence and blackmail and with corruption he made the area very dangerous. The road to school was blocked by the 5 O'Connell kids, ranging from 7 to 15 who stopped and beat up any smaller child. One couldn't go to school safely and was hounded by the truant officer, a hulking brute complete with star, if one didn't go to school.
When I was about six I got very tired of a bloody nose and spankings because my clothes were torn and avidly learned "lumberjack fighting" a crude form of judo from my grandfather.
With this "superior tech" under my belt I searched out and found alone the youngest O'Connell kid, a year older than I, and pulverized him. Then I found alone and took on the next in size and pulverized him. After that the O'Connell kids, all 5, fled each time I showed up and the road to school was open and I convoyed other little kids so it was safe.
Then one day I got up on a 9 foot high board fence and waited until the 12 year old bully passed by and leaped off on him boots and all and after the dust settled that neighborhood was safe for every kid in it. 
Recently, someone dug this up, which gives a more explicit statement of intent and action than a parable from his past:
And he formalized the concept, specifically for the Sea Org, in this Flag Order (the specialized "policy" of the Sea Org):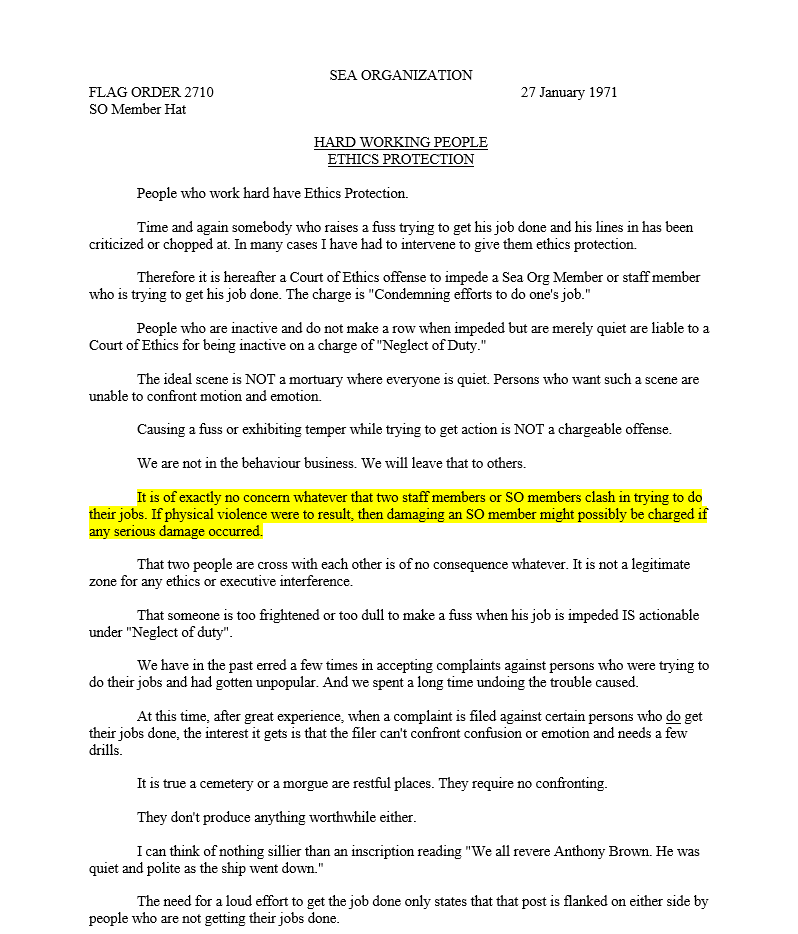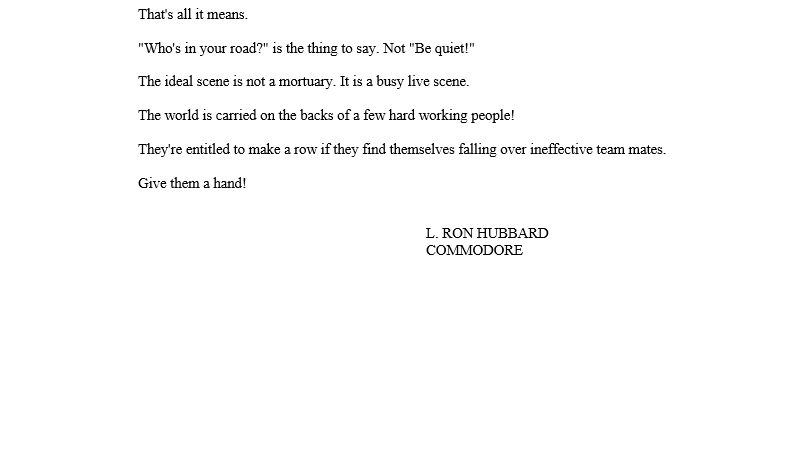 Being physical with someone in scientology is perfectly acceptable — especially in the Sea Org.
It is another part of the brainwashing that "what we assert is good for scientology is good for everyone" (otherwise stated as "the greatest good for the greatest number of dynamics").