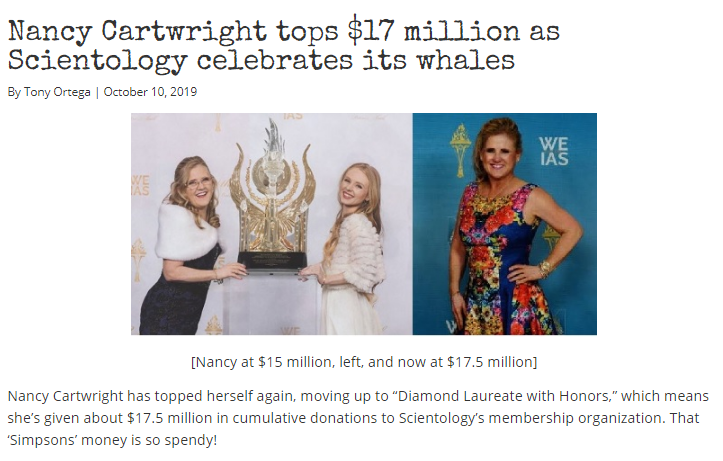 Back in October Tony Ortega's article about Nancy Cartwright highlighted how much money people give to the IAS. More recently Tracey McManus got Bob Duggan on the phone and he informed her that the Forbes information stating he had given $360 million to scientology was in fact considerably on the low side, that is was "much more" (half a billion maybe?)
Scientology constantly claims that this money is used for all their social betterment programs around the world — it is their standard plea for more money "we need to do more good." But how much good does this money actually do?
Simply put — very, very little.
Every new disaster that comes up they claim they "need more money."  They never seem to HAVE money to spend on these activities. A couple of billion dollars just doesn't hack it apparently.
A massive hurricane devastated the Bahamas a few months ago. Dorian flattened entire communities.
Luckily the Bahamas are a hop, skip and a jump from Florida. Home to 3 ideal orgs (Miami, Orlando and Tampa) and ideal missions (Ocala and Belleair) and of course FLAG — and the 15,000 scientologists in the Tampa Bay area (according to their numbers). This is the headquarters of the "largest private relief force on earth."
The "call to arms" went out before the hurricane even hit.
They got their camera/video teams in place.
And here is the result. The best they could muster.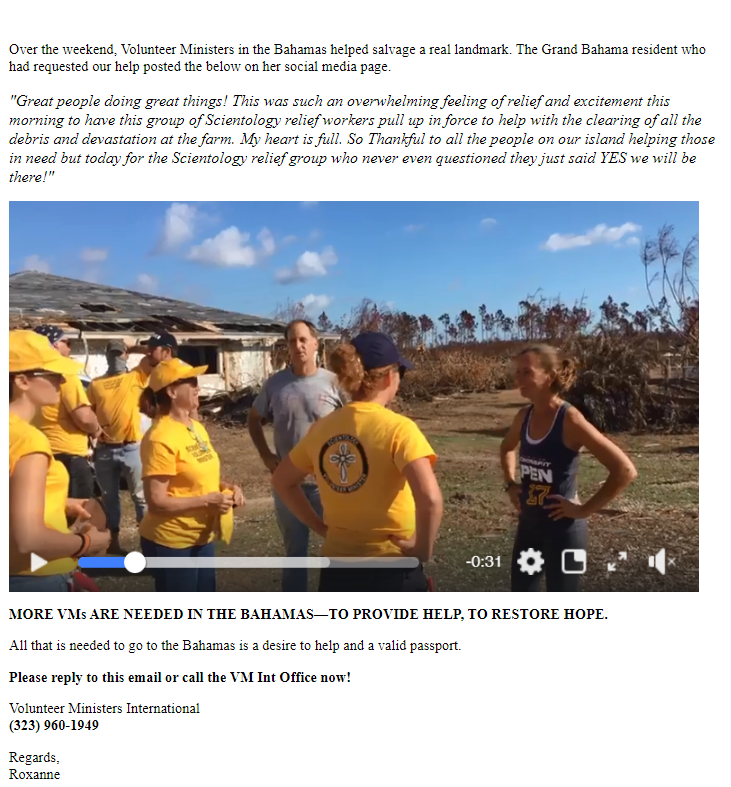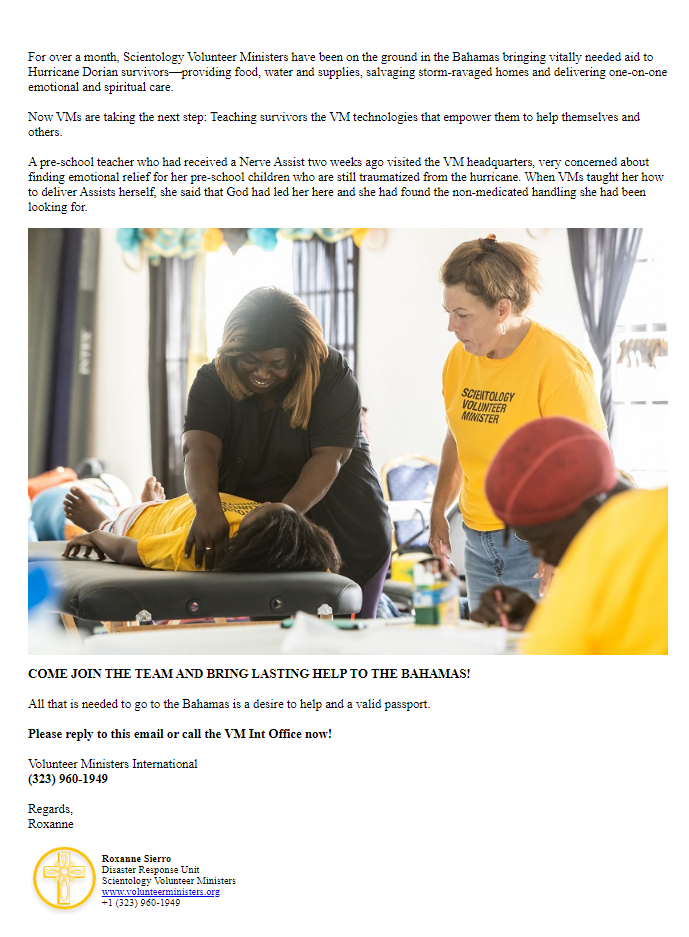 Seriously, they flunked the test. Everything was in their favor to make a splash with the VM's and they screwed the pooch. The largest private relief force on earth provided virtually nothing. They managed to get a handful of people in yellow shirts to show up. Literally, a handful.
No media coverage, though there was media everywhere. Because they were actually invisible because they actually did nothing.
But let's take a quick look at another one of their much ballyhoo'd bs programs.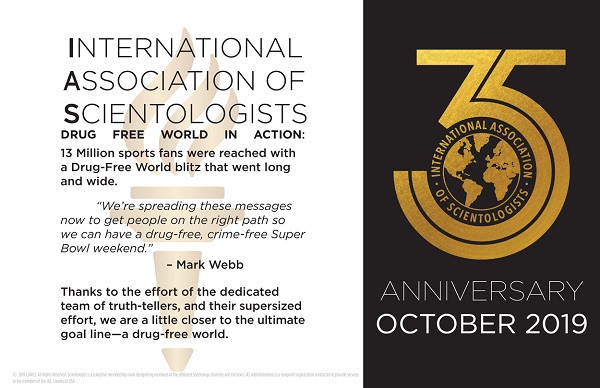 Of course, they offer no specifics (as the specifics would scuttle their claims). 13 million "reached"? They probably calculate this by the number of people that view a sporting event, then they run a spot 3 times and hey presto "13 million reached." Survey the people that watched the show and a few hundred might even remember the ad — most people tune out when ads run or go to the bathroom or have a discussion with whoever they are watching the game with. This "campaign" is meaningless. It is simply intended to try to impress the sheeple. They of course don't even mention the effectiveness of it on actually accomplishing what they are trying to accomplish.
Scientology has perfected the art of making it sound like something is happening when it is not. They are having NO impact on the drug statistics anywhere.
If you choose to do something with advertising you have to have a long, concerted campaign to achieve ANY impact on anything. Everyone in the advertising business knows this. You don't see one ad for the new Chevy. You are bombarded repeatedly. The Geico gecko appears hundreds of times a week. Scientology tells their people that one ad on a sporting event has had "major impact." It's ridiculous. Even more ridiculous is that they use it to convince people to give more money.
And even MORE ridiculous than that — if they spent tens of millions (a tiny fraction of what they have) they COULD get a message across. But in fact, that is NOT the purpose. It is ONLY done to get people to hand over more money.
Know this — the total cash on hand of the IAS has NEVER BEEN LESS ONE WEEK TO THE NEXT. EVER. They have NEVER spent more than they collected. EVER.
Even when the biggest catastrophe hits.
That's just how things work.