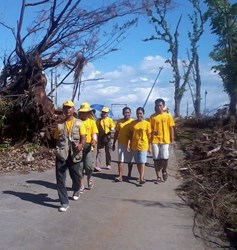 It would appear that my posting 4 days ago about the failure of the church to update the information about their massive VM relief force in the Philippines caused a stir in the bowels of the beast.
Today the church put out a press release to announce to the world the enormity of their actions (all funded of course by an emergency IAS grant).
The photo that accompanied the story is at left. It shows a grand total of SIX VMs, apparently there is some mission in Manila who "activated their Volunteer Ministers" and they were joined by someone(s) from the India "Goodwill Tour."
The "story" is defined by its amazing lack of specifics (other than details about the magnitude of the disaster which only highlight the lack of magnitude of the response). Remember, this is the same church that blazes headlines about number of typos corrected and number of dust particles removed from films, feet of wiring in buildings and gives an exact count of imaginary people at the Flag ribbon cutting event.
Just look at the photo, then read the story. See if you can see ANY specifics about what magnitude of "relief" has been provided thanks the the amazing generosity of the IAS and mobilizing the largest private relief force on earth.
This IS what your IAS donations buy. Nothing.
I seriously wonder if Karin Pouw is in fact still there or if she is in the Hole or has been sacrificed or succumbed in some other way. Nobody in their right mind would put out something as ridiculous as this in their own name.
Tacloban, Philippines (PRWEB) December 16, 2013

A month since Super Typhoon Haiyan ravaged the Philippines, the country is still staggering. The Church of Scientology Mission of Manila immediately activated their Volunteer Ministers to help. They were joined by Volunteer Ministers from abroad who have continued to provide relief to help the country recover.

The Typhoon, known as Yolanda in the Philippines, slammed into the country November 8 with sustained winds as high as 195 mph. More than 5,000 died and the United Nations estimates 1.9 people were forced from their homes. According to the International Committee of the Red Cross, the storm disrupted the livelihoods of more than 5 million people leaving 2.4 million in need of food.

The Scientology Disaster Response Team, led by veteran Scientology Volunteer Minister Ayal Lindeman of New York and members of the Scientology Volunteer Ministers India Goodwill Tour, is working with government agencies and humanitarian organizations to help with the distribution of food and supplies.

Once they have seen to the physical wellbeing of the survivors, the Volunteer Ministers address their personal needs as well, providing Scientology assists, techniques developed by Scientology Founder L. Ron Hubbard that address the emotional and spiritual factors in trauma, illness and injury. Assists are simple to deliver and learn and the Volunteer Ministers train family members, community leaders and other volunteers in these techniques, making them broadly available.

In creating the Volunteer Ministers program, L. Ron Hubbard wrote, "If one does not like the crime, cruelty, injustice and violence of this society, he can do something about it. He can become a Volunteer Minister and help civilize it, bring it conscience and kindness and love and freedom from travail by instilling into it trust, decency, honesty and tolerance."

Press Contact: Karin Pouw 
Tel: (323) 960-3500 
eMail: MediaRelations(at)ChurchofScientology(dot)net

Source: ScientologyNews.org