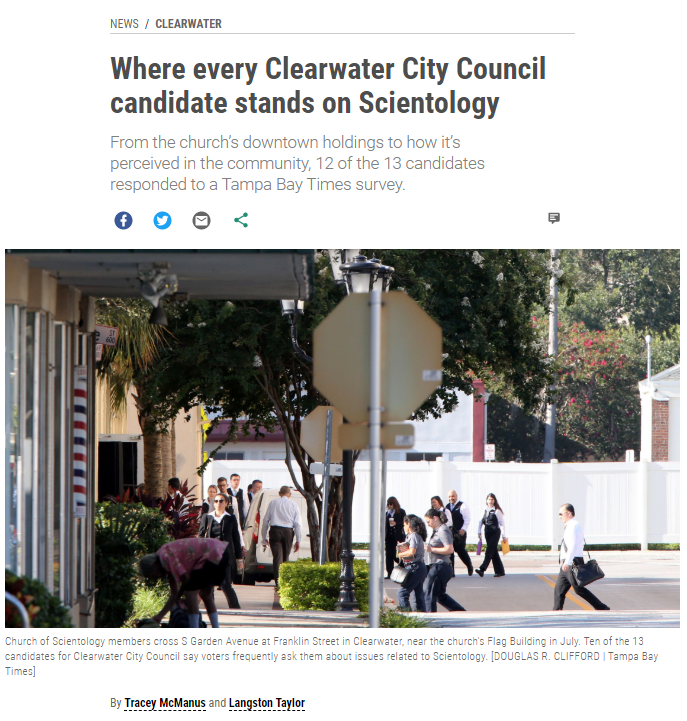 Tracey McManus published another of her uniformly excellent articles recently:  Where every Clearwater City Council Candidate stands on Scientology
I have excerpted most of the answers to her survey and offer my biased views on them.
I believe there are just two reasons why scientology is actually being spoken about in this election.  It has been a taboo subject for local politicians for decades. They have steered clear of this topic like it was the plague…  Now for the first time in recent memory, it is something  to be debated.
The two factors are Tracey's bombshell article exposing how much of downtown Clearwater is in the hands of scientology and scientologists, coupled with the fact that Mark Bunker as a candidate for City Council has made it impossible for those running for office to ignore. It can no longer be ignored. Though those who are already elected continue to tap dance around the subject like long tailed cats in a room full of rocking chairs.
A lot of the current discussion relates to plans to renovate the downtown waterfront. This is a $64 million investment that many believe will not benefit the community, but simply provide a nicer waterfront for scientology to call home.
Here are the questions Tracey put to the candidates and their responses I selected along with my comments:
1. Should the city attempt to seek more information from Scientology about its plans for nearly 100 downtown properties bought over the past three years by companies tied to the church? If yes, how should the city pursue this request? If not, why not?
MAYORAL CANDIDATES
Elizabeth "Sea Turtle" Drayer
Yes. Make the request in person in meetings with property owners/Miscavige and present a written request at the same time. However based on past experience here and elsewhere, the city cannot expect answers or follow through.
Well, she at least directly answered the question. Though the "they won't comply" and then a shrug and unstated "what can we do?" is exactly the problem with the city. They are being run roughshod and have convinced themselves their only option is to just be bullied.
Frank Hibbard
Yes. I was not a part of city government when these acquisitions occurred but it is critical that the city knows what the plans for these properties are and the timelines for development. While I do not believe what Scientologists believe, I do think we must be pragmatic and communicate to understand their intentions.
Very "politician" type answer.
Their intentions are clear and have been since day 1. What they SAY doesn't really matter at all.
Bill Jonson
It would be helpful for property owners in Clearwater to participate in discussions about the future of Clearwater and especially downtown. However, it is recognized that such conversations are not required by law or ordinance.
Total wimp out.
RUNNING FOR CITY COUNCIL SEAT 2
Mark Bunker
Not only should we but we must. The city and Scientology both cite the Urban Land Institute's recommendation that the two entities must work together yet Scientology seems to view this as a one-sided mandate for the city to allow Scientology to tell them only what they want them to know, and thereafter do as it pleases. There must be transparency concerning who owns the properties and what the plan for them is. This is a necessary first step. The city should not invest $64 million on Imagine Clearwater if Scientology is unilaterally dictating the downtown's future. I'd challenge Miscavige to prove his commitment to the city by going ahead with his plan to bring a major movie chain downtown. This would be a step that may draw people downtown and would not be solely for the benefit of Scientology.
The only really comprehensive and sensible answer.
Michael Mannino
YES! It is in the best interest of Clearwater and the citizens to understand the development and redevelopment plans of properties whose locations fall within the Downtown Comprehensive plan of our downtown district. The city departments of Economic Development and Planning/Development must be integral in the process and failure to communicate or comply should be enforced within the city's legal ability.
Next best response. No beating around the bush here.
Bruce Rector
Yes. Through engaging in dialogue with all the property owners.
Political two-stepping.
Eliseo Santana
It is important that the entire City Council have an open line of communication with all entities, individuals, companies, houses of worship, etc., that own downtown properties while pursuing and implementing our "Imagine Clearwater" project. The best way to pursue this goal is via open public forums, with all property owners expressing their hopes, aspirations and concerns about the future of our city.
Not going to happen.
Lina Teixeira
Absolutely, my expectation of any stakeholder is to be aware of its impact on its footprint and contribute to its surroundings. I am a strong proponent of developing a strong and vibrant entrepreneurial ecosystem for all of Clearwater. However, the strongest economies are those that are the most economically diverse. The future of Clearwater is a robust economy with multiple credible actors at the table in tune and in harmony. In order to begin this harmony, the city should seek to pull together a joint meeting with the proper personnel of the Church of Scientology and various private sector representatives to discuss the long-term goals of the Church. The purpose would be to examine if it is in alignment with continuing goals of ALL members of the Clearwater community. The church's needs must not supercede those of the City of Clearwater or its residents. Transparency and trust are paramount at this moment and if it can be achieved, I foresee a Clearwater that works for all members of our great city.
Lots of wishful thinking here. Just to be clear scientology's "needs" (aims/goals/intent) DOES supercede those of the City of Clearwater and its residents. Always will. And there is NO transparency when it comes to scientology. The words sound good — but you need to wake up and smell the coffee.
RUNNING FOR CITY COUNCIL SEAT 3
Kathleen Beckman
As the city seeks to improve and revitalize the downtown community it should invite all property/business owners to participate in candid discussions about their visions/goals for downtown and the strategy to achieve them. I don't think the COS should be treated any differently than any other property owner. Simply, we are all stakeholders and the expectation is that participants will be honest, forthright and collaborative. I believe city management (city manager and city attorney) is within their bounds to ask church leaders directly why they purchased additional property and what their plans are. However, I don't think it's helpful to group companies and Scientology parishioners together with the church as the greater "COS." We simply do not have any evidence that demonstrates that the church and parishioners will necessarily operate as a monolith. With respect to separation of church and state, I don't think it's wise to assume because of someone's religion they will behave in a certain way. Further, a person's religious beliefs/practices are private and legally cannot be a consideration in business/real estate decisions/discussions. I believe initiating and participating in conversations with the COS is a positive for the city. There must be a dialogue because the COS has such a commanding presence in our downtown. The city should invite COS leaders to sit down for continued discussion. I think it is good practice that the city report to its residents a summary of each meeting held with the COS; perhaps a transcript of each meeting could be made available.
You may not have any evidence that scientology and parishioners will operate as a monolith — but that is because you are unfamiliar with scientology and how it operates. This line of thinking will doom the city. This is all pie-in-the-sky wishful thinking.
Bob Cundiff
If they are properties that have been vacant for many years, it would of course would be advantageous for the city to know what the new owners intend to do with them, whether it's to develop now or plan to develop in the future or whether they were purchased on speculation.
About as wimpy as you could get while still claiming to have "answered the question."
Bud Elias
The lack of transparency from the church as to its intentions with the 100 downtown properties is top of mind for many Clearwater residents and very concerning to me personally. Of course the city should attempt to seek more information from Scientology as to its plans for those properties. In order to have an attractive, economically viable and desirable downtown core, we need to have a long-term plan for what occupies the vacant land and work towards achieving a vision agreed to by the citizens of Clearwater for the downtown. If downtown is not extraordinarily welcoming it will fail to meet the needs and demands of the people of Clearwater and threatens the economic viability of the city as a whole, and that is unacceptable.
The first half is a strong statement. He then tails off into what we "need to have" without addressing the elephant in the room as to how to get there.
Scott Thomas
The city and the church have failed throughout the years to maintain a meaningful and consistent dialogue. With that being said, no organization, whether it's the Church of Scientology or someone else, should receive any special treatment or favors.
Somehow, this is all happening "over there"and is just an abstract concept.
2. In addition to properties with active uses, Scientology and companies run by parishioners own at least 26 vacant lots and 31 empty storefronts/buildings in the center of downtown within walking distance of the waterfront. Should anything be done to address the stagnation of this real estate? If yes, what should the city do to address this? If not, why not?
Elizabeth "Sea Turtle" Drayer
If there is no movement to fill the vacant properties by a date certain, vacancy fees are an option (if the properties are not tax exempt). Some cities are imposing such fees to address the widespread problem of empty urban storefronts.
Fair answer.
Frank Hibbard
First, I want to be clear: It is unhealthy for any one entity to own too much property within the city limits. The city does not want to see any properties sit dormant; it is not economically beneficial. The city should always be encouraging full utilization of property and I plan to re-examine our development code, which is now 20 years old, and determine whether it can be a tool.
Also a fair answer.
Bill Jonson
Yes, the city should address the stagnation of the downtown. Over the years the city has created multiple plans. Recently, this has included ULI and HR&A's Conceptual Plan for Downtown, both of which were created with extensive citizen involvement. City municipal government should respond to downtown and other areas of the city by implementing plans in a timely fashion, while providing excellent service and transparency.
Not sure what all this means…
Mark Bunker
If a property is not being developed within a reasonable time in the downtown corridor, daily fines should be levied. Boarded up businesses contribute to urban blight. Storefronts should be used for retail or donated for the arts. If the owners have no use for the properties they should be auctioned off.
This is the right idea. Not sure how it would be implemented.
Michael Mannino
YES! The stagnation of downtown real estate is a problem for the downtown district and has been a long standing concern for surrounding business owners and the citizens of Clearwater. I believe in property owner rights, however Code Enforcement should actively enforce compliance with city codes as to vacant properties, grass, building surfaces, parking surfaces, etc. An example of such a code needing to be enforced is when properties are purchased for development that sit undeveloped for six months, these properties should begin to incur fines and fees that if they remain unpaid should permit foreclosure proceedings. The enforcement of vacant storefronts to operate as permitted use should be reinforced by the use of compatibility ordinances. The enforcement of city codes and ordinances must apply to all properties regardless of organization, entity, church or business and it is in the best interest of the city of Clearwater and the citizens that call Clearwater home.
A more specific plan that sounds like it might work.
Bruce Rector
The city should encourage all property owners throughout the city to develop their properties within the parameters of the comprehensive plan. This includes many vacant properties along Gulf-to-Bay Boulevard, Drew Street, and U.S. 19. The growth and development of the entire community is important for the future success of Clearwater.
Trying to avoid the scientology issue…
Eliseo Santana
Our City Council should constantly and continuously address the issue of stagnation of real estate within our borders. As a council member I will offer whatever assistance we have at our disposal to help our property owners to positively improve and utilize their holdings to the benefit of all our residents.
No idea what this would translate into.
Lina Teixeira
Running for Seat 2It is imperative that the city get involved in activating our storefronts regardless of the ownership. A dialogue must ensue to determine intent. However, this is a part of a larger issue of not properly activating our economic assets and doing a poor job in connecting them. Transportation and mobility is essential for us to be able to properly stimulate our communities, downtown and the beaches. I will work handedly with TBARTA, PSTA and Forward Pinellas in order to develop public and private partnerships that would focus on mobility and connectivity in order to attract people to our downtown and beaches. This would be done in an effort to build a live work play and stay environment. Furthermore, I will work with the city manager and the chamber to support and or develop programs that would attract new industry to Clearwater, and also help grow our existing businesses. It is of the utmost importance that we add new and diverse partners to our existing stakeholders and entrepreneurial ecosystem.
She says a lot but doesn't seem to be willing to acknowledge the issue.
Kathleen Beckman
I think the city should take action to encourage economic activity in empty buildings/storefronts throughout Clearwater. I don't think we should develop policy to target a specific neighborhood. What is good for downtown should also be good for other parts of our city. An empty storefront on MLK or Drew St. is just as uninviting as one on Cleveland Street. The city can look to strengthen ordinances and code enforcement to require the upkeep of unoccupied buildings. I believe we can also take a more positive route — we can look to incentivize new businesses. Perhaps the city can reduce permit costs if occupancy/opening occurs within a targeted time frame. The city can also streamline the permitting/inspection process; the city can offer a mentor or holistic support to those who want to open a business anywhere in the city. This mentorship/support should continue or be made available for the first five years of a new business. The city can offer tax incentives for new businesses.
The question is about the center of downtown.
Bob Cundiff
I would consult with the city attorney about what actions can be taken should any property stagnate or become an eyesore. Each property would have to be evaluated individually as to what level of stagnation it is in and whether the property owner intends to conform to all city standards regarding the condition of property. Same with the ownership of empty lots and undeveloped storefronts.
Fair enough answer.
Bud Elias
Any and every tool available to the city should be utilized to address that stagnation and there is nothing that I would take off the table within those parameters as a city councilman.
Says nothing.
Scott Thomas
All too often we focus only on the Church of Scientology's presence in downtown but forget that there is much more to our downtown. It's important to encourage residents to visit the many great events and businesses that are currently driving the future of downtown.
The scientology apologist position.
3. The Church of Scientology's presence in downtown has been a major issue in Clearwater for more than 40 years. Please complete this sentence: "I view Scientology … A: Like any other private organization in Clearwater. B: Like a hostile force with goals that conflict with the city's. C: Like a potential partner in the redevelopment of downtown. D: Other (add your answer)
Elizabeth "Sea Turtle" Drayer
Talking about "the church" gives the impression every Scientologist thinks and behaves the same way. In many religions/corporations, individuals use the entity for personal gain, or behave unscrupulously or illegally. Felonies committed by Scientologists or anyone else should be prosecuted, including conspiracy, fraud, stalking, harassment and human trafficking.
Non sequitur.
Frank Hibbard
I view Scientology as a large corporate-like entity and the city should expect all such organizations to be good citizens that contribute to the betterment of our community. Clearwater needs leaders that will hold entities accountable and ensure that they make a positive contribution.
Fair enough.
Bill Jonson
My view of Scientology could at times include all these options. Despite unfavorable ownership trends that are not desirable in any financially thriving city, the city has no choice but to address all private property owners equally. Where possible, open communication could determine potential mutual partnership opportunities.
Political two-step.
Mark Bunker
I view Scientology as a corporate entity that behaves as if it were a foreign power, governed by its own laws, with its own internal justice system, culture, customs and dialect. A country led by a petty dictator whose nation was forged around the fragile, paranoid, psychosis of its founder. An organization that pretends to be benevolent yet whose actions betray it. A bully with enough money to keep pushing people around only to find that it has pushed everyone away. A company that knows how to create a pretty building but not a future. A callous character wearing a clerical collar that has sucked the life and money out of downtown Clearwater for long enough.
He doesn't mince words…
Michael Mannino
I view Scientology as operating for over 40 years with goals that conflict with the city's goals and plans, although they should operate and be treated like any other private organization in Clearwater. Their footprint of over $460 million in downtown real estate makes the COS a potential partner in the redevelopment of downtown but their unfortunate lack of open, honest and transparent communication in the sunshine has been a long-standing behavior.
His answer is honest and real. Not sure he knows what to do with them, nor does he really understand the nature of this beast, but his forthright responses are refreshing. Wish he was not running AGAINST Mark Bunker but that both of them could be elected to the City Council.
Bruce Rector
The City of Clearwater is bigger than any one individual, organization or institution. Council decisions should be based on community-wide needs and interests. I am for strong leadership that will represent the interests of all of our community in the city's communications and dialogue with Scientology about the future and development of Clearwater.
Too much two-step.
Eliseo Santana
I view Scientology, like all property owners in our city, as a real partner in the redevelopment of our downtown area.
Unfortunately, you really do not understand what you are dealing with.
Lina Teixeira
As a large and well-financed institution that should bear its share of responsibility to revitalize all of Clearwater.
Good in theory. 40 years should have made clear to you its never going to happen.
Kathleen Beckman
I view Scientology as having a significant presence in downtown Clearwater, and I would advocate engaging the COS to participate in a positive way in the development of downtown Clearwater, for the benefit of all.
More two-step.
Bob Cundiff
Scientology undeniably has a large presence in downtown. As a council member, I have observed and taken part in our city staff working with the Scientologists where it benefits the city, such as the land swaps that occurred last year. While I will always seek cooperation where possible, in the end I will always act and vote in a manner that puts the interests of Clearwater first, no matter what entity we're dealing with.
Really didn't respond to the question.
Bud Elias
I view it as a private organization. But just like any private organization that has plans to increase its footprint substantially, we as a city have to work to ensure that their vision for Clearwater is one that fits the vision and demands of the citizens of Clearwater as a whole. Just as we wouldn't sell out all of our city's downtown characteristics to one major corporation that could potentially harm the unique quality of life and distinct downtown characteristics we would all like to see here at home, so too, we shouldn't just let the church go unabated in changing the entire downtown footprint without safeguards.
But this is exactly what you HAVE been doing? How do you think that pattern can be changed?
Scott Thomas
Obviously, the church has a much larger footprint, and that has expanded over time. But they should be treated like any other private organization in Clearwater.
Again, the scientology apologists' position.
4. When you are out in the community talking to voters as a council candidate, do residents bring up the topic of Scientology frequently, sometimes or never? What are the most common questions/comments you hear from residents on this topic?
Elizabeth "Sea Turtle" Drayer
Residents bring up Scientology frequently. Many say they're afraid to go downtown or avoid downtown. Many say we shouldn't spend money on downtown because most residents will not benefit. Many rail against the church's tax-exempt status when what they seem to want is for the church to go away, though removing the tax exemption would not force the church out of the city (even if removing the tax exemption was within the city's control).
While the tax status of scientology is NOT the purview of the city, it IS the single factor that harms the city more than any other location on earth. The city should be doing everything it can to change that tax status. They have a very good reason to do so. The squeaky wheel gets the grease. For too long, the City of Clearwater has operated on the basis that if they are nice and polite and don't raise their voices, scientology will be good to them. It has not happened and it NEVER WILL.
Frank Hibbard
Frequently, it is the most talked about subject when I meet with citizens, and rightfully so. This has been a growing concern. Comments range from "we should give up on downtown" to people who want to do more. People are angry, resigned, sad and some are still hopeful. It is an unusual variable, unique to Clearwater, but I still love our city and will stay optimistic about our future.
You can stay optimistic, but you need to have a PLAN.
Bill Jonson
Sometimes. The community has a very wide range of questions and opinions relating to this topic, and the most frequent concern is the lack of activity happening downtown. Rightfully so, the taxpayers of this city deserve property owners that are looking to invest back into the economy of the city.
Sometimes? He appears to talk to different people than the other candidates.
Mark Bunker
Frequently. People tell me they avoid the downtown because of Scientology. They don't feel comfortable downtown and find it kind of creepy. Often they talk of the uniformed members as robots or cold and arrogant, not knowing how tough life can be for them in the Sea Org. They think Scientology exerts too much control over the city and that things are hopeless because the city is afraid of Scientology. A good first step would be to show that we are not afraid.
Agreed on showing we are not afraid. But there needs to be some plan of action too. See above comment on Elizabeth Drayer.
Michael Mannino
My wife and I have knocked on hundreds of neighborhood doors and have had conversations with thousands of Clearwater citizens and eight out of 10 times the word Scientology comes up and is frequently the first question asked. The most common questions repeatedly asked by citizens are, "What are you going to do about Scientology?" and "How can we get rid of Scientology?"
And what is your plan?
Bruce Rector
Voters bring up the subject of Scientology frequently. When I ask them about their specific thoughts and concerns about Scientology's presence in Clearwater, I get a wide variety of responses. The most common theme of the responses is that taxpayer money should only be spent to improve downtown Clearwater in ways that benefit the entire community, not any one group, business owner or institution.
Do you have a plan?
Eliseo Santana
I find that the topic of Scientology comes up more frequently if there is an article in the Tampa Bay Times concerning the church. On reflection, I am not surprised. Voters in our city that express an interest in our municipal elections are particularly well informed. This is a tribute to our highly acclaimed Tampa Bay Times and its widespread circulation. When our paper's lead story of the day is about storms and weather it becomes the source of the most asked questions. If the Tampa Bay Times lead story concerns parks, recreation facilities or libraries, that becomes the topic of the day. The same can be said of queries I received on the police department, guns, our schools, public safety, sanitation and community service. This is a tribute to the service your newspaper does for our residents. The most common question or comment about the Church of Scientology are about their vast and varied property holdings. Again, a topic our home newspaper brought to the public's attention.
Political two-stepping par excellence… Sounds a bit like scientology "the problem is generated by the media who are out to get us…"
Lina Teixeira
Frequently. I often hear from residents that they fear and avoid the church. I would like to encourage them to live, work and play where they so choose. Clearwater is for everyone, not for a select few. I will fight for our neighborhoods and all members of the Clearwater community to build a vibrant economy that works for all its residents. I will lead by example.
How are you planning to accomplish this?
Kathleen Beckman
I have talked to thousands of residents throughout Clearwater. Residents frequently ask if I'm a Scientologist (I am not) and "What about downtown?" Many residents want to be sure that the COS is paying its fair share of property taxes for the buildings being used for non-church activities. This is certainly a legitimate concern because we need a complete tax base to support the infrastructure and services supplied to all residents of Clearwater.
And how do you plan on going about that?
Bob Cundiff
Answer: Sometimes. The most frequent inquiries I hear are whether Scientology pays taxes and if they are interested in cooperating with the city. I frequently get asked what is Scientology planning to do with all of the property it and its parishioners have acquired in the downtown area. I have encouraged the city management to find out about that request so that information can be relayed back to the citizens of Clearwater.
Also talking to different people than everyone else apparently.
Bud Elias
Frequently. Scientology is certainly one of them, in conjunction with the future of downtown. Beyond that, our neighborhoods face specific issues neighborhood — by neighborhood.
That's it?
Scott Thomas
Frequently. I believe residents are most concerned about the uncertainty, and understandably so. I believe that in opening dialogue, this can help bring transparency to the topic. Transparency is key in communication and in government.
Good luck on "opening the dialogue" — you do realize they will not meet under circumstances that require disclosure of the conversations under the Sunshine Act Law right?
_ _ _
I know some of these comments are harsh. I know these responses are shortened and these candidates are not being given an opportunity to present complete thoughts on the subject. Though their short responses give a pretty good idea where their thinking is at.
Unfortunately, most candidates have never had to deal with anything like scientology before. They believe scientology will act like normal people and with the sensibilities that they might find in their own church. This is a sad misconception. Scientology has an absolutely set pattern of operation. It will never change. The ONLY way decisions are made in the scientology world is what is good for scientology. The strategy of appeasement is as effective with scientology as it was with Hitler.
The leaders of the city need to formulate a realistic plan for how to deal with scientology. In my view it should entail:
Insistence that nobody from the City meet with scientology representatives outside the Sunshine Act requirements. Every communication must be in the open and on the record. No secretive meetings with the City Manager or City Attorney or anyone else.
The city should review its codes to determine what can be done to prevent properties from sitting vacant
Form a cohesive plan to bring pressure on the IRS to review and revoke the tax exempt status of scientology. The city of Clearwater is being shortchanged tens of millions of dollars a year
Implement a policy of vigorously investigating reported crimes in scientology — with investigating officers who are trained on the tactics of scientology to stonewall/circumvent investigations and exactly how they go about this.