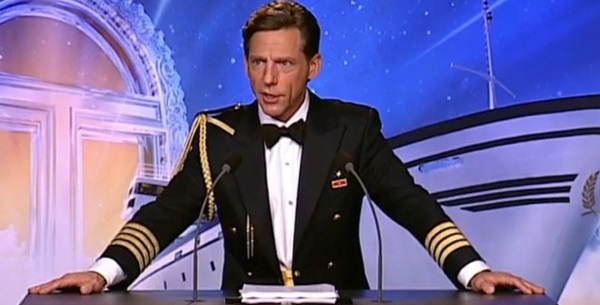 Of course, he is at Flag. Right where the plaintiff's lawyers said he is in their filing in the Baxter/Guider damages case.
Yet Miscavige's attorneys filed papers filled with the usual bluster and feigned incredulity that anyone could be so stupid as to believe David Miscavige is in Florida. This after they used the same line in California when he was trying to avoid service there — then proclaiming he is in Florida. See the recent blog post at Tony Ortega's site: David Miscavige lives in Florida when he's sued in LA, and in LA when he's sued in Tampa.
In their latest rant about how the great man should not be considered served, they attached several declarations. One from Sarah Heller where she claims she always knows where Miscavige is not and a list all the times he has supposedly NOT been in Florida. No mention of all the time he HAS been in Florida of course.  She also attests to the lie that the Hacienda Gardens is not his "primary" residence (in fact, nowhere is his "primary residence" if you ask scientology under oath as he has facilities provided for him in several Sea Org bases). And another declaration from Lying Warren McShane who states he DOES know where Miscavige lives (he seems to be the only one who does, even Miscavige's lawyers say they don't know) and it is "in California."  Of course, if anyone claimed his residence was at Gold in Hemet they would claim it's not his "primary" residence, same if they tried "Big Blue," nor would the El Cadiz apartment behind ASI, the CST properties in San Bernardino County or Tuolomne or Petrolia or even the Whispering Winds ranch — not a one of them would be admitted as his "primary residence." It's literally a game of Whack-a-mole scientology plays.
When the plaintiff's lawyers noted the events Miscavige routinely held at the Ft Harrison, Heller claimed these were "old videos" being re-shown. In fact, he did "Friday Night Graduation" routinely, and in person.
Everyone who understands scientology knows that this is all a smokescreen of bluster and bs. Miscavige has been at Flag for the last couple of years. He has been orchestrating the land grab and personally dealing with the city officials trying to get what is best for him and scientology. Because of the security arrangements, he believes it's "safer" at Flag while he can still keep his finger on the pulse of the biggest source of revenue for scientology (the Freewinds, though safer, is too remote and being tied to the dock in Aruba is a pretty dismal life).
I did a post recently about how he cannot do any international events, because he is afraid of being served. I mentioned in there that even if he were to do the New Years event at Flag, they could not promote Captain Miscavige being there for fear of process servers showing up.
Some speculated that it would be insane for him to appear for this event in the face of what his lawyers and minions had just filed in the court case.
Those of us who know Miscavige, felt otherwise.
Christie and I happened to be with Marc and Claire Headley on New Years Eve and we took a spin by the Hacienda Gardens and Ft Harrison to see if Dave was around. Of course, security was out in force. Our consensus was that Miscavige WOULD show up and do this event for three reasons:
He fears he is losing his grip on the scientology faithful and has to get in front of them to convince them all is well
He has a disdain for "wog law" and "wog lawyers" dictating his activities
We could almost hear him say "The last thing they would expect is that I do this event, so fuck them all, that is exactly why I am going to do it."
Later that evening, the first call came in. "My mother just let me know that COB is at the Ft Harrison doing the event."
And then this was posted on Facebook the following morning:

"New Years Event at Flag with COB RTC."
Of course, the arrogance of Miscavige didn't disappoint.
I wonder what his lawyers think of this…
BTW, if anyone has any other social media posts they have come across about his attendance at the vent, please forward them and I will relay them to the lawyers representing the plaintiffs.
Jerry Whitfield
Sadly, Jerry passed away on Sunday night. Hana posted this notice on the GoFundMe page started by a friend to help defray the costs of his lengthy hospital stay in Miami.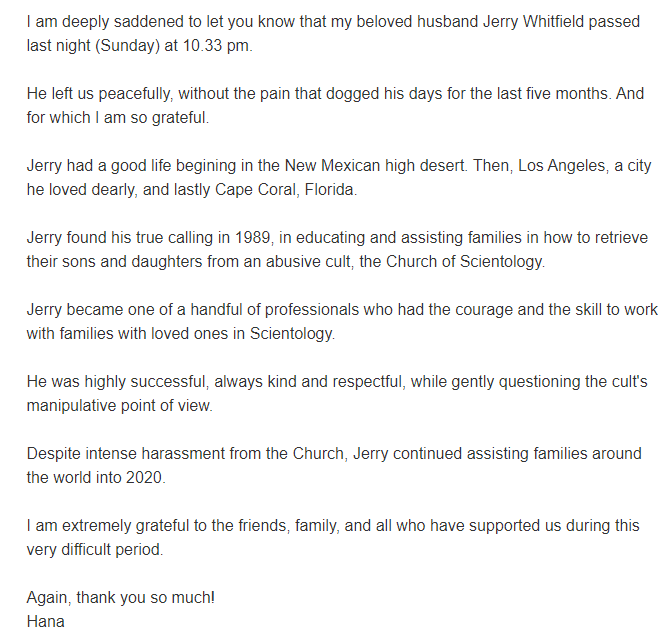 Jerry was one of the kindest, gentlest and nicest people I have ever had the pleasure of knowing.
Hana matches him in all these attributes.
My thoughts are with my old friend.