Please see the article on Tony Ortega's website yesterday about the crazy Twitter war FL State Congressman Chris Latvala started — first with Tracey McManus of the Tampa Bay Times, then with Tony Ortega and subsequently with me.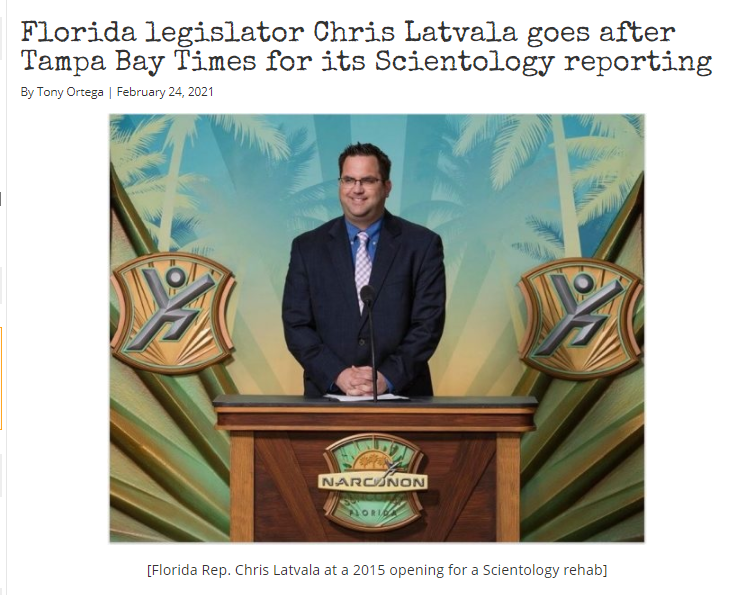 I tweeted about this after Tony' story was up, and the Congressman responded to me in a similar fashion:
As you can see my last offer is to meet with him to help provide the education he needs. I hope he takes me up.
He said he was unaware of the scientology connections to the books that were offered. Maybe that is the case, but if true and that was the entire story, why didn't he simply say that, I thank Tracey for bringing it to his attention and drop it? Instead he came right out of the gate attacking her as a bigot, making disparaging statement about the Tampa Bay Times and playing the George Soros card?
Something is not making sense here. Why would any Clearwater politician attack the most prominent local reporter on all things scientology for uncovering a scientology connections to a suspicious offering?
I mention the list of "Safepoints." Hubbard talked about this a lot in the context of operations in Clearwater (prior to this it was in the context of the Apollo before it moved ashore to Clearwater). In fact OSA is required to have a list of the "Opinion Leaders" in the community that are expected to bring under their "control."
The two key policy letters by Hubbard on this subject are below. There are many other writings to OSA (and the GO before OSA) about this.
Chris Latvala's behavior, labeling Tracey a bigot and attacking the Tampa Bay Times certainly have all the earmarks of a scientology safepoint.