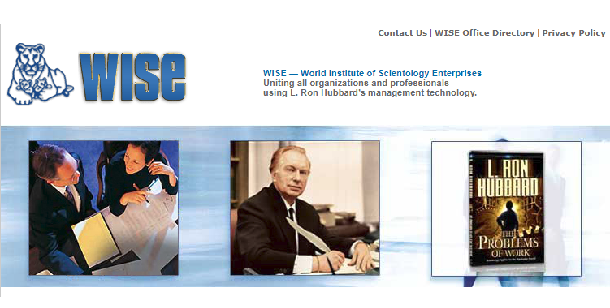 There is a lot that could be covered on the topic of WISE — including how it was created by Hubbard to "get scientology businesses off the backs of orgs" on the basis of his conclusion that orgs were not expanding because staff were moonlighting in scientology businesses and were thus "off purpose" (in fact it was only to be able to earn enough money to live, but Hubbard's answer to that was "make the org make more money and you will get more pay.")
WISE today pretends to be something separate from the "Church of Scientology", in fact they state the on the "What Is Scientology?" website:
By functioning as an autonomous corporation separate and apart from churches of Scientology, WISE insulates them from activities that do not belong in a church and would distract staff from their real purpose – the ministry of Scientology.
 It's a very touchy subject, mixing religion and the workplace.
WISE has "secularized" Hubbard's scientology writings in order to try to insulate businesses that use the technology from claims they are inserting religion into the workplace and requiring employees to practice scientology (they have generally been successful in this charade, though a number of business have been sued over this issue). 
The truth is that WISE has ALWAYS been treated as a "feeder line" into scientology. HUGE sources of business for scientology have traditionally been WISE "Consulting Companies" like Sterling Management Systems that implemented Hubbard "tech" into dental practices. This could be the topic of many posts.
What brought this to the fore recently was two documents forwarded to me.
These are commendations to two of these "management consulting" firms for selling Hubbard books. As every scientologist knows from the outset, Hubbard hammered hard on the idea that "books make booms." It is an article of faith in scientology that if you sell Hubbard books you make new scientologists. Hubbard said it, over and over, so it must be true. (Never question what he says, even when there is a more plausible explanation – in this case that he derived his income from book royalties on overpriced books sold by scientology). Thus there is enormous importance placed on selling Hubbard books because this is the first step to "clearing the planet."
This is all about EXPANDING scientology. This is REALLY what WISE is about. No matter the PR spin they try to put on it.
And of course, let's not forget, the hierarchy of WISE consists entirely of Sea Org members who have a singular purpose in life to achieve the Aims of Scientology.