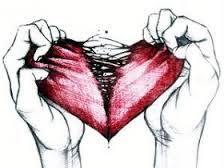 So many responses to yesterday's post about disconnection. Gayle Smith just posted a comment that I feel deserves not to be overlooked.
I am making it it's own post.
Disconnection
What I can say about it?  It feels like so little because mere words fail me to convey the significance of its damage. I've come close to the edge more than once because of it. I've been spun in by it. I've come close to giving everything up because of it.
What if you disconnected from your own son and never got to say "I love you" again?
What if you discover that the reason a loved one left the Church of Scientology turned out to be completely different that what you were told?
What IF they really left because every fiber of their being demanded it of them because they discovered that which the OSA and HCO staff are there to prevent you from discovering?
That this high desire to help had by all evidence been used against you? That OSA's actual purposes "to protect" demanded they bury the evidence that would enable you to see that your help, your desire to create "a world without insanity, without war and where the able can prosper and honest beings have rights" was turned in on you, your family and friends so craftily, so dutifully that it became the very blindfold worn to block out the light of truth? That the truth was that the church had become the very obstacle you thought you were overcoming?
What if you disconnected from a son you felt was a part of you like your smile or heartbeat was? What if you didn't know what he knew, because you didn't listen to what he was telling you through his distancing from the Scientology movement he once loved and believed in? What if you didn't give your son the same listening to that an auditor gives on a daily basis to people who tell you all manner of harm they've done in the world in order to overcome it through auditing?
What if you failed to see that this son was indeed making an origination of the highest order and needed you "the auditor" to listen? What if you positioned someone else's words on a piece of paper as being senior to your own love, integrity, loyalty and duty to those whose lives have become so integrated in to yours that you would have once given your life to protect?
What if you actually WERE lulled in to believing that someone else knew better than you what was good for YOU? What if you actually gave yourself wholly to a cause that has turned in to the antithesis or some version of it in the name of the "greater good"?
What if all the above turned out to be true and had you only listened to the originations of your son with the same auditor beingness that's supposed to be used in the church of scientology? What if you used your TRs, the data series and ethics conditions to analytically determine what was true? What IF you wore your "Executive Director" hat of your own org board? What if you found that your loved one actually WAS trying to take care of YOU but you discovered it too late?
Too late? Too late.
Too late because there is the chance that you will NEVER get to hold them again, kiss them again or tell them how proud you are of them because they died before you had that chance. What if?
You don't want to live with that. You don't want to be that person. You don't want to fail to apply the very tech to your life that you feel so strongly about. You don't want to be the one who turned out to be wrong. You don't want to discover it when it's too late.
I know because it happened to me.
My son Collin's life that was lost before I had this chance to make things right with him, to apply the tech I'd devoted my adult life to learning so as to achieve the goals of truth being truth and not someone else's idea of what it was without inspection.
How in the hell could I possibly have disconnected from my own son?! And done so without ever talking to HIM about what had driven him so far away from something he once gave sooo much TO? HOW?!
The effects of doing such are so far greater than the pressures to have to get a new job or find new friends because those are by experience the easier of the obstacles to overcome compared to the reality that you failed your own flesh and blood that you got in to Scientology for in order to be the best mom you could be. To confront that is far worse than anything the church holds over you.
I cannot ignore what auditing CAN do for a person. The Bridge is standardly delivered outside of the shell of the church of scientology all the way up the OT levels. I know because I did them and know that the checksheets outside the church of scientology from Student Hat through Class IX auditor exist because I've seen them. Beyond holding my son again and looking him in the eyes to tell him that I love him I would like him to know that it wasn't all in vain, that the torch for helping others improve their conditions in life with a proven tool continues. That it continues without blind devotion, without the lies and without the suppression within the church and more that it is being used to help those whose lives have been torn apart like ours was; with the goal of exposing the truth to those still inside the mind raping machine that has been manipulated by David Micasvige to allegedly undo such trappings.
Think for yourself.
BE the auditor for your loved ones.
LISTEN and be willing to apply your skills to evaluate information for yourself.
DO NOT set up a circuit for yourself that allows someone or something else to "THINK" for you or you might have to live with being WRONG and knowing that you were NOT being responsible to yourself and your loved ones by allowing this circuit to "think" for you to "decide" for you. DON'T take the chance! Or you might have to live with never being able to make things right with your son [daughter, father, mother, brother, sister, grandchild, aunt, uncle, friend] for the rest of your life. With such a circuit in place YOU will in fact not be living, the only living you do will be that life you are TOLD you are to live.
Now honestly to those still inside the church who read here; I ask you is it REALLY TRUE for YOU that "you've had many [sons, daughters, husbands, wives, fathers, mothers, brothers, sisters, grandchildren, aunts, uncles, friends] in past lifetimes and you'll have many more" is a good enough reason not to LISTEN and OBSERVE and EVALUATE the facts THIS LIFETIME FOR THIS FAMILY NOW? IS IT REALLY?
The Bridge IS standardly delivered OUTSIDE of the commercial enterprise David Miscavige has created. I do it along with so many other highly trained, highly experienced auditors and C/Ses AS it is supposed to be done per the grade chart and HCOBs.
Is a piece of paper with some words on it that say your loved one is a suppressive person all it takes to make it TRUE for YOU? REALLY?
Is that piece of paper greater than your own observations? REALLY?
Is what you gain by DOING what you're told to do "or else" worth it REALLY?
Is it REALLY?
When you look yourself in the mirror you need to have confidence that you see the most loyal, trusted friend you have and I by god hope for you that you do.
I hope you do right by your loved ones before it's too late for you. I hope that for you and those family and friends whose hearts are breaking and whose cases may be in a tangle from the injustices, the perversions of truth and the wrong items that has been forced upon them. If you got in to Scientology to be the BEST person you can be than you'd better stand up and BE that person. I hope to hell that when you look in the mirror that you see YOU and not something that mirrors were used to reflect a you that you no longer control.
This is for my son Collin.
Gayle also asked me to add two links to media articles, the first reporting on Collin's death and the second on an award given in his name.