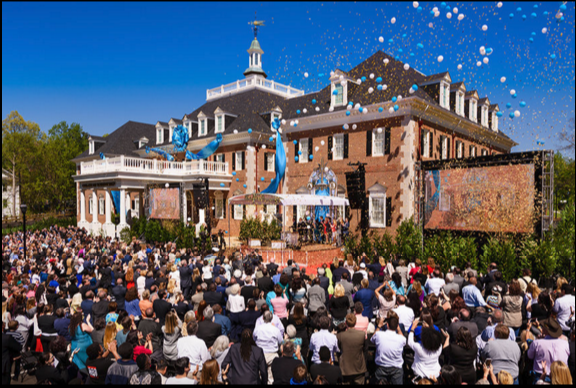 Scientology wasted no time putting this photo (and a bunch of others) onto their website.
After all, this is the pinnacle of David Miscavige's (and thus scientology's) accomplishment. A "new org" is opened. This of course is not true, it is just a new building for the same old org as they all are. Scientology has not opened an actual new org in the last decade. Not a single one. I think Kaohsuing in Taiwan might have been the last one — but that was long before the "new building" was opened.
This is the big lie scientology tells its sheeple and the world. Their new buildings "prove" they are in an era of "massive international expansion" under the "guidance of David Miscavige, the ecclesiastical leader of the scientology religion." The flowery bs on their website about the "grand opening" of Atlanta reads like the others that have come before. Shermanspeak and fawning praise for "Mr. Miscavige" and his brilliant leadership obscuring and real substance.
But there is also another aspect to the "big lie."
For every event they must inflate the number of attendees. After all, they are claiming that these new facilities are desperately needed in order to "accommodate the demand" for scientology in the local area. The old shit-hole they have been in for 30 years just won't do any more because now there are so many people "flooding into the org" that they have to have new premises. I noted on Saturday morning the desperation for getting bodies to fill out the crowd with the bus trip from hell to ship in staff from Flag.
True to form, the scientology.org website announces "1500 Atlanta Scientologists" were in attendance "plus those from along the Eastern Seaboard." There haven't been 1500 scientologists in Atlanta EVER. Meaning, everyone who has ever called themselves a scientologist in Atlanta would still be less than 1500, even though 90% of them would no longer call themselves scientologists.
This is a snip of the scientology.org page – I am not making this up:

But if you look at the photo the church put on its website that is at the top of this post, you can practically count every person present. (You can be sure, this photo was taken with a wide-angle lens from a predetermined location and cropped to the millimeter to ensure it included the absolute maximum number of people).
But, we don't need to wonder about this at all. Because here is a report from someone that was actually there in the audience, along with a couple of shots and a video of the "moment" when the ribbon was cut (though you can't see anything happen other than balloons being let off and confetti flying around).
I went to the Atlanta opening yesterday.
There were no more than 500 people and less than 100 from the Atlanta area. The rest were SO and CC Nashville staff/public or other out-of-towners.
David Miscavige's speech papers flew away and for a moment he didn't know what to say.
I was told there were 130 staff, but I only saw about 30 (they were roped off in their own section). Some of the staff are NOI.
The new building is 30 minutes from downtown Atlanta – far from any action or any foot traffic whatsoever. The most action they will see is from the patrons of the post office next door.
Miscavige looks old and tired and his smile appeared forced.
So, here are a couple of on the ground shots that don't really prove a whole lot other than the person WAS there: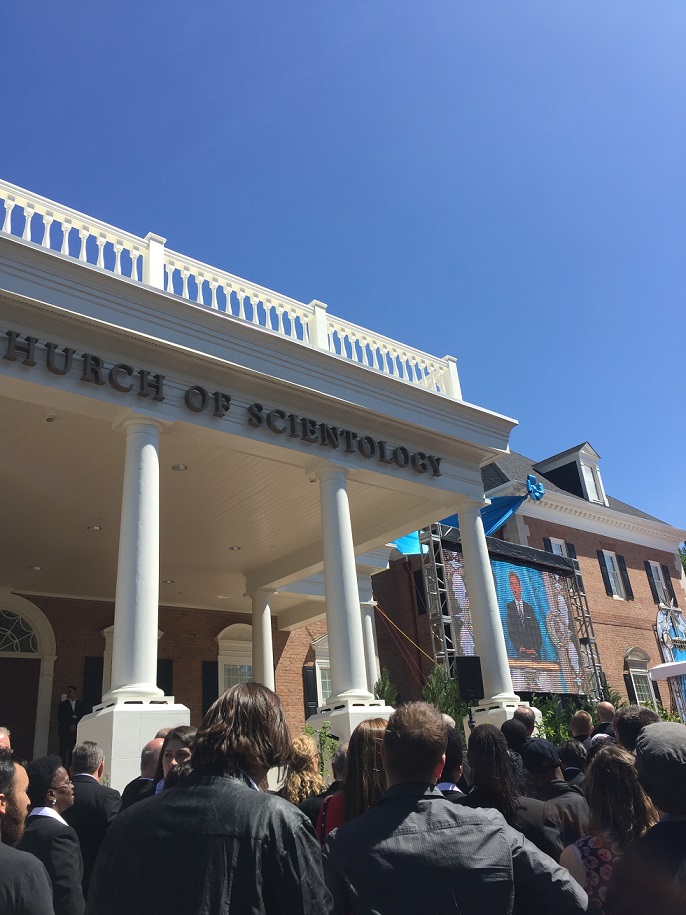 \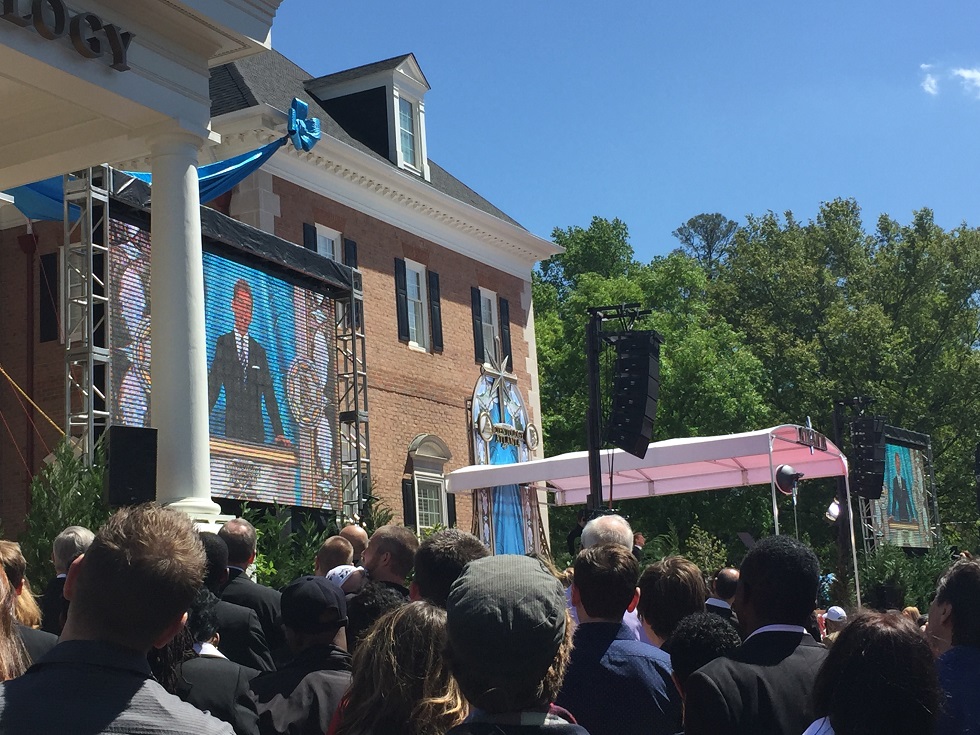 BTW — those huge video screens are ridiculous. They are virtually alongside the Great Man and would only be useful if the crowd stretched back for hundreds of yards. It didn't. It was about 20 people deep at the most. In fact, in the middle of the video it pans right and you can see the row of potted trees they imported that is at the back of the crowd.  It is about 20 yards from the front of the "stage" sheltering the podium that Miscavige preached from.
And here is the video of the great moment – it does give a pretty good idea of how few people were actually present:
Despite the bluster they put on their website, this must be tremendously disappointing to David Miscavige. The turnouts are smaller and smaller in each successive ribbon yanking ceremony. He is going to try and make up for it with a big showing at the "opening" of the KCET white elephant where he has a lot more SO members at his disposal to fill out the crowd (and presumably a larger area to take shots that look like there are a lot of people) – though of course no mention will be made of the Golden Era facility 85 miles down the 60 Freeway that the SuMP makes completely obsolete for no understandable reason.
And finally, as for David Miscavige looking "old and tired", it would appear he is following in the footsteps of some of the great conman televangelists who paved the way for his moneymaking schemes.
Below is the photoshopped image of Dear Leader the church put on its website from the event. At right is the infamous televangelist Robert Tilton.
Any similarity is purely coincidental.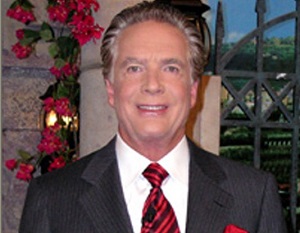 ADDITION:
A commenter wrote this in response to the post. In order to preserve this invaluable information for the future, I am including it here.
Alright, I've had this tale bottled up for too long now, here goes:
The original budget set for the new ideal org of Atlanta was 6 million dollars; although it was a mere fraction of the final cost, the local scientologists were flabbergasted.
After a few years of fundraising, they had enough money and found a building. This building was highly favored by the then Executive Director (ED), who sent the paperwork and schematics of the building up to Int Management. However, Int, being the slow, micromanaged apes that they are, took months to approve the building. In this time, the building was bought by someone else. The ED, desperate for this specific building, negotiated a terrible deal for the building, pushing the cost of purchasing the building up to 6 million dollars. (It was originally 4 million into purchase and 2 million in renovations)
And then Int rejected the building. Oops.
Int claimed that it was too small for an ideal org and not well-situated in terms of foot traffic. Oh well, too late now, just got to roll with it!
This building, in addition to its flaws, was going to cost 3 million to renovate, instead of 2 mil. So this fundraising persisted until around 2008 or so. At this time, Another bomb was dropped: another 3 million was required to bring the building up to Sandy Springs' new code. And, as the building was never fully inspect before purchase, they found asbestos and lead paint in parts of the building! Keep in mind this: they had held events in this building for years before this discovery was made.
So with 6 million in purchases, and another 6 million in renovations, what else could go wrong? The property war.
Sandy Springs, clearly not wanting a cult headquarters just down the street, sued Scientology too get out of the area. Their claim was that the org didn't have adequate parking spots and that this could negatively affect the community or something like that. It was a valiant effort, but it ultimately failed. It did, however, cost the locals about a million in legal fees and a couple years in time.
Finally, they did it! They managed to raise the final dollars on the now 13 million dollar org. This occurred in February 2014, and yet, the Atlanta org didn't open until April 2016. See the problem.
As luck would have it, the building, which had been sitting uselessly for years at this point, had begun decomposing. Load-bearing beams were rotting, the foundation was cracked, and various broken water pipes had flooded certain areas of the org. Actually, the a fair portion of the org's CF was, I shit you not, left in a room that flooded for months at a time. This nearly destroyed half the CF. (which is probably not a bad thing really)
This rotten building was going to cost (prepare for this) an additional 6 million dollars, three for renovations and three for FFE!
What the hell is FFE?
Fixtures: light fixtures, gas and water pipes, etc.
Furniture: pretty self-explanatory.
Equipment: This is all the E-meters and books that the org must buy from Int. (Why can't the mother church just loan them the books and have them pay back Int when they are sold? Does Int have such little confidence in Atlanta's ability to sell anything that they need an upfront payment.)
Needless to say, the local field was crushed, but they carried on like the beaten housewives they were/are. They had grown used to amount increases; they were now numb to Int incompetence.
By Christmas, renovation amounts had been finished, and by St. Patrick's day, the FFE had been completed. But wait! Someone forgot the 500,000 dollar back tax/some kind of property tax that was still unpaid. (It just keeps going) So, at an event that literally lasted until 2 in the morning, big donors agreed to pay up one last time. The fundraising was completely finished by 2:00 am, Easter Sunday, 2015. (I'm sure there's something ironic about this.)
So at the end of the day, it was 19.5 million dollars, right?
Nope. All those figures I gave you were round up or down, which ever way would sound better to the local scientologists. You add in the credit card fees and the amount that was spent on events over those 11 years, and the final amount is just over 22 million dollars! So much for 6 million, amirite?