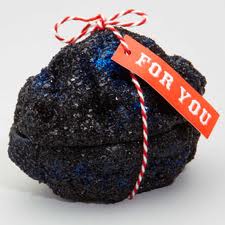 This is really quite sad.
Apart from exclamation compulsive disorder, this is an IDEAL ORG. One of the big, prominent ones (as opposed to say Cambridge or Malmo or Nashville or LV or Dallas or Padova or Brussels etc etc).
It is worth 3 exclamation points that they have 12 scheduled to start GAG II. OMG. Twelve SCHEDULED. I guess they are going to pack out those courserooms built to hold 500 students….
And there are "several people" playing the game to get "5 starts." That is iumpressive.
But the really sad part is the begging to please give us money so we can get paid because "he (LRH presumably it is as usual a mangled sentence) also wanted the staff to earn great Christmas Bonuses." 
Why does the image of North Korea just keep coming to mind when I read the statements from inside the bubble. Maybe it is because I am reading John Sweeney's new book and the parallels are impossible to ignore. Doesn't it strike you as a little odd Sara that if in fact LRH did want you to earn great Christmas bonuses, he would have set it up so that was what happened. But we all know that your Christmas bonus is a joke and it is probably better than the vast majority of orgs. It's like the North Koreans who constantly praise Dear Leader for blessing them with intermittent electricity 7 hours a day — as if there would be none if he were not so benevolently caring for their well-being. 
In fact, the only organizations in Scientology I have ever heard of getting a decent Christmas bonus (more than $1000) are ASI when Miscavige ran it. RTC. And IAS. And believe me, that was not a result of "LRH intention."
Date: Wed, 11 Dec 2013 
From: Sara Jonic
To: otcmail@pasaotc.org
Subject: [OTC-Mail] from Sara-WOW!!!

Dear OTCers,

We had a FANTASTIC briefing last night with the Snr C/S WUS and Snr C/S ASHOF and Larry Gilbert from the Flag Office!!!

As a result we have 12 people scheduled to start their Golden Age of Tech Phase II services at the Pasadena Org!!!

We also have several people playing the game to get 5 starts for the Pasadena Org and earn TRAINING AWARDS!!!

GET READY to have some FUN at the beautiful Pasadena Ideal Org!!!

Your Ideal Org Staff have gone above and beyond this year to get ready and to deliver to you LRHs Bridge exactly as he intended and he also wanted the staff to earn great Christmas Bonuses !

Everything you do THIS WEEK including paying for service, starting a course, completing a course, buying materials and donating to the IAS will help the staff get a great Christmas Bonus!!!!!!!!!!!

Your help is appreciated!!!

ml,
Sara